eRacism
On display in the Bench 1775 Gallery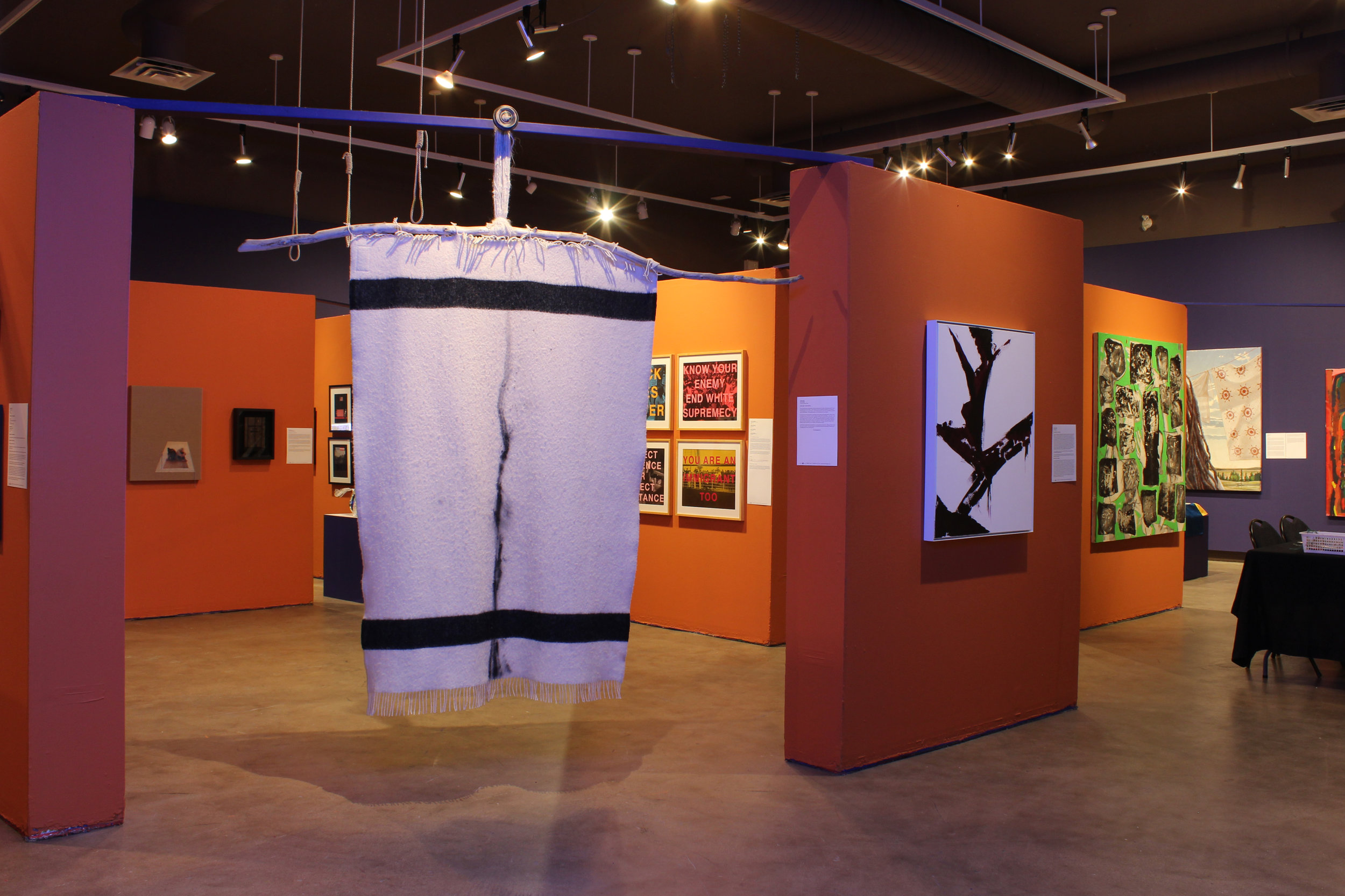 Curator's Statement
by Paul Crawford
Over the past number of years I have become increasingly aware of a resurgence of racism in the world around me and this has caused me pause to reflect upon my own life and how racism has directly impacted me and my view of the world. The first time I really witnessed widespread racism here in Canada occurred during the summer of 1988 when Ben Johnson won the gold medal at the Seoul Olympics, beating the arrogant and most unlikable of villains, Carl Lewis of America. For twenty-four and at most forty-eight hours he was Ben Johnson of Canada, our national hero, but as soon as we learnt of his testing positive for steroids, things changed immediately. I was dumbfounded at how quickly the nation turned its back on the man who overnight was no longer "Canadian" but rather the Jamaican-born Ben Johnson. I remember as if it were yesterday; the pride in his winning and then the profound shame I felt, not because he got caught, but for how we were all so quick to disown him as our own, relegating him back to the place from which he was born. Coincidentally, and perhaps as a result of this event, this would also be the last Olympic games I would really come to care about and watch religiously.

The second incident that challenged my views on race took place a few years later in the late spring of 1992 when a group of friends and I decided to visit Seattle for the first time after we had all turned 21. Growing up in West Vancouver in the 1970's and 80's my world included regular contact with folks who traced their origins to
South Asia, China, Persia, and every fall I would have the amazing opportunity to hang out and occasionally with the members of the Capilano Indian Reserve and the Squamish Nation as they conducted their traditional salmon fishery on the Capilano River.

Up to that point I thought I was fairly open-minded and for that matter colour blind until I, along with three of my best friends, decided to explore the nightlife of Seattle's historic Pioneer Square. Entering a rather nondescript bar we quickly realized after our eyes adjusted to the dim lighting that we were the only white people, and it didn't take long before everyone in the bar realized that too and in that moment it seemed that we had everyone's attention. To this day I remember the irrational feeling of fear that quickly washed over me and all of us as we suddenly realized that this was a place where we might not be welcomed. Quickly two of my friends turned and left, leaving me and one of my friends standing in the doorway like a couple of white-tailed deer caught in the headlights. I remember trying to rationalize my fear as it was one which was not grounded in any personal experience but rather it seemed to be the result of being in a situation with which I was unfamiliar that was further fuelled by the media coverage of the Rodney King Trial and the subsequent LA Riots that had happened that spring.

We stood there for what seemed like an eternity before we both decided that we should at least have a beer before leaving, and as we walked up to the bar a woman sitting there leaned over and said "you ain't from round here are you?" to which we replied "no, we are here visiting Seattle with the Canadian national Dog Sledding team." We all laughed, and with that she offered to buy us a beer and within minutes our other friends had poked their heads back in to see if we were still alive and quickly joined us. Once the ice was broken and everyone's guards were down we ended up having the most amazing experience and I am forever grateful for taking the time to rationalize the source of my fear and to have had the fortitude to remain in spite of the obvious hesitation and initial discomfort felt by everyone that night. Sadly I have since lost touch with those friends, but I would like to think this experience has resonated with them in the same way it has with myself and as I hope it has with the wonderful folks we met that night, sharing drinks, stories and dances. Regardless, it was a wonderful lesson for me; one that was life changing, if not life affirming.

These moments have affected my life and the way I have come to see the world, and I hope have made me a more compassionate and open individual as a result. I have been blessed and humbled so many times in my life, especially when travelling and meeting those who have far less than I, but are so willing to welcome me and those I am with into their homes with a level of hospitality you will rarely find here in the west. I also have been blessed with two half-sisters who are Mexican and have seen the restrictions put upon them both here in Canada and the US due to the nationality of their passports. In developing this exhibition the seeds of my initial thoughts have been formed by my personal experiences some of which include the above anecdotes along with long standing observations of the evening news and the state of the world today. The following is what I sent out to artists across the globe as a call to action and to which they have been asked to respond: The Penticton Art Gallery invites artists from across the globe to submit artworks in all media for our summer exhibition "eRacism" which opens here at the Penticton Art Gallery on Friday July 13th and will continue through Sunday September 16th, 2018.
This exhibition invited artists to explore the resurgence of racism and xenophobia as a political tool both globally and in particular here in North America since the turn of the current century. When one listens to the rhetoric coming out of the United States today, it is not hard to draw parallels to the rise of fascism in Europe in the 1930s. For many here in North America we have lived under the illusion that racism was defeated with the civil rights movement of the 1950s and 60s. But one need not look beyond the evening news to see that racism is not only alive and well, but thriving in North America today and some may suggest Donald Trump has given us all free licence to come out into the open.
It's incredible how successfully the current U.S. Administration and our former Administration here in Canada have used race as a political tool to divide our nation and unite their parties. In doing so, it is shocking how little push back there seems to be from the general populace. There is a reluctance to challenge the rhetoric being fed to us on a daily basis. The current US Administration has undermined the media and has challenged the very idea of a fair, objective free press by calling out anything that goes against their beliefs and policies as "fake news". It's bewildering just how easy they have made it look and how many Americans have come to agree with their outrageous assertion.
It's a sad statement that after a gunman opened fire on a crowd of concertgoers on the Las Vegas Strip in Nevada on October 1, 2017 leaving 58 people dead and 851 injured, the first thought that came to my mind was "I hope the shooter was white." It's also crazy to consider how fast that story disappeared from the nightly news when compared to that of the Boston bombing of April 15, 2013 when two homemade bombs detonated near the finish line of the annual Boston Marathon, killing three people and injured an estimated 264 others. The Boston Bombing story occupied the front pages and lead stories on the evening news for several months after the fact as direct result of the colour of their skin and the idea that their action was motivated by extremist Islamist beliefs. Meanwhile the largest mass murder in American history, one committed by a middle aged white male, becomes a minor news item almost overnight as any and all possible links to terrorist activity evaporated and the narrative didn't support America's superposed ongoing fight against terrorism.
Since the election of Donald Trump attacks against Muslim, South Asian, Sikh, Hindu, Arab, and Middle Eastern communities in the U.S. were up a staggering 45 percent in 2017. It all seems like a bad case of déjà vu yet our society quietly marches forward, oblivious, distracted and complacent. This exhibition hopes to serve as a wakeup call and a platform for the arts community to come together and explore the realities and challenges of living in a pluralistic society. Is this a phenomenon of our western culture or is this alarming rise of racism and xenophobia something that is ubiquitous across the globe, and is there any hope that we will ever be able to live in harmony?

This exhibition is intended to serve as a wakeup call and a call to action. During the last several months the gallery has received a tremendous amount of interest from Canadian and internationally based artists. Over the past thirty years there has been a deliberate and methodical usurping of culture to dumb down the general populace while at the same time further isolating us from each other through our dependency on technology, all in an ongoing effort to divide and conquer. Perhaps I am being an alarmist, but I can remember sitting in my high school history class wondering how it was possible that a civilized first world country like Germany could fall under the spell of a dictator like Adolph Hitler; as I cast a gaze to the south it all suddenly becomes a frighteningly possible reality once again.

I hope this exhibition elicits a wide range of emotional responses and I am certainly not expecting everyone to agree with my assertion or those of the participating artists. As such we have created an open forum and we invite the public to add their voice and share their own political views and ideas. It takes two to have an auction and the same can be said for a debate and we are lucky that we still live in a country where we can debate openly without fear of prosecution and retribution. All we ask is you come with an open mind and regardless of how you feel that you show a high level of tolerance for the beliefs, opinions and ideas expressed, just as I would hope would be shown for your own ideas and beliefs. According to the Cambridge English Dictionary, tolerance is "willingness to accept behaviour and beliefs that are different from your own, although you might not agree with or approve of them." Thank you.
Artists
Juhayda Albitar
Untitled 1 & 2
Acrylic on canvas
Racism is where human weakness intensifies.
We, as human beings, if not racists, we are materialists who always dig up differences based on religions and beliefs or even diseases and disabilities.
We need a sense of self-confidence to free ourselves from racism.
I do not think the dilemma will disappear because people feed that curse amongst each other, and I fear that racism will haunt humanity and chain it in never-ending wars.

Biography
Born in 1991 in Damascus, Juhayda completed a BA from the Faculty of Fine Arts Damascus in 2013, and a Master's degree in "Byzantine painting's impact on contemporary Syrian painting" from Damascus University as well. She has her first Solo Exhibition at Art House in Damascus Syria, and has participated in many group exhibitions in other countries including Lebanon, Albania, Italy and Canada. A deeper analysis of the figures in her paintings shows that they represent masked creatures and false identities created by those figures who delude each other but when left alone their masks fade away showing the truth underneath; some are desperate and void from the inside while others create their own worlds where elements' roles are set by them, but some disappear in the mask and become clowns in the parade of their lives. Juhayda lives with the characters she creates, her characters are made up from people she met but with the fact that their individualities are lost in the process leaving their main characteristics unchanged. Symbols sometimes appear in Juhayda's work and there is an obvious tendency towards expressionism especially when she addresses the evil within her characters.
Moozhan Ahmadzadegan
YOU ARE AN IMMIGRANT TOO, 2018
UV Screenprint
16x21
KNOW YOUR ENEMY, 2018
UV Screenprint
16x21
BLACK LIVES MATTER, 2018
UV Screenprint
16x21
RESISTANCE PERSISTENCE, 2017
UV Screenprint
22x17
Artist Statement
The works presented are from an exhibition I had recently in 2018 titled Protest. The exhibition featured a body of screenprints focusing on addressing relevant social and political themes. My aim was to use my platform as an artist to create works that speak to current topics within Canada, and abroad. I created works inspired by protests signs and posters that engage with various different socio-political issues. While these works vary from message to message, they are all grounded within the current socio-political discourse.
In many ways, it is an artist's responsibility to reflect on the current times through artistic production. Protest was an exhibition that pursued that tradition. As various protests and marches appear more frequently around the globe, the call for activism within the arts community is becoming more and more necessary. This body of work consists of prints that support causes ranging from feminist movements, LGBT advocacy, anti-racism, and challenging oppressive systems, all with underlying themes of equality and acceptance. I have chosen a select few prints from the exhibition that I think would be appropriate for eRacism for that reason. The works submitted all are, or all relate to, anti-racist statements and ideas. The five works submitted challenge racism using protest sayings and slogans, calling for activism, resistance, and persistence, in the face of oppression.
By utilizing screenprinting as my medium, I am able to emulate classic poster designs similar to those that have traditionally been used as signs of resistance. Additionally, by creating works with fewer layers, I am able to produce multiple editions faster, suggesting a sense of urgency common in protests. My aim is to use my platform as an artist to challenge, critique, and rethink, while encouraging others to do the same.
Biography
Moozhan Ahmadzadegan is an emerging Okanagan based artist. He is currently wrapping up his degree in the BFA program at UBCO, with a major in Visual arts and a minor in Art History. Moozhan's practise often involves themes of identity and activism, and utilizes various mediums such as painting, drawing, printmaking, and more. Moozhan hopes to continue his artistic practise by being further engaged with critical thinking, personal discovery, experimentation, and his local arts and culture community.
Kylie Inez Anderson
Alexandra 1 and Alexandra 2, 2018
Charcoal on paper
Artist Statement
These two portraits of my friend Alex are the product of a relationship between people of different cultural backgrounds: I am white, and Alex is Mexican-American. The commonness of such intercultural friendships attests to our shared humanity, and the integral role of first and second-generation immigrants within the social fabric of the United States. Although I may not share the cultural or racial inheritance of my friends from other countries, we still have plenty of common ground, and enjoy one another's support and company. My life would be far lonelier if they were not around.
Donald Trump's aggressive anti-immigration politics threatens residents of the United States on the most basic level, disregarding ties between families and friends, and sacrificing basic human rights at the altar of power and greed.
These portraits of Alex express my small testament to the human ability to be interested in, and to care about, someone of a different background. I hope they offer an alternative perspective to that of disrespect and hate spewing from the current Whitehouse.
Artist Bio
Kylie Inez Anderson was born in Berkeley, California, and grew up in the Rocky Mountains of Colorado. She received her Bachelor of the Arts in studio art from Colorado College in 2014, and is now entering her final year at the University of Oklahoma's Master of Fine Arts Program. She uses drawing, painting, and printmaking to create realistic and surrealistic imagery that connects personal stories to universal struggles. As a graduate teaching assistant, Kylie has been instructor of record for multiple university art courses and will teach Beginning Painting during fall of 2018. Her exhibition experience includes juried group shows and solo exhibitions at the local and regional levels. After receiving her graduate degree, Kylie plans to continue teaching and exhibiting work. To contact kylie, or see more imagers of her work, visit www.kylieinezanderson.wix.com/moksha
D'bi.Young Anitafrika
My Children, Our Future Parts 1 and 2
Featuring Moon & Phoenix Anitafrika
Videography & Photography by Paul Ohonsi ~ an Obsidian Films Production

My name is D'bi.Young Anitafrika and I am a performance artist who lives at the intersections of poetry, theatre, arts-education and scholarship. As a Black, queer, diasporic African-Jamaican-Canadian, middle-class, able-bodied, cis-gendered womxn-mother of two Black boys, my socio-cultural-political lens is feminist, intersectional, de-colonialist, anti-oppressive, and pan-Africanist.
My creative and intellectual endeavors embody these multiple locations. I experience myself as a whole being with human contradictions, juxtapositions and cognitive dissonances. The questions who am I? how am I? and what is my purpose? are central to my artistic process. I do not separate the art I create from the personal and societal contexts in which it exists. In fact my intention is to create art that disrupts, interrogates and disturbs my own, and society's accepted norms of inequality, as these oppressions impact our perceptions of race, class, gender, sexuality and ability.
The Anitafrika Method, which I have been developing for the past two decades through my work as an artist and educator, is an autoethnographic praxis for human development informed by decolonial queer Black feminisms, intersectionality, pan-Africanisms and diasporic African spiritualities. Theatre of Ritual-Self-Recovery is the name I give to the Black Performance art I create and facilitate through The Anitafrika Method.
What is Theatre of Ritual-Self-Recovery? It is the performative act of ritually recovery one's self; reclaiming, regaining, renaming, and restoring. It is making ritual theatre of one's self-recovery; ritual-Black-self-recovery; ritual-feminist-self-recovery; ritual-queer-self-recovery. And what am I recovering from? I am recovering from the ongoing assault on our collective humanity that insists that I/we can in fact live without our lives.
The Video Performance piece entitled My Children, Our Future Parts 1 & 2 is my contribution to a global discussion regarding the societal violence that Black children (and in this particular scenario) that Black boys are exposed to.
D'bi.Young Anitafrika – Biography
d'bi.young anitafrika is a queer Black feminist artist. Canadian Poet of Honor and YWCA Woman of Distinction in the Arts d'bi.young anitafrika, is an internationally celebrated African-Jamaican dubpoet, writer, arts-educator and three time Dora Award winning theatre practitioner, whose trans-disciplinary work explores themes of identity, gender, sexuality, divinity, the erotic, race, class and the human experience. She is the originator of the intersectional creative leadership praxis – the Anitafrika Method – which has been employed by The Stephen Lewis Foundation, The Banff Centre, U of T, MaRS, and other institutions globally. For the last two decades anitafrika has mentored countless artists in North America, the Caribbean, Africa, South Asia, South America and Europe through her world-wide performances, speaking engagements and arts-education projects.
She has performed and lectured extensively internationally, including an address at the United Nations, and has written nine plays, published three collections of poetry, a comic book and produced seven dubpoetry albums. Founder and Artistic Director of Watah Theatre and Spolrusie Publishing, she continues to foster the professional development of emerging to established artists through the Anitafrika Method. She recently completed a dance apprenticeship at Coba (Collective of Black Artists) and a playwrights residency at Obsidian Theatre in Toronto Canada.
A recipient of three Dora Awards, thirteen Dora Nominations, a Canada Council New Chapters Grant to produce Lukumi: A Dub Opera, KM Hunter Theatre award, a Mayor's Arts award, a Vital People award, a Toronto Leadership Lab Fellow alumni, and a finalist for both the Ontario Premier Arts Award and the William Killbourn Award, anitafrika has been fronting her Afro-Dub-Fusion band – D'bi. & the 333 – with Sudanese master musician Waleed Abdulhamid for the past several years. Her most recent projects include 1. Completing her autobiography Memoir of an Ugly Duckling 2. Producing Lukumi: A Dub Opera on large stages globally and 3. Travelling the world as a Performance Artist and Keynote Speaker addressing issues of identity, gender, sexuality, divinity, the erotic, race, class and the human experience through her Anitafrika Method and 4. Pursuing postgraduate studies in Theatre and Performance at Goldsmiths, University of London.
Rosanne Bennett
Homage to Yoko Ono's Wish Tree Project
There is a part of me that wants to believe that the anti-racism education made available to and for Canada over the past two to three decades has shown marked improvements in the outlook of the general population…but really, has it improved?
Of course all is not lost, as real conversations on racism have been happening in a number of community organizations, work places and definitely in academia. There is a recently active and relevant anti-racism initiative in Saskatoon called "I am the bridge", which delves into individuals publicly sharing their understanding of racism and its affect. In response to this initiative, the Gold Trail School District's campaign (from the BC Interior), aimed a poster project at the secondary level, to start conversations also addressing white privilege and racism in their school district. Of course these are just a small example, these initiatives do show that there is hope for education and change…right? Yet I can't help but find there is a consistent and gross misunderstanding that still manifests and rumbles in anger, repeated misinformation, racist jokes and race profiling, and this all remains the unbelievably large elephant in the room. Where do we all start to make a difference? No question this is a pained history we share - a history that continually needs to be addressed, with the interest in a conversation, a solution, an equality. I hope that this exhibition eRacism is able to successfully foster and continue that conversation.
I would like to suggest/propose an 'homage' to Yoko Ono's Wish Tree Project. A tree, to take a place in the exhibition (or possibly outside) that welcomes visitors to write a positive wish on a paper tag and tie it to the tree in light of the theme of eRacism at the Penticton Art Gallery. Traditionally Yoko Ono's wish trees have been trees native to the site that the Wish Tree Projects have exhibited – locally this could be a pine or a fir or something that could withstand a number of messages tied to it. This is not meant to be a personal artist's project, but I'm hoping from a collective approach for this exhibition.
I do intend/hope to be able to source a sponsored tree from a local nursery (if interested, images can be made available with tree in mind). I am also open to participate in other interactive projects that could help facilitate conversation, if that would be more appropriate for your Gallery and this exhibition.
Biography
Rosanne Bennett is an artist currently based in West Kelowna. Rosanne's recent works with have merged landscape, memory and nostalgia while observing and discussing the history of both Canadian abstract painting and landscape painting. Over the past decade her work has involved many points of interest including the research of images from vintage nursing manuals, the affects on land as evidenced from mining, highways and logging as well as a folk-inspired selection of Farmer Trading Cards that plays with a number of categories intending to create a conversation on farming and Agricultural Reserve Land in the Okanagan. She holds a BFA from Emily Carr University 1994, and a Diploma in Art History from UBC 2012.
www.rosannebennett.com/cv
Chris Bose
God Save The Queen
Digital photo collage

My Son My King
Digital photo
Artist Statement

In God Save The Queen, the words/text come from the 1910 laurier memorial, which you can easily google and have a read, once you do, you realize nothing has changed since that era.

My Son My King, he is innocent and dreams of his culture and pictographs represent that, but it's something he struggles with, his language, his culture, because he needs to find his feed and feel pride in his people. canada doesn't make that easy at all.

Biography
Chris Bose is a writer, multi-disciplinary artist, musician, and filmmaker, who has read and performed at universities, theatres, and coffeehouses at all points from Victoria to Montreal, as well as the BC Festival of the Arts, as a literary delegate to the Talking Stick Aboriginal Arts Festival in Vancouver and the Word on the Street Festival in Toronto.
Chris continues to make art on a daily basis, and is also a workshop facilitator of community arts events, digital storytelling, art workshops with people of all ages and backgrounds, curatorial work for First Nations art shows and projects, research and writing for periodicals across Canada, project management and coordination, mixed-media productions, film, audio, and video recording and editing, and more. He is of the N'laka'pamux Nation in BC, and currently spends his time in Kamloops in BC.

https://findingshelter.blogspot.com/
Rose Braun
Untitled, 2018
Mixed media
Artist Statement
Childhood informs our future attitudes, relationships,
Weltanschauung.
What is innocence?
What is malicious intent?
How is the tide turned ?
And why?
Hopefully there will always be many questions.

Rose Braun's work is greatly influenced by storytelling; she shares her personal experiences, made perpetual by its embodiment on the hard metal surfaces of her artwork. Using a mixed technique on the steel panels, oil for its rich color, acrylic and some acids for etching and resistance, as well as a number of tools to distress the surface of the areas she chooses to reveal or age for effect. Occasionally, raised Braille areas, collage or even bullet holes may appear at random on Braun's steel paintings. In her painting, 'Bullets 4 Bunnies' she reacts to the irony of the problematic bunny situation in her area, taking note of the innocence of a bunny with a not so innocent solution. Other pieces may reveal a poem in Braille, or contain small text about the painting itself, or just add interest and intrigue. Braun's newest work for Rendition, allow her own interpretations or depiction to move through a wider range of subject matter.
The art of Rose Braun has been shown publicly throughout Alberta and British Columbia, her works are included in national, international and private collections. Among her collectors are the Alberta Art Foundation, the Yarrow Art Foundation in Montreal, the Selzer Foundation in Germany, the Canadian Cancer Society Collection and the Heart of Gold Foundation. Rose also has many private collectors in Canada, the United States and the United Kingdom.
Pierre Chaumont
Canadian Landscape (Only When), 2018
Digital print

Pierre Chaumont was born in 1987 in Libourne (France): he lives and works in Montréal (Canada). Bachelor in Visual Art from University of Quebec in Montréal, He spends his time between Montréal and Tokyo. His artworks were shown in United States, China, Japan, Slovenia and Canada. He is part of the collection of the Museum of Contemporary Art in Laurentians, The Loto-Québec Collection The Museum of Art in Lendava, Slovenia and in many private collections.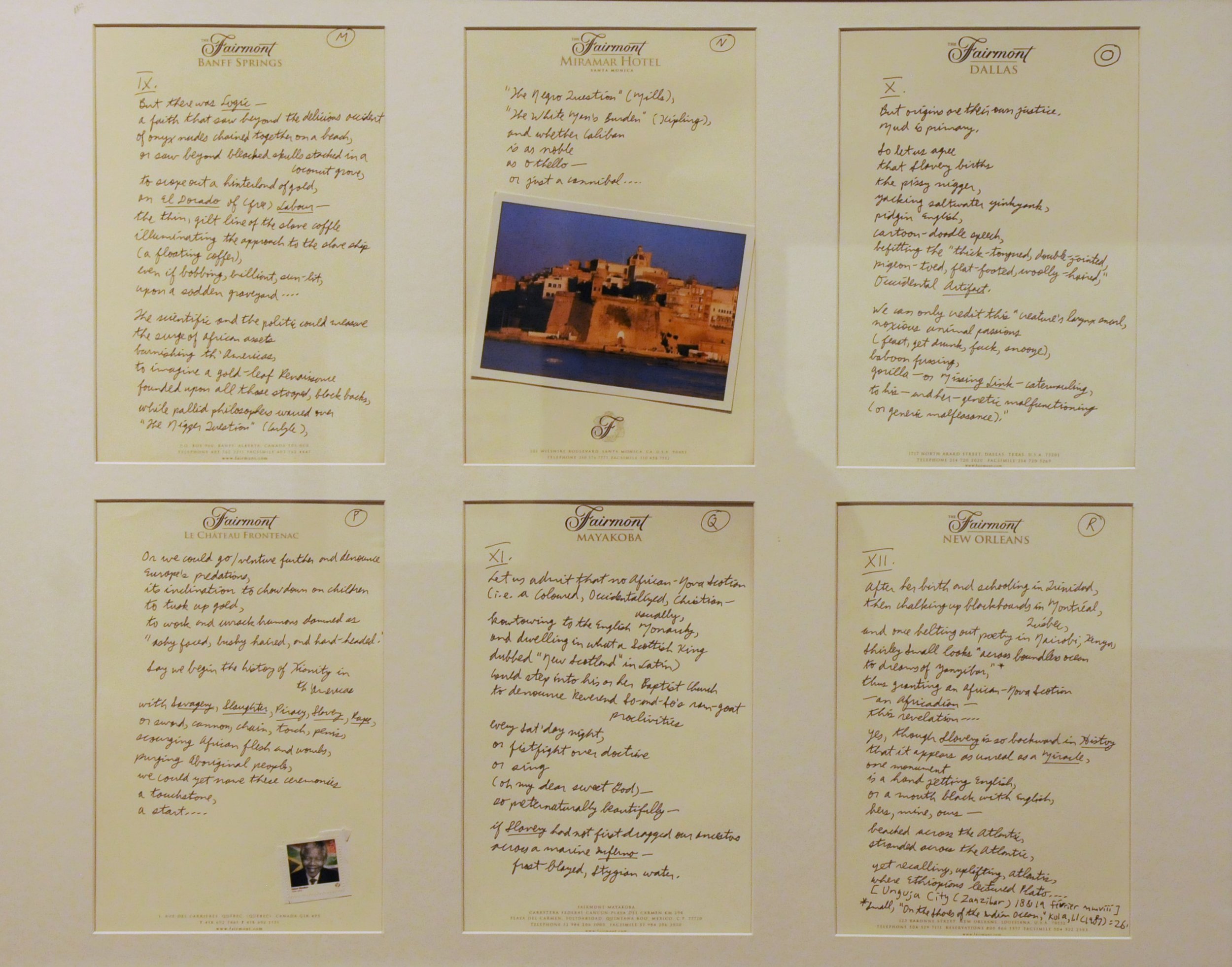 George Elliot Clarke
Zanzibar: A Meditation on Slavery, 2018
Hand written poem

On January 5, 2016, the Speaker of the Senate, the Hon. George J. Furey, and the Speaker of the House of Commons, the Hon. Geoff Regan, announced the appointment of George Elliott Clarke as Canada's next Parliamentary Poet Laureate. On January 1st, Mr. Clarke became Canada's seventh Poet Laureate, succeeding Mr. Michel Pleau, whose term ended December 31, 2015.
Biography
A revered poet, George Elliott Clarke was born in Windsor, Nova Scotia, near the Black Loyalist community of Three Mile Plains, in 1960. A graduate of the University of Waterloo (B.A., Hons., 1984), Dalhousie University (M.A., 1989) and Queen's University (Ph.D., 1993), he is now the inaugural E.J. Pratt Professor of Canadian Literature at the University of Toronto. An Assistant Professor of English and Canadian Studies at Duke University, North Carolina (1994-99), Clarke also served as the Seagrams Visiting Chair in Canadian Studies at McGill University (1998-99), and as a Noted Scholar at the University of British Columbia (2002) and as a Visiting Scholar at Mount Allison University (2005), and as the William Lyon Mackenzie King Visiting Professor in Canadian Studies at Harvard University (2013-14). He has also worked as a research, editor, social worker, parliamentary aide, and newspaper columnist. He lives in Toronto, Ontario, but he also owns land in Nova Scotia.
His many honours include the Portia White Prize for Artistic Achievement (1998), Governor-General's Award for Poetry (2001), the National Magazine Gold Medal for Poetry (2001), the Dr. Martin Luther King Jr. Achievement Award (2004), the Pierre Elliott Trudeau Fellowship Prize (2005), the Dartmouth Book Award for Fiction (2006), the Eric Hoffer Book Award for Poetry (2009), appointment to the Order of Nova Scotia (2006), appointment to the Order of Canada at the rank of Officer (2008), and eight honorary doctorates. He has recently completed his three year term as the City of Toronto's Poet Laureate.
Carlos Colín
The Uprising of the Mask. The Iconoclast Riot, series , 2014
Photograph
Artist Statement
As a Latin American artist living and working in Vancouver, BC, my research is about how "art" can create links between Latin American societies and its diasporas, mostly in relation to Mexico. My research and practical topics explore and connect the core cultural, theoretical, political, religious, artistic manifestations of baroque as a colonial legacy in contemporary Mexico, and by extension, Latin America. I am investigating how artists use our local knowledge, realities, and histories in social movements, struggles, resistances and subversions as new expressions of social and cultural progress using language as knowledge; Art should be made public - by the people for the people.
In this way, art and society can forge new forms of cultural knowledge. Socio-political connections between art and society allow for new art forms and new interpretations of cultural heritage in Latin America and in our diasporas. One of the goals of my research is to encourage new generations in Latin America, Canada, and abroad to be in exposed to Latin American theories, culture, and knowledge in order to better understand and value the wealth and diversity of Mexico and Latin America as a region.
The Uprising of the Mask. The Iconoclast Riot
La Sublevación de la Máscara. El Motín Iconoclasta (The uprising of the mask. The iconoclastic riot) – This series of photographs responds to the resistance of the people in Latin America to maintain and preserve social traditions, local cultures, and, at the same time, the uprisings to sustain Latin American cultures and keep Indigenous Latin American roots alive. Political, cultural, and religious oppression of Indigenous cultures across Latin America generates alienation, isolation, and deterritorialization in the structure of societies and their local heritage and lands. These photographs recover the meaning to fight for local heritage, the possibilities to expand local cultural diversities, and to perpetuate social developments in Latin American. The uprising of the mask represents Latin American cultural insurrection. The iconoclastic riot symbolizes the struggle of society and the effort to forge new Latin American perspectives from the inside out. These perspectives aspire to reclaim identity, individuality, and independence in culture, politics, and arts throughout Latin America.

Biography

Born in Mexico (1980), Carlos Colín currently lives and works between Mexico City and Vancouver since 2011. He is a visual artist and a PhD candidate in the Interdisciplinary Studies Graduate Program at UBC. Carlos' research explores and connects the manifestations of baroque as a colonial legacy in Latin America and its diasporas. Represented by Fazakas Gallery in Vancouver, Colín was awarded the 2016 Emerging Artist, Mayor's Arts Awards for the City of Vancouver in Visual Arts. He has participated in the Art Gallery of Greater Victoria in 2015; Biennial of Painting Rufino Tamayo in Mexico City in 2011.
Steven Davies
Written In My Blood, 2016
An experimental performance based collaborative film by Steven Davies, Jeanette Kotowich (Cree Métis), and Dani Zaviceanu (Romanian Canadian), accompanied by a re ...
Artist Statement
A collaborative film by Steven Thomas Davies (Coast Salish, Snuneymuxw and European ancestry) with Jeanette Kotowich (Cree Métis) and Dani Zaviceanu (Romanian Canadian), accompanied by a re-mix by artist, DJ, and sound producer Dean Hunt (Heiltsuk Nation).
I make films and media art that focus on Indigenous histories and epistemologies to educate myself and others. By referencing Indigenous sovereignty and Indigenous cultural resurgence, my goal is to challenge and disrupt dominant western perspectives and relationships to land and place. This project was created with the intention of challenging dominant patriarchal and colonial narratives that dominate our urban and rural landscapes by making space for and privileging Indigenous female voice and perspective. - Steven Davies
Returning to an Indigenous knowing body our movement has the ability to transcend & decolonize previous patterning. Written in My Blood expresses longing & belonging through how we relate to the environment around us. At any moment we arrive to where we are with all histories/territories accounted for – and we reference identity from this place. The movement score is derived from deep listening & reverence for land; all of that which sustains us. Influenced by traditional and contemporary dance forms the performance uses breath, impulse & instinct to unravel and honour the moment. - Jeanette Kotowich
Kris Demeanor
One Shoe
Hand written lyrics and audio

Calgary Poet Laureate 2012 – 2014: Kris Demeanor
Calgary-born songwriter Kris Demeanor delights in exposing the underbelly of western Canadian culture—gambling, drug use, murder, religion, the suburbs. His numerous CDs of original work explore the darkness and absurdity of these corner of Alberta life.
While Kris' music has taken him around the world performing, he has become a fixture of Calgary's spoken word, theatre and music communities, creating music and lyrics for numerous award-winning projects.
Career highlights include taking the award-winning short film based on his song I Have Seen the Future to the Sundance and Toronto film festivals, collaborating with the Calgary Philharmonic Orchestra on the 2011 event Acres of Dreams, and sharing a beer with David Byrne.
In addition to his musical work he writes extensively. Kris' work has appeared in magazines like Alberta Views and Canadian Geographic. In 2009 he was awarded the Best New Magazine Writer Award for his feature piece 'Get a Real Job' in Unlimited. He performs regularly at the Banff/Calgary WordFest and the Calgary Spoken Word Festival.
Judith A. DesBrisay
Valediction, 2017
Acrylic on canvas

Artist Statement

Humanity has ruptured along dark and bloody boundaries weakened by resentment and animosity. Voids of disequilibrium, inequality, and injustice shudder in the wake of its collapse.Within our 'commonplace' lives we experience covert and overt expressions of racism and xenophobia. Risks related to age, gender, race, serious health and handicapping conditions, and socio-economic status compound the difficulties faced by over 65.5 million world-wide refugees of violence and war, asylum seekers, and internally displaced persons. Amnesty International* and the United Nations Refugee Agency (United Nations High Commissioner forRefugees / UNHCR)** publish reports which document the overwhelming scope of human rights violations and the creative, coordinated strategies designed to resolve the deterioration in these rights. The reports note the negative impact of discriminatory andinconsistent policies and procedures which contribute to the trauma perpetuated by racism and xenophobia.The recent Amnesty International HumanRights Agenda for Canada states, "The government of Prime Minister Justin Trudeau faces longstanding human rights challenges. Many of these relate to the rights of Indigenous peoples, including violations of their right to safe drinking water and police abuse of Indigenous women. Canada also grapples with serious human rights issues relating to detention, including the placement of children in immigration detention".As artists participating in the eRacismexhibit we join others in pursuit of renewed equilibrium and humankindnessfor all.

* Amnesty International . The Amnesty International Report 2017/18 https://www.amnesty.ca/sites/amnesty/files/POL1067002018ENGLISH.PDF

** UNHCR.Projected Global Resettlement Needs 2018. 23rd Annual Tripartite Consultations on Resettlement 12-14 June 2017.http://www.unhcr.org/protection/resettlement/593a88f27/unhcr-projected-global-resettlement-needs-2018.html
Biography
My art career gained momentum as my role as a community health nurse/educator drew to a close. Nursing gave me privileged access to diverse populations in urban and remote communities. Life, work and travels have taken me from Nunavutto Antarctica, including four years'experiencein various regions of South America. In every situation, my awareness has grown concerning the interrelationship of persons with their natural settings: often manifested through cultural undertakings, including art making.Part time diploma studies in the Emily Carr Institute of Art and Design served to focus and further my artistic explorations.My partner and I live an environmentally friendly life at a remote wilderness setting in central British Columbia. Our symbiotic life "in the bush" shapes my creative process. My work is influenced by the finite nature of the world and by the need to acknowledge the inherent beauty and perilous risks therein.I have taughtart to youth and adults, inviting them to stretch the boundaries of their thinking and art practices. Environmental themes permeate my art works, two of which were donated to the David Suzuki Foundation. I seek to better understand challenging global issues and to gain a sense of solidarity with others as we choose actions to enhance the well being of this precious world.I create and exhibit art in Canada and Chile. My exhibition history scans twenty-five years with a total of twenty-two solo exhibits and participation in over ninetygroup exhibits to date These exhibits provide opportunities to underscore our collective need to be thoughtful, wherever we are.
Gary Dewhurst
Black, To Go, 2018
Cement compound, oil and photocopy on Cradle-board Panel
36" x 24"
While my work falls within the broader scope of contemporary art, my interests lie specifically in painting and alterative materials, mediums and subject matter that reflect a personal language that is honest and true to my voice as an artist. It is in this regard that I consider myself to be a unique candidate to exhibit my work focused on racism. I am confident that black, to go will stir-up an emotional response that encourages further dialogue and awareness for the citizens of Penticton and broader region and will fit accordingly with the work of other artists in this exhibition as a unified statement regarding this important topic.

Gary Dewhurst biography

Gary Dewhurst (Canadian, b.1955) is a contemporary visual artist living in Vernon British Columbia. Dewhurst received his art education at the University of British Columbia where he earned a BFA and Minor in Art History and Visual Culture in 2017. Here he began experimenting with non-traditional forms of painting and sculpture; this was the beginning of an artistic practice that challenged the physicality of materials, methods and traditional forms of painting to express man's relationship with the environment. Having side-stepped traditional models and methodologies, Dewhurst has drawn upon everyday objects, materials and unfamiliar domains to push painting beyond construct, colour and intensity.

Working primarily in larger-scale formats, Dewhurst's work is rooted in the Post-Minimalist, Process Art and Environmental/Land Art Movements of the mid-1960s, translated to the era of expressionist Contemporary Art today. Not surprisingly, his swirling marks and repeated bold gestures reignite our imagination. His work suggests an abandonment of formalism, rules and art materials that would have limited him to any one form or style of art. This has created a vocabulary which allows us to experience the world as a force of nature and as a shift away from the notion of art as a permanent object. In this sense, Dewhurst's paintings are autonomous objects bordering abstraction and representation, defined by their own history and making. This interpretation is analogous to the viewer's actual experience of the natural world.

Dewhurst's work titled, Vortex, won the Dean's Award, and was purchased for the University of British Columbia's permanent art collection in 2017. Recently, his work has been exhibited at the Vernon Public Art Gallery show titled, Emergence, and at Gallery Vertigo – Day of the Dead members group exhibition.
Robert Dmytruk
Hate/Hurt, 2018
Charcoal and spray paint on paper

Artist Statement
An experience that has forever influenced my perception of right wing ideology occurred in 2012 when I was in San Miguel de Allende, Mexico. I was invited to attend a party for expatriates that included several Canadians and many more Americans. Their choice to take up permanent residence in San Miguel referenced the climate, history, culture and charm of the city, and the safety of the community.
At the party I encountered a retired couple from Texas, permanent residents in Mexico but, as they emphasized, American citizens. To my surprise I discovered that they were staunch 'tea-party' supporters of the Republican Party in the United States. Inadvertently I entered into a conversation with this couple but very soon found myself the subject of an inquisition by a far right political culture. This experience shaped my point of view of this right wing establishment. It characterized an entrenched, prejudicial and frightening racist bearing.
I began the conversation by expressing my admiration of the American public for voting in a black president, Barack Obama. After a dark history of slavery and depravation in the United States, I deemed it to be a progressive step towards racial equality and acceptance. I was dumbfounded by their response. In their view a black president was the antichrist. He was not even born in the United States. The policies of Obama reflected a left wing socialist philosophy that encouraged and perpetuated a society of entitlement. 'Obamacare' was one of the examples given. Obama was distained as a communist and an imposter. I truly felt worried for the safety of their president because of the deeply ingrained hatred that I came to understand was representative of a large segment of American society.
I pointed out that a majority of Americans freely voted for a black president and his policies but this did not deter the tea party supporters. There was no room in the conversation for an appreciation of freedoms of democracy and/or the culture of human rights.
This experience; although only one personal example of bigotry, provided me with a window into the mindset of a segment of the population that I had only heard and read about. I have never forgotten this ordeal and the gist/direction/tone of the conversation that exemplifies the current political situation that exists in America. Racial tolerance and human rights have eroded in America. People of different religions and/or of a different colour, fleeing poverty, oppression, war, and fear are exploited by politics and emerging nationalism.
The drawing 'Hate/Hurt' is a direct result of the above conversation and of the present day political climate. Hate and Hurt closely resemble each other and confront each other. They both are explosive.
Racial tolerance and human rights are at the foundation of a society as is democracy. Satya Brata Das, author and media commentator.
Biography
Robert Dmytruk is a Canadian artist. He has been developing his approach to contemporary painting for over 30 years and has been influenced by the flourishing arts scene in Alberta and British Columbia. His early development as an artist was influenced by his professors and mentors, David Cantine, Norman Yates and Douglas Haynes. Intrigued with the artistic approaches of artists Miro, Klee and Twonbly Robert has developed a style that embodies the nuances and embellishments that exude from their work.
Dmytruk has been exploring with paint and drawing for more than thirty years. He began his study of art and studio practice in Edmonton, Alberta. In 2012 he moved to Summerland, British Columbia where he now resides and explores and creates his art.
Robert has helped to guide and contribute to the art scene in Western Canada through his numerous teaching experiences, art workshops, art curriculum development, and his participation in the exhibition process.
Wayne Eastcott

I would like to thank the Penticton Art Gallery for including my work in this timely exhibition, "e-racism", even though my work is not overtly about protest, but rather about a more general interconnection between nature, humankind and technology. (This possibly could, of course, include the more refined interactions between human beings.)
Therefore, when the Director, Paul Crawford, first approached me about the possible inclusion of my work, my first response was that I didn't quite fit the criteria. However, I then had some memories of a show in October of 1968 at the Richard Feigen Gallery, Chicago. It focused on the events of the Democratic Convention in August of that year, specifically on Mayor Daley, the police action, the racism and the violence. It was simply called, "Richard J. Daley".
Most of the artist's works were image based and were a logical fit for such a "protest" exhibition eg. Claus Oldenberg's "Fire plugs" or Rosenquist's "Daley portrait" but a few were by abstract artists. I think it was DeKooning that made a statment to the effect, that even though they were not literal image-makers, the important point was that they were in the show, standing against violence alongside the other participating artists.
It is with this sentiment in mind that I am pleased to see my work a part of this important exhibition and especially appropriate at this time in History.
Amr Fahed
Various Titled Series
Digitally manipulated photographs

Amr Fahed was born in Al-Suwaida, Syria and graduated with a Bachelors degree in Sculpture from the Faculty of Fine Arts, Damascus University, in 2007. A versatile artist, he works on different media, such as painting, photography and digital art. The artist gained fame through his digital images that focus on the narrative of Syrian children trapped in war.
In one of his digital series, the artist reworked photos taken during the first events in Syria: the black and white images are scraped, scratched, faces disappear, the birds are transformed into planes, grids evoke the rain of shells and shots, and everything leads us into a timeless universe, a universe that is somewhere between life and death. Amr Fahed later decided to shift his focus to Syrian children in refugee camps. That's when he realized that his place was with these children he highlights in his work. So he decided to leave Sharjah where he had taken refuge, to return to Syria in 2014.
He recently worked on a project related to Syrian children entitled "Syrian Children in the Crossfire". His goal was to depict, through his art, the unfathomable sadness that can be detected in the eyes of Syrian children, and shout it to the whole world. His inspiration comes from the indescribable look in their eyes, – a mixed look of sadness and happiness, a unique combination of conflicting emotions.
The artist wants to show these images to the world, he wants the world to be aware of the immeasurable damage that such crimes have had and still have on these children: children in pain, who will turn into angels and lead their country to take its flight.

Amr Fahed has been hosted for several exhibitions: 4 Walls Art Gallery in Dubai, Alfa Gallery, Domar Culture Center and Al Keshle Gallery in Damascus. He also participated in several group exhibitions, including the Sharjah Islamic Art Festival, in Sharjah in 2010. He continues to live and work in Damascus, Syria.
Has the conflict that is raging in Syria since a few years had an impact on the core element of your art? What has changed? As I mentioned before, the human condition is the primary theme of my artistic itinerary. Paradoxically I noticed in recent times that what happened and still is happening in Syria gave the Syrian artists and the Syrian Art an opportunity to be discovered and recognized all over the world.
Human suffering as a source for recognition of the Syrian Art? Are you living in Syria? Has the place you are living in changed your art? I used to live outside of Syria, but I remained closely connected with all what had happened there. My artistic productivity seemed to be as large as the events occurring in my country were numerous. Then I decided to come back to Syria in 2014 to be closer to the events, and so to be able to express in a deeper way the suffering of my homeland, my people and the Syrian children. I felt the need to come closer to what my source of inspiration is. Now back in Syria, my art gained somewhat in credibility, since I am living in the heart of those terrible events.
What are your hopes and dreams for yourself as an artist and especially as a Syrian artist? My biggest and only real hope is to be able to express to the world the pain and suffering endured by the Syrian people during this war, especially the pain of the innocent children of Syria, and all the horrendous crimes that have been and still are committed against them. Of course I would be more than glad to see my art exhibited in an art gallery outside Syria, for instance in Europe. I then would consider it a victory in regards of condemning the global elites who participate in bringing such sadness in the eyes of the Syrian children.
Pat Field
Freedom
Carved stone
"Freedom" is a primary necessity for human spirit. Our need to have own our thoughts, our own words, our own beliefs, our own practices and accountabilities for our own actions is primal to elevating human consciousness to deal with finding our own way securing shelter, finding meaning and purpose in this world to contribute in, for developing relationships with the intention of love, finding our path forward in the light of climate change, AI and external forces out of our control on this planet.
This black marble was quarried in Afghanistan. I worked on it in collaboration with kids in Vietnam who were taking apprenticeships in stone carving after being abandoned on streets because of land mines that took their parents in the Vietnam war.
The Context
In the mid 1980's I lived and worked with pygmies in Zaire, formally and now again the Republic of Congo. At that time I was there trying to save the elusive Okapi and it was thought internationally that this species was near extinction and on the brink of collapse , the remaining population living the remote areas of the Ituri forest. White Oak Conservation took the lead in having a few of us die hard adventures to go and trap Okapi and bring them back into captivity to breed and reintroduce them back into the country when it became politically stable again. We found ourselves living in the middle of the Ituri forest with pygmies living in temporary palm frond huts ( they are nomadic and live off life in the forest and go where the life goes) and wore bark loin cloths for clothing. The Council of Forest Industries and several mining companies where threatening the forest with large scale deforestation and poor mining practices . Something had to be done. When you have to translate from English to French to swahili to the road language to the pygmies clicking language it was quite a feat to communicate why we were there to help them. After 6 months we found out that Okapi were not endangered but had been eaten by pygmies for 10,000 years and once they knew what we were up to helped us find humane ways to capture the animals and keep them alive in quarantine. Now there is large preserve for Okapi but the story of the pygmies is a mixed story of a loss of cultural practices so experienced in other parts of the world. When I went back in the early 90's the tribe I was living with, they were wearing Niki shoes, t shirts and Adidas underwear……. they were not able to practice their nomadic culture and their language was being stripped away as they were forced to sell things on the "road of beauty" as souvenirs to support their need for food. I came home depressed and decided to help where I could. I have gone back a few times to help and this sculpture I made was to honor their need to have the freedom to be nomadic, to use their language and practice natural harvesting of animals and plant products to survive and thrive from the forest. That is beginning to happen again in the Congo and the Ituri forest. Many things are changing, including the awakening of all peoples recognition that our wisdom traditions and indigenous people have so much to teach us about living with nature, within its limits, adapting to climate change, being grateful for what we have and showing us the way to the future to give everyone the freedom to access education, meaningful employment and to learn from each other on how to adapt to climate change, how to integrate our cultural practices to benefit all so that we can thrive for many generations to come.
Graham Fox
Embr – Alt – Inc, 2018
Digital print on canvas

Artist's Statement
For me art is about capturing the essence of a thing, whatever it may be. The simplified form, the single line, empty space, all distractions removed. In this way it mirrors Zen thinking. It is an expression of my Zen thinking just as my poetry is – a Zen wave you might say!
Specifically, on the topic of eRacism:

Hiding behind your keyboard
With your fears your inadequacies
And oh yes
Your acid-tongue-fingers
Who are you going to blame
Of course, them
The blacks the browns
The reds the yellows
Ctrl – Alt - Del
Control alternatives
And delete
Makes the perfect world
Or so you think.
eRacism is the latest manifestation of tribalism and tribalism is simply preservation of you and yours at the expense of all others. More than this tribalism is enhanced by the blaming of "others" for you own tribe's shortcomings. It is (apparently) not enough to ignore the other tribe, they must be subjugated to the strengthening, the glorification of your tribe. A tribe can be as big as a country, a race or as small as a sect, a family, or even you and I (to some extent we are all tribal).
Specifically, in North America today eRacism is being used in a new and even more sinister way. We are all used to the extremist rants of the racists and, because they are so extreme we are able to easily identify them and expunge, ignore, nullify and, at least to some extent, limit the damage. The new eRacism is more subtle, more difficult to identify and consequently more difficult to counteract. The new eRacism is not a rant, instead it plays on people's fears, leading them away from the "other", the dangerous "other" that might overrun. So, "Vote for one of us" – "Keep things the same, safe" – "Stick with the people you know" – "We'll look after you". These are the subtle racist messages that play to our basic tribal instincts. Now we are not going to say nasty things about the other race, no of course not, we're just going to control them out, to delete them from positions of power and influence – control alternatives and delete. And who perpetrates all this? – CWA, corporate white America, the establishment. This, unfortunately, is where we are today. Where will we be tomorrow? I am looking at my keyboard for the buttons Embr – Alt – Inc, embrace alternatives and include……
Thea Fridman
Triptych, 2018
Mixed media

Untitled, 2018
Mixed media


I started the work on Triptych by searching the internet about revelations of racism and hatred. The virtual world reveals new signs of the phenomena, and of activism against it. To assist the activism against, the concept of eRacism1 was created at the end of the 20th century, with the intention to modernize the activism and ultimately to eliminate the racism and hatred.
Hours of roaming the internet, between sites representing themes of hatred and racism, and sites carrying the banner of activism, brought me to despair and frustration. I could hear echoes of the old expression: "There is nothing new under the sun." (Ecclesiastes 1:9)
My work on Triptych was followed by a dialogue with my younger son, who responded to my comments: "Human life does matter, and that is the important thing." Or, as the intellectual, who was born in the East and educated in the West - Jiddu Krishnamurti - exclaimed: "Whether you call yourself an Indian, a Muslim, a Christian, a European, or anything else, you are being violent. Do you see why it is violent? It is because you are setting yourself apart from the rest of mankind. When you separate yourself by belief, by nationality or by tradition, it will breed violence2."
The choice to always adhere to the initial definition, the HUMAN being, may lead to thoughtful deliberation and change, necessary as a wake-up call. The reason for possible non-acceptance of such a wake-up call may be based on fear, rooted in the collective human identity. Could it be that the cure for fear is the concern for the wellbeing of mankind? Specifically, the concern implied by the old saying of Hillel, the Hebrew scholar: "Do not do to the other what you hate to have done to yourself." These words of wisdom can be traced to almost every cultural source and tradition.
Our existential presence in the world of phenomena requires a physical component, and my work of art takes me to the conceptual as well as to the sensual. I wanted to give life to the basic idea of HUMAN existence & awareness, by transforming the everyday virtual reality into live fragments. Thus, the heart of Triptych was born - HUMAN - pixels that mark the core, the true connection between so-called different people. The pixels are made by hand from X-rays of my father and of myself, representing the connection to the human essence.
From the light box work (HUMAN x-ray pixels) the work Triptych works as an echo of the wake-up call. An echo for the need to urge the audience to observe and to create a reality, beyond the idea and the virtual.
The two wings of Triptych express the urgency for a wake-up call: ___ Right wing: the text from the grave of my father, the late Aryeh Friedman, who asked my brother to engrave the saying of the Hebrew scholar Hillel in both the Aramaic and Hebrew languages. ___ Left wing: the Latin text that the Roman Emperor Alexander Severus ordered inscribed on the walls of public buildings in Rome, in the third century AD3.
The necessity to see humanity in its entirety, and the desire to find a path towards peace that transcends human fears, is present in every person on this planet and must be energetically communicated, by parents to their children, by society's leaders to their constituent groups, and by leaders of governments and institutions, to the common people.
It is our responsibility, as human beings and artists, possibly of a future generation, to carry the ideals forward and pass them on.
Thea Fridman , 2018
*1 http://www.eracismneworleans.org/
*2 https://www.goodreads.com/quotes/520382-when-you-call-yourself-an-indian-or-a-muslim-or
*3 "the Emperor saying, "Do you desire this to be done to your land which you are doing to another's?" He used it often to exclaim what he had heard from someone, either a Jew or a Christian, and always remembered, and he also had it announced by a herald, whenever he was disciplining anyone, "What you do not wish that a man should do to you, do not do to him." And so highly did he value this statement that he had it written up in the Palace and in public buildings."
Historia Augusta, p235 The Life of Severus Alexander (http://penelope.uchicago.edu/Thayer/E/Roman/Texts/Historia_Augusta/Severus_Alexander/2*.htm l#51.6)
Biography
Thea Fridman is an Israel-based artist who works in a number of media, including sculpture, drawing, and writing. The basis of her work derives from what she calls biographical landscapes. At the same time her wonder of the natural world, leads Fridman to expressions of images and processes from the natural landscape.
Objects that are made in a casting process, work for Fridman as a mimesis act of transformation. Thea's spiritual world give birth to ideas not only through objects, but also through writing and video art.
Fridman's work follows the conceptual tradition in which the idea is crucial. When the work starts from an idea – the material and the technique will follow it. Whether it will be a traditional art material like clay or gypsum, a readymade object or a contemporary print.
In her studio work Fridman draws inspiration mostly from the conceptual art of the 1970's as well as from Neo classic and Renaissance art.
Fridman's work from the last four years focuses on the possible connections between ideas and materials, as well as between the personal and the human condition. The artist has recently begun working on her first artist book that will summon her work from her first solo exhibition (Feigalle). The book – "PoliCania state of mind" is named after Fridman's mixed origin – a father of Polish origin and a mother from Morocco. The book will add another level of experimentation to her already innovative creations.
Alexey Gammer
Grey Matters, 2018
Blended art photograph.
16" x 20"


Grey Matters represents the tragic irony of minds exploited by racism: black and white are both necessary to create the color that symbolizes our mind, so when segregation occurs and casts black or white out, "grey" matter is effectively lost. The color of the mind should never be smothered by the color of our skin.


Alexey Gammer is an emerging digital artist who was born and raised in Kelowna, British Columbia. He completed high school in 2002 and studied writing, film and English literature across universities in Victoria, Winnipeg, Ottawa and Montreal. An acutely organic visual curiosity nurtured his imagination throughout his studies. Gammer returned to the Okanagan in 2012 and found entry-level work in portrait photography upon settling in Penticton. This was balanced with animal volunteer work within the South-Okanagan community and an exploration of experimental photography on the side as much as scheduling would permit. These earnest sideline ventures led Gammer to discover the possibilities and sheer freedom of multiple digital photographs blended together. Professional portraiture was thereafter abandoned as Gammer assumed the role of a painter pretending to be a photographer, approaching a day's batch of stills as a new set of paints and raw material to manipulate. The result was imagery that was far more personally authentic than any of his previous conventional photographs. His work was subsequently accepted into its first public showing: the 2016 Spring Renewal at the Shatford Center, during which one of his pieces was selected for extended exhibition at Penticton City Hall. Front Street Gallery accepted Gammer into a full-time artist residency the following fall, with his work featured until the end of 2017. His work continues to be displayed in gallery exhibitions throughout the valley and online.
Susan Gately
Silence, 2018
Wall hanging
20" x 15"

Artist Statement
"Silence" demonstrates both needle and wet felting techniques.. The rich color pallet of the background is reminiscent of those often used by peoples from Central America. Countries in this area of the world are rife with seemingly, unending poverty, violence and political instability. Peoples from these areas experience a high degree of danger and violence from gangs and drug cartels. Fleeing their countries, refugees face incarceration, separation from family and deportation when they reach the US border. Stripes of the background may connote the bars of jails that many may face when they are arrested by the US border patrol. The face of the women, in the middle of the piece must consider to stay and risk her life and the lives of her family or to seek asylum where her family may be separated, jailed or deported. "Silence mata" depicts the dilemma of the women…should she speak out or should she be silent? The piece calls for the viewer to appreciate that they face the same dilemma in response to the global issue.

Biography
I never thought of myself as an artist. However, before I retired, I tried many crafts each year at the holidays, hoping to find something that I might make for each of the members of my large family. I made macaroni noodle angles, Santa, Clauses, reindeers, embroidered small holiday ornaments, and painted wooden snowman, among other small objects. I tried making Polish Easter eggs…my sister and her daughter laughed at my result. I tried quilling. None of these crafts worked for me. Then, at a farmer's market about 5 years ago, I met a women who was showing children how to roll a ball from wool roving. I was hooked from the beginning! I loved the magic that felting allows me to experience. Being a researcher, I purchased and read many books on felting, the history of felting and the various techniques of needle, wet and nuno felting. Upon my retirement began to take courses in felting, made gifts for my friends, and have exhibited at a few venues.
I love the cognitive, sensual, and emotional aspects of creating a piece and anticipate with wonder how the wool will express itself. I have come to believe that anything can be achieved with fiber.. As an artist my intention is to incorporate the beauty of felt in a way that evokes emotions. As an artist my goal is for my work to be accepted by a jury exhibit.
Vera Genovese
(In)giustizia, 2018
Glitch art
Artist Statement

The proposed project is an experimental photographic project. The images are produced directly from the camera which means that the digital post-production is minimal (only b/n conversion, or little color correction). Each of these refer to a different experimental technique. They are pure matter, just a pure photographic recording, as it presents itself. The phenomenological reduction (of the subject) thus allows the emergence of the "photographic", free from a real referent. A non-entity therefore always alive and pulsating. Given the non-figurative works, the image function is here that of the mirror, where you can find, recognize, yourself and recognize the others. Find the soul, and capture it through the photography. The photographic object is always an abstract flux even if it seems to be a portrait, or a tempest, it's only pareidolia. The aesthetic qualities of photography are to be investigate in its power to lay bare the realities. Reflections and colors are clues to identify the substance of the photographed thing, micro and macroworlds hidden over our eyes. Light that turns into thought. Statue of liberty, some demons that are hidden in our brains. Paranoia. Fears that become tangible. A sort of Rorschach test. The offcamera project has the same intent and it's also an experimental project. The prints are produced directly on photographic paper thanks to a photochemistry. Through a research of materials, and chemicals. The smallest are printed on a expired ilford ilfobrom b111 baryta '60 paper. Scannography combines miscellaneous media, mixing it to create an unique image that is a result of . Always without a post production intervent. Glitch art is made by sonification / databending. The purpose for all the different techniques is the same.
Biography
My name is Vera Genovese, I'm 28 years old. I graduated in "plurilinguismo ed interculturalità nel mediterraneo" (foreign languages: French/Spanish). I make portraits using the photopainting technique. Currently, I attend the academy of fine arts of Naples, post-graduate program: " photography as artistic language". I have participated in various art exhibitions, written a poetry book, ("Dell'arte d'astri")that was sell out in "Feltrinelli" stores, and I am published in an anthology of tales called "nanoracconti" prized in the fair of books in the province of Naples. I have also drawn some cover CDs for bands.
Pnina Granirer
What on Earth
Mixed media on canvas
What on Earth?'
As hatred, discrimination and racism rise again and again in almost all the corners of the earth, humanity quietly marches forward, oblivious, distracted and complacent, as depicted in this painting. Bathed in the golden light of self-righteousness, human beings ignore the suffering of others, who are discriminated against because they are different - they are 'the other'. Whites discriminate against blacks, Muslims against Christians, Christians against Muslims and still so many against Jews, even after the atrocious crime of the Holocaust. Men have discriminated against women for millennia and yes, some women discriminate now against men. The list is never-ending.
What on Earth is happening on this beautiful planet of ours?
Artist Statement
As hatred, discrimination and racism raise again and again in almost all the corners of the earth, our society quietly marches forward, oblivious, distracted and complacent, as depicted in this painting. Bathed in the golden light of self righteousness, humanity still ignores the suffering of so many others, discriminated against just because they are 'the other'. Whites against blacks, Muslims against Christians, Christians against Muslims, still so many against Jews even after the worst of crimes - the Holocaust, men against women and yes, some women against men, and many more. What on Earth is happening on this beautiful planet of ours?
Biography
Pnina Granirer was born in Romania in 1935. After the war she moved to Israel where she completed her studies at the Bezalel Art Academy in Jerusalem. She came to Canada in 1965 and settled in Vancouver, BC.

In May 2017, after a long career as a visual artist, Granirer published her memoir LIGHT WITHIN THE SHADOWS; a Painter's Memoir (Granville Island Publishing), available in better bookstores and on Amazon. Pnina Granirer has exhibited her work locally, nationally and internationally since 1962. She has shown in more than eighty solo exhibitions and her work has been included in numerous group exhibitions, and in books and exhibition catalogues in Canada, Israel, Spain, Portugal, Costa Rica and Chile. Her works are found in many private and Public Galleries collections, in Canada (some as Cultural Property donations), the US, Chile, Europe and Israel.

The retrospective of 120 works at the Richmond Art Gallery in January 1998, Pnina Granirer: Celebrating a Life's Work; a 40 Years Survey reflected the artistic development over her long career. The lavishly illustrated book Pnina Granirer: Portrait of an Artist by Ted Lindberg (Ronsdale Press) was launched at the opening of the exhibition and a film on her work by Mehdi Ali was first screened in 2005 on Bravo!TV.
The Trials of Eve, a major work of 12 mixed media drawings and 12 poems, now in the collection of the Glenbow Museum in Calgary, Alberta, was published as an Alcuin Citation Award limited edition book and later as a softcover. The book has been acquired by numerous Special Collections of Universities, Art Galleries and libraries as well as by private collectors. A film by the same title was first shown at the FIFA in Paris, on Bravo!TV, on Knowledge Network and other venues.
In 1993 Granirer co-founded Artists in our Midst, the first ongoing Open Studio Walk in Vancouver, BC. For six years she organized and hosted discussions about art via Philosopher Art Cafes sponsored by Simon Fraser University.
In 2014 the artist was included in the encyclopedia of International Surrealism by Arturo Schwarz, Il Surrealismo — Ierie Oggi (Italy) and in a 5-page chapter of José Miguel Pérez Corrales's Anthology, Surrealismo: El Oro del Tiempo (Spain).
Granirer's work has always reflected her personal experience. Working in series, allowing an idea to grow and develop. Her interest lies in unifying shape with content and she works in mixed media.
Lynn Greene
Red Enough
Acrylic on canvas

Lynn Greene
We Laughed When They Said They'd Buy Our Land
Acrylic on canvas

Artist Statement
Red Enough, Is a response to blood quantum. What's enough? How can it possibly define an individual? What does it mean to me and the world and the group in my heritage? What kind of heritage is it, anyway?
We Laughed When They Said They'd Buy Our Land. After all, how can anyone buy Mother Earth?

Biography

I went to the University of Alberta from 1980 to 1984 and got a BA with an English major and Art and Design minor. I was hired right away to complete the History of Alberta's correctional system for the Province (I completed the job, but I don't know if it was ever published) and also worked for Sylvia Novak in the Indigenous Affairs department. Since I couldn't identify as Aboriginal, I lost that job. I studied at the University of Saskatchewan (to teach English as a Second Language) and the University of Victoria in creative writing as well as The Vancouver Island School of Art in Victoria. Art has been a focus that never goes away. When I lived in Bamfield, on the coast of Vancouver Island, my paintings were on exhibit at the Net Loft Gallery. In Victoria, I've exhibited my work in the Look Art Show that they host yearly in the Bay centre, and in a small gallery across from the Belfry theatre, as well as the art gallery at the Cedar Hill Recreation Centre.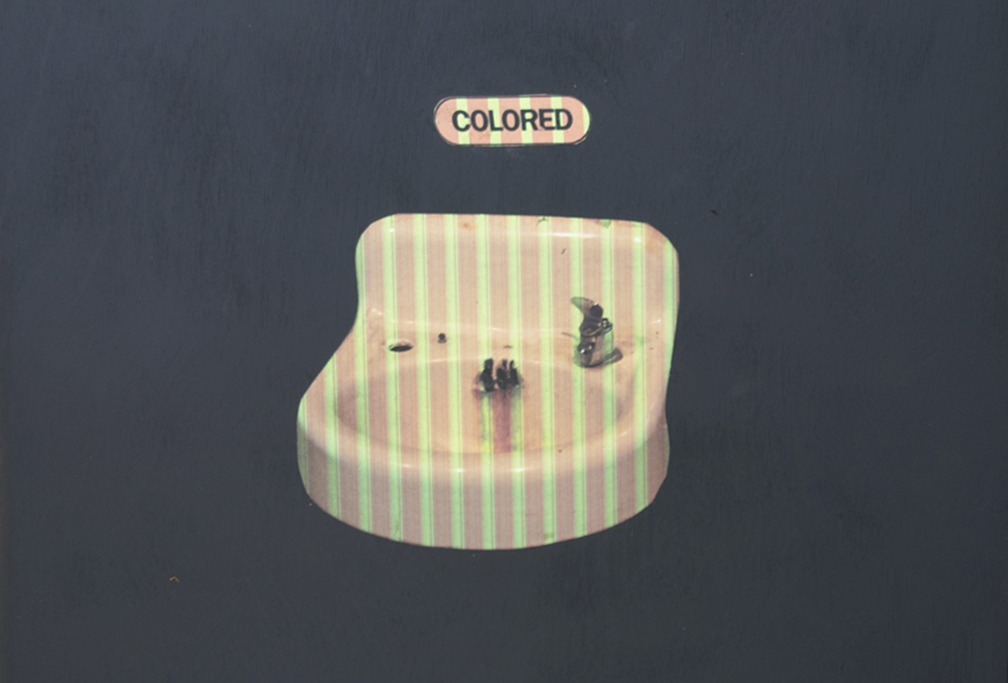 Lesley Harries-Jones
Colored, 2018
Cold wax, oil, collage on panel board
14"x 14"
Make America Great Again, 2018
Cold wax, oil on burnt panel board
14" x 14"
Canadian Accent, 2018
Cold wax, oil on burnt panel board
14" x 14"

Artist Statement
I am a conceptual artist working with a variety of mediums to illustrate the spectrum of human emotions resulting from historically significant periods in history.
I incorporate provocative and at times disturbing images to create a visual narrative that compels the viewer to examine issues of racism, identity, belonging and exclusion. Utilizing personal experience, observation and history, my work articulates human experiences not typically represented in mainstream art.
Although I work with a variety of mediums, my current mediums of choice include, cold wax, pigmented wax and encaustic mono printing. I consider myself a collector of thoughts and emotions. As an artist I form visual language that describes and exposes my interpretation of human experience. What has become evident and clear as my work develops is the consistent themes within my work, enhanced by a career as a justice advocate as well as my experiences living in Africa, Wales and Canada.
My work deals with the isolation, disconnect, fragmentation, myth, identity and occupation. Representation of indigenous experiences have historically been marginalized. Western expropriation of art, suppression of language, culture and autonomy, all sought to erase the rich and thriving communities that for centuries existed around the world. My work explores the experience and disconnect of the Indigenous African Peoples as a result of Colonialism. It articulates the lost connection to culture as a result of slavery, the impact this history continues to have, and the redefining of self through discovery of voice.
This work addresses the reality that racism continued after emancipation and to this day remains supported by legislation and policy within North America. The piece titled "Colored" is of a fountain at the Birmingham Civil Rights Museum. This fountain is an example of the racist policy that existed during American segregation. It serves as a reminder that policy that divides by race is dangerous. "Make America Great Again" illustrates the problem with political policy that attempts to close the doors to targeted Nations. The final piece "Canadian Accent" demonstrates how assumptions based on the colour of a person's skin is a form of subtle racism.
Biography
Lesley Harries-Jones is a Canadian artist currently residing in Hamilton, Ontario. She is a graduate of the Toronto School of Art. Lesley has exhibited in Peterborough, Toronto, Hamilton and New York City. Her work forms part of private collections in NYC and Canada. Lesley has a working studio at the Cotton Factory in Hamilton.
Lesley uses the encaustic medium to document the spectrum of human emotions as a result of historical periods in history that have affected indigenous populations globally. Images are intentionally dark, provocative and disturbing to draw the viewer into an examination of systemic barriers and evoke critical thought about racism, occupation, exclusion and identity.

Fern Helfand
What does it mean to be the problem?
Mixed media installation

Fern Helfand's intent for this project is to create a place for conversation and contemplation created within the intersection of her work and that of the 2 invited artists. Helfand first publically recognizes her own position in the world of white privilege.

What does it mean to be the problem? "[George] Yancy compels whites to "flip the script" and inquire what it means for whites to understand themselves to be the problem of racism" It is 1961. Fern is the girl in the Nestlé's Chocolate Quik blackface, posing with her siblings during a costume party at a Jewish Community, summer resort not far from Toronto. The parents or grandparents of all the children in the picture are immigrants from Eastern Europe, some holocaust survivors. Upon re encountering these family snapshots, Helfand began thinking about the still present use of similar stereotypes in contemporary media and society. How can this type of misuse of appropriation be OK? Inspired by contemporary literature, which asks whites to reconsider how they might be the cause of the problem of racism, she is presenting this work as a challenge and a question for the viewer.
Fern Helfand Biography
Helfand's interests lie in revealing the fabricated nature of the world. Her own photography explores issues of veracity both within the experience of the moment caught within a given photograph, and also within the issue of digital photography as a medium. Her work has approached the subject of tourism in locations such as Niagara Falls and Disney's Epcot Centre, has questioned people's experience of real events such as the Okanagan Mountain Park fire, and continues to explore the experience of community development within the region of the Okanagan. Helfand takes none of these experiences at face value, nor do her works. Working with the medium of photo and collage, she questions the authenticity of people's experience with their world, and at the same time, questions whether there currently exists any truth inside photography as a medium".
Fern Helfand recently retired from UBC Okanagan but continues exploring the idea of fabricated experience in the residential communities and developments in the Okanagan. Areas of development such as the suburb of Panorama Peaks allow her to explore issues of sustainability and also of community. To Helfand, such real estate projects are problematic. "People buy for a view," she tells me, "and the developers come in and tear up the mountain in order to build, then people move into their new homes and lo and behold, the other side of the mountain, which had originally afforded the beautiful view has been torn up, as well." In "Forested Hills to Paved Plateaus," Helfand observes that public transport is not available in these locations and the only way to access such developments is by car, making them environmentally unfriendly. She also notes that such homes as these are often bought up by investors and then resold at a profit, allowing very little sense of community to be established. She has been working on this project for some time now, and intends to continue.
"A photograph is a cultural artefact," says Helfand. "It tells a story and preserves a moment in someone's life. The activity, clothing, and environment all speak to time and situation, and to the technology of the day." Utilizing collage with such artefacts adds layers of time and perspective and helps an artist, such as Fern Helfand, make a statement about the observations of her own time.
Kajsa Henricsson
Kyza Designs
Birds of a Feather, 2018
Mixed media
"Birds of a Feather" represents the fact that deep down, we are ALL the same! ...and as some already do, all of us need to "flock together," rather than be separated from one another, as we really are all the same....and uniting together with help ALL of us rise(fly).
Hershey's Kiss, 2018
Mixed media

"Hershey's Kiss" the idea is that the "tag" extending out represents what we desperately need more of in this world....so much more than just a "kiss." If we could wrap this up and sell it as easily as a Hershey's candy, maybe we could more easily generate and proliferate these much needed aspects to create more harmony and acceptance in our world.

Biography

Kajsa Edvinsson owner of Kyza Designs specializes in designing and creating handmade, unique, custom jewellery. With over 12 years experience in the trade, Kajsa Edvinsson's journey has taken her from her native Sweden, to Toronto, Ontario; to the Okanagan Valley; to now growing her business in the Greater Vancouver Area. Her passion and talent in art & design is apparent in her work, and has proved essential in her devotion to making high quality custom pieces.

Kajsa Henricsson • Kyza Designs • Vancouver, BC, Canada • T:604-761-0120
www.kyzadesigns.com
Carol Hermesh
Done, 2018
Three hemp hangmans nooses

Artists statement is…
Done

Biography
Carol is a photographer and digital artist and states, "Creativity has a way of feeding off itself and expanding into the unexplored. Each series is still growing and expanding as I experiment with the sizes of the prints and the variety of ways of finishing the product. Each new montage is the result of many hours of computer manipulation. Although creativity is not new to me, it is now taking a new form in that it is becoming a viable career as a photographer."
Carol believes that it often takes teamwork to become a successful artist. She is the business manager for her husband Michael Hermesh's work; playing a supportive role including the photography of his sculpture and in some cases the photography of the drawing group models, to bring out certain gestures in his work. These photographs lead to experimentation and finally to a couple of series of photomontages that are now printed as gicleés and photos in small series.
Actively showcasing her work, Carol has exhibited at both the Penticton and Summerland art galleries, Leir House Cultural Centre and for the Bohemian Festival at the Red Rooster Winery.
www.carolhermesh.com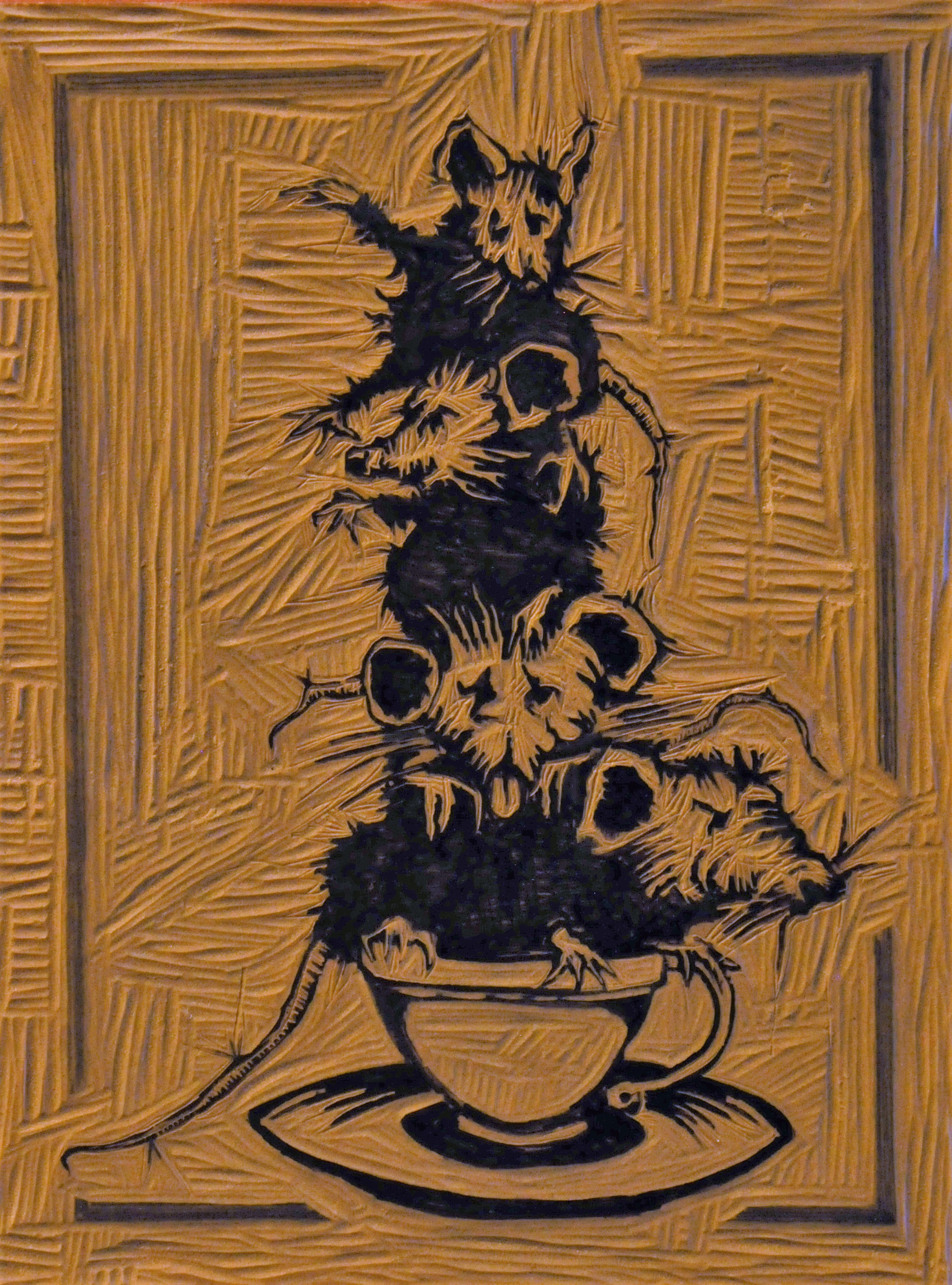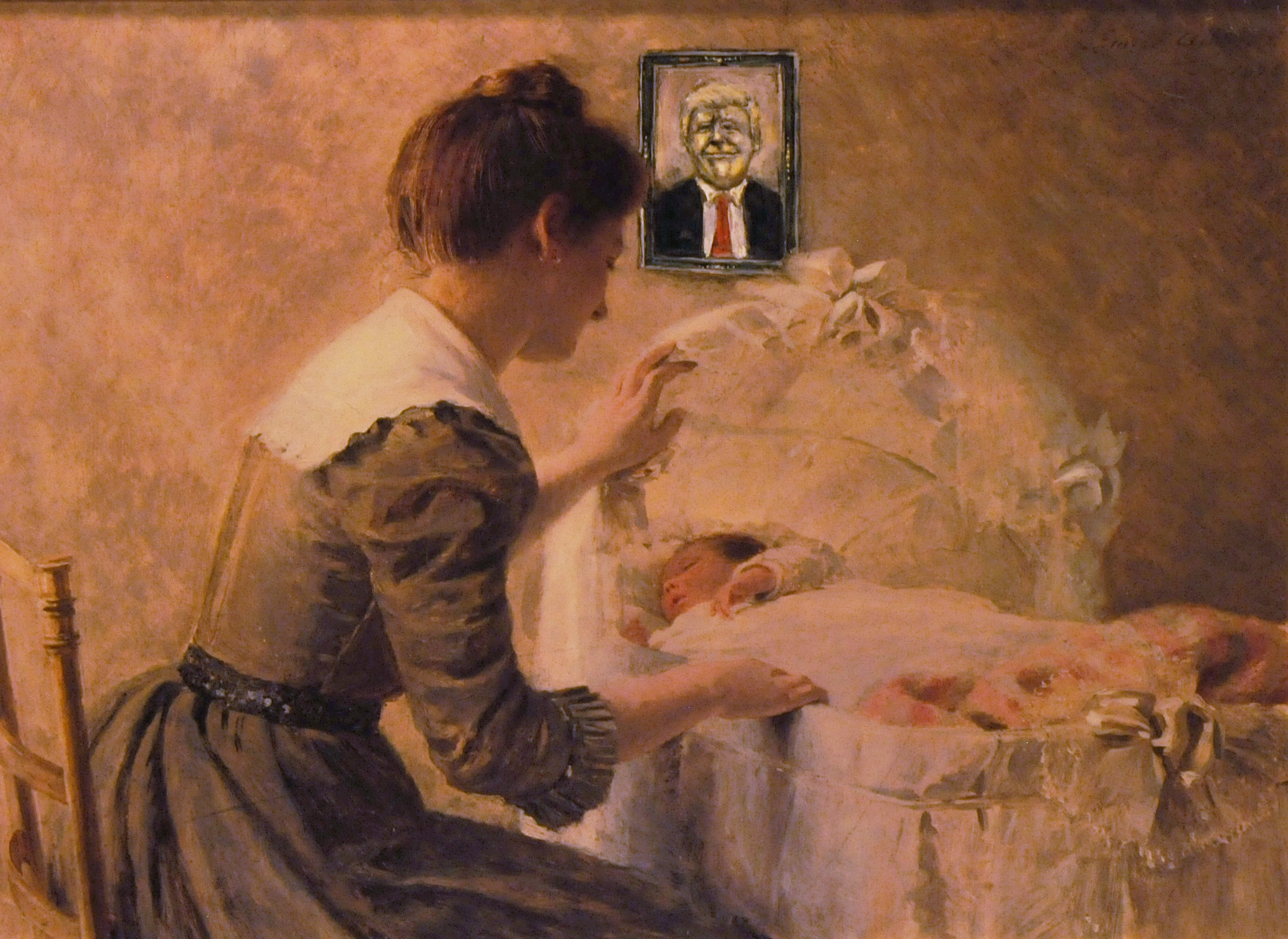 Michael Hermesh
Tea Party, 2018
Lino-cut block
The Chosen One, 2018
Acrylic on found art
8.5"x 11"

Artist Statement
99% White
A direct response to Obama's presidency
Racist.... sure,
With apologies to real Rats.
A lack of self-awareness is required to allow white privilege to proceed unchecked by moral argument.
White Privilege and the Chosen One:
The flip side of racial animus is race privilege. One cannot say black privilege because it takes a privilege to give the term meaning.
White privilege is a reality that goes back to colonial times and earlier, at least back to the age of exploration.
I am aware of and have been affected by at least two of the times that white privilege has metastasized. The two cases are Trump and Hitler, two figureheads who used populist fears and resentments to fuel their politics. The damage is immediate and deadly, as well as multi-generational. (As a result, I would certainly consider myself to be affected by white privilege as the beneficiary as well as the victim.)

I am not a political philosopher nor a historian and would no doubt have a difficult time defending this artist's statement against someone whose bailiwick covers the parameters of this discussion.
Immediately after being asked to participate in this show I went to Value Village and happened upon the reproduction that I defaced here. It was a serendipitous moment where the end statement came to me almost in its entirety. I had already realized that I could not do a piece that pretended to explore racism as a recipient when I am a member of the privileged group. The painting is not perfect as a metaphor, but it was painted in the time of the robber barons of the gilded age. The artist was Louise Emile Adan who was French and lived in Paris. However, he was not without an awareness of the inequities in regards to the working class.
We are born to receive the legacy of the past whether it is privilege or oppression. Our responsibility is, to begin with, to at least have some idea of where and who we are.
Kurt Hutterli
The United Colours of Empathy, 2018
Acrylic on canvas board
20"x 16"

Artist Statement
My painting symbolizes the hope that one day mankind will be able to overcome the worldwide "Empathy Deficit Disorder (EDD)".
Biography
Kurt Hutterli was born in 1944 in Bern, Switzerland. He got his Secondary School Teacher Diploma at the University of Bern and taught arts, drama and Italian before moving to Canada with his wife Marianne in 1996. In 2000 he became a Canadian Citizen.
As a writer, he published novels for adults and children, short stories, poetry, and stage plays. He also wrote radio plays for the Swiss National Radio and columns and articles for newspapers and magazines. Some of his texts were published in anthologies and school books in Switzerland and Germany. He was awarded several prizes. The archives related to his work are kept in the Swiss Theatre Collection at the University of Bern and in the Special Collections at the University of British Columbia in Vancouver.
His artistic work (objects, sculptures, installations, paintings) has been shown in several solo exhibitions in Canada and in Switzerland and he regularly takes part in group-exhibitions. A growing number of his works can be found in private and public collections.
Dr. Michelle Jack
Light is Coming to Get Back Everything the Darkones are Stealing, 2018
Drawing, photo 'C' Print on black light banner material
36" x 36"

Biography

Syilx/Okanagan from the communities of Snpintktn (Penticton, BC) and nisɬpícaʔ (Omak, WA)
An Abstract Image Maker/Scholar who investigates the physical, mental, spiritual, and material. Over the years as an image maker/scholar I have delved into some senses more than others when making distinct bodies of work that have to do with many different living land memories, and parts of sylix/Okanagan Indigenous/Aboriginal culture. To respect our Earth/Mother (təmúlaʔxʷ), Creator
(kʷl'ncútən), and ancestors (sənqsílxʷ) when creating work sustainability has to be considered in every sense or area of life. The knowledges of our people, language, and culture are intertwined with the ideas of holistic methods and processes.
Mary Joyce
Summer Morning, 1974
Etching with multi-plates

Flowers of Resistance, 2017
Oil with collage elements on Mulberry paper

Priceless, 2016
Oil on wood panel with photo collé
Courtesy Ray Harper
Summer Morning
I include this piece as it is from 1974 showing the use of the square format, the safety pin, and the armed warrior, Leonard Pelletier. Seeing it again, I am pleased that older elements of my work are returning to it.
Priceless
Although some thought racism was defeated after the USA race riots in the early 60's, others noticed the racism flung at the Vietnamese liberation fighters by US ideologists during the imperialist war on Vietnam. Some Canadians have felt holier than thou due to a relative absence of race riots in this country; however, black and brown and red voices presently are pointing out much was hidden. Much that included genocidal action against First Nations and Inuit peoples now is coming to light. That light is revealing a black core of greed at the heart of early Canadian sanctimonious self-satisfaction.
For artists who wish to align themselves with a drive to deepen the humanity of the natural and social world, life is difficult and confusing. Identity politics attempts to force a kind of censorship over any voice coming from skin whose colour does not match the colour given to a struggle by the forces that be. Empathy, sympathy, a cry of the heart for another's pain is answered by condemnation: how dare you presume to know the sufferings of a being unlike yourself? Hysteria can take hold: people are told that if they are white, they are inherantly racist.
I am proud that, in spite of the pernicious forces ranged against citizen mobilization to growing fascism, there is growing resistance.
My work salutes this, celebrates the driving courage of those worldwide humans who insist on their rights in building a better world. My pieces are informed by my life-long participation in these struggles. In spite of the social practice that art, like oysters, fine wine and beautiful motor-cars belongs exclusively to the rich elite, I insist that art is for the people who build the world, who use their hands and minds in service of all.
Flowers of Resistance
Composed from the triangles shaped by open safety pins, this piece pictures armed anti-fascist eastern European fighters of Ukraine, a couple from a womens' brigade and a troupe, returning exhausted to Kiev from the front. In the triangles to the left, strongly back-lit, a night crowd sits, waiting, in the heat. Union T-shirts, flags and a banner proclaiming "Palestina 25" identify them as workers and members of the large Brazilian diaspora of Palestinians.
Below them, in the same space, a band of Torontonians in the rain display a banner proclaiming "Jane and Finch Action Against Poverty." Jane and Finch locates a poor ghetto of non-white people, designed by an urban planner in 1960s Toronto. Although the historic images employ greys on the picture's red ground, it is clear they depict white faces, while the contemporary portraits refer to a rich mix of skin colours.
Several portions of the piece, such as the pencil drawing of the women partisans, are made on Mulberry paper collaged into the work with cold wax, the medium I use with oil paint.
Biography
Mary Joyce is an artist born in Montreal, living in Edmonton. An award-winning printmaker, drawer and painter, she has been producing and exhibiting in Canada and Europe since 1986. Sensory retention through body memory, labour, how things work, women's work, industrial architecture and engineering provide material for her investigations.
"Mary has been a force in the Edmonton art community for many years as a printmaker, painter, teacher and organizer. I curated an exhibition of her paintings entitled Speeding Subject that featured some of her most innovative and beautiful work. The Speeding Subject exhibition proposed a cinematic and sculptural approach to painting and drawing by conceiving pictorial space from the back of a motorcycle! The resulting series is a marvellous fusion of lyrical beauty and sensual exhilaration." Marcus Miller, 2011
Her current interests query speed and the passage of time. Her subject is memory and consciousness; how the body, mind and heart are simultaneously imprinted with sensory evidence of rapid passage through time and space, and the indelibility of specific places in imagination. Drawings she makes while in motion signify the primary experience of the present passing into past, future becoming present. She is in celebrating current upsurges in political mobilization and citizen engagement She is also pleased to have completed construction of a well-lit, spacious new studio in 2011.
Joyce has won a range of Art Awards and Grants. Her work is collected in the Alberta Art Foundation; Society of Northern Alberta Print Archives; the Misericordia Hospîtal and U of A Hospital Collections; University Collections, University of Alberta,; WP Wagner High School,; the Edmonton and District Labour Council Collection; SACRED Association; all Edmonton, Savage Collection of Canadian Prints at the Glenbow Museum in Calgary; the Flint Printshop Archives at the Hamilton Art Gallery, Hamilton, Ontario; the Ad Axiom Gallery Collection in Burlington, Ontario; Manitoba Printmakers' Association Archives in Winnipeg, Manitoba; East Husky Oil Project of Newfoundland; and private collections in Canada, the US and Europe.
Mary Joyce earned Visual Arts (BFA Printmaking) and Education (BEd) degrees at University of Alberta; BA in Literature and Art History (Honours Double Major) at McMaster University in Hamilton, Ontario. She has completed mentorships and workshops with some of Canada's best-known artists: Sheila Butler, Shirley Witasaalo, the late Garry Williams and John Chalke. She organized and achieved successful art production relationships with print-artist Alan Flint and with electro-acoustic composer Gerhard Ginader.
"In the invention of a personal vocabulary, one arrives at an authentic voice. Mary Joyce has achieved that through a unique interplay of images and techniques." Glen Allison, reCurrentworks 1996 pg.3
Steve Kidd
Wall of Anonymity, 2018
Digital print

Artist Statement
Over a long career as a photojournalist, I've seen many cultural shifts. Some trends come and go in the matter of months or even weeks, while others grow and evolve over time to become part of the fabric of our society.
Social media is one of the latter. It's still maturing but after only a decade or so it is deeply rooted in our daily lives. But its potential to bring people together has been marred by another trend: a resurgence of prejudice and intolerance, along with all the hatred and fear of the other that drives it.
The possibility to be anonymous, whether nameless or hiding under the blanket of a fake identity, gave some licence to let slip their racist words and impulses. Another licence came in the form of Donald Trump, whose many racist comments before and after his rise to the presidency of the United States were a signal for some — in the U.S., Canada and around the world — that intolerance was back in style.
Social media knows no borders or walls, except those we choose to create ourselves. In truth, Trump's wall was under construction before he announced it as part of his of his presidential platform. We've watched its construction, word by word, phrase by phrase, on our screens.

Biography
My interest in photography began at about six months old, attracted by the shiny brass and glass toys my father was always pointing at me. I eventually got my hands on some shiny toys of my own and putting them to use became a lifelong passion; using words and images to tell stories as a photojournalist for more than three decades.
It's a bit of knowledge adults often forget but children know instinctively, that your imagination is the best toy in the box. Distilling complexity into elegant, evocative imagery is my goal, whether on the street or in created images.
Tiko Kerr
The Separation, 2018
Paper collage

Tiko Kerr
The Wall and Uncle Sam, 2018
Paper collage

Tiko Kerr
The Wives of No One, 2018
Paper collage
Artist's Statement
We are living through a particularly anguishing time, where conventional humane norms are disregarded and in some cases destroyed. We are at a loss to comprehend the enormity of the tragedy that has become our daily experience. My method of dealing with this is to make things, to work intuitively, trusting that somehow something magical and surprising will be triggered from my unconscious.
These are the result.
My three abstracted figurative collages describe the subject of racism in terms of present American immigration policy.
The Wall and Uncle Sam describes the plight of a family of migrants in Mexico shut out from entering America by the impenetrable border wall. The source material of the figures are a reinterpretation of Andy Warhol's "Uncle Sam".
The Separation refers to the unthinkable inhumane practice of separating migrant children from their parents at America's southern border.
The Wives of No One is a line of silent Muslim women frozen in horror at the sight of their decimated village; again they too are standing on the wrong side of the American flag

Biography
The Canadian artist, Tiko Kerr was born in Edmonton, Alberta in 1953, and resides in Vancouver B.C.
Tiko Kerr is recognized for his three decade long emotive explorations of the West Coast landscape and for his community activism. A recent, profound shift in his creative practice has resulted in new explorations in paper collage, from which his large acrylic and oil paintings are realized. In working in this manner, Kerr now explores perception, a central subject of his interest, from a more conceptual angle. Through reimagining of appropriated source material from popular culture and art history, Kerr distorts our understanding of what we are looking at. The compositions become masters of disguise, triggering introspection, irony and humour. Besides Kerr's long resume of one-man and group exhibitions, he has collaborated with numerous arts organizations, designing theatre sets, painted murals and painting in performance. He teaches and is a frequent guest speaker.
In addition Kerr donates his time and his work to institutions such as St Paul's and BC Children's Hospitals and the CBC. Kerr's work is well represented in many private and corporate collections. Kerr's monumental 18 foot canvas The Argus has been recently installed in the permanent collection at the new Joseph & Rosalie Segal Family Health Centre, at Vancouver General Hospital. In addition he is presently in the process of painting an 87 foot mural commission in Vancouver's Kitsilano neighbourhood, is preparing for a 3 week solo show at The Pendulum Gallery in July and is designing a theatre set for Marion Bridge, a 3 act drama opening at Kay Meek Theatre in September. In May 2019 Kerr has a 4 month solo show at the Gordon Smith Gallery in North Vancouver.

Irena Mihaljevic Kongsuwan
Building a Wall, 2018
Linen, embroidery and photo transfer

Artist Statement

Building a Wall considers the impacts of racism in politics, through the lens of two young friends. They once saw each other as part of the same (human) race. Their perception of likeness gets skewed by the dissemination of separatist political thought in the media. Creating a divide, racism expressed at the governmental level attempts to muddy the mind, imparting people with alarm, clouding confidence. Now friends question whether they can trust one another.
Soft linen in skin shades is warm and alive in contrast to a body positioning securedagainst face-to-face connection, evoking feelings of separation and fearfulness. Sashiko hand stitching as reinforcement has subtle variations to indicate steps forward being interrupted, with the baiting spread of elitist thinking. Each stitch is like a word in an ongoing story where history's tendency is to repeat itself. We can change how our story unfolds by learning from past mistakes, standing against racist models before they slowly bleed their way into seeming normal, and overtaking with their shattering objectives.

Biography

Irena Mihaljevic Kongsuwan is the first born Canadian in her family. She has lived in the US, Canada, Taiwan, and Thailand. Kongsuwan is most inspired when traveling which provides for mental space, emotional stimulation and cultural inspiration. She currently lives and works back home in Calgary, Alberta, Canada.
Kongsuwan holds a BFA in painting from The Emily Carr Institute of Art and Design and is an alumnus of the Alberta College of Art and Design and the University of Calgary. She was first moved to commit her life to art after completing high school, feeling it was the most natural way to express and discover. Taking courses in metalsmithing, woodworking, printmaking, drawing, painting, photography, sculpture, ceramics, dance,
music and textiles, Kongsuwan pursued a deep exploration of mediums for expression. It is evident from her work that she delights working in mixed mediums which give her work a depth of character and texture as she conveys connections between people, culture and making.
Kongsuwan's practice is rooted in how humans relate to one another when faced with cultural difference. Growing up in an immigrant family, being in an interracial marriage and as someone who has immersed herself in disparate cultures she is compelled to investigate how diversity in culture and origin both challenge and enrich human relationships.
Her artwork is included in numerous private art collections and she has created many commissioned works of art. Kongsuwan has exhibited her work in Vancouver, Calgary and Taiwan and is most recently directing her focus on exhibiting her work more frequently and internationally.
Anita Large
IMPACT
Acrylic on canvas

Artist Statement
This piece was a release. It was my process in the most natural way possible, using my ability to dance. I merged my body's natural ability of movement to dance a visual form of what was pent up inside of me. I needed to release the pent up anger and hostility I was feeling in my many relationships, especially the closest ones. I decided to lay the large canvas piece on the floor and take all the bottles of paint I had. I allowed my body to speak as I closed my eyes, I had pow wow music playing. With my eyes closed, I let my hands decide the colors, as I squirted the paint on the floor, I danced. I danced to release the pain I felt of not having the adequate skills of my ancestors on child rearing, I cried that I didn't have their skills on being a partner, I cried because I knew deep down this was broken due to the impact of colonization and residential schools. As I cried, I danced, eyes closed, my hands choosing and squirting the colors. I danced in my house that was planted on Syilx territory. Hye Hye.
Artist Biography
My name is Anita Large. I am a Cree Indigenous Woman from the Saddle Lake Cree Nation, in the province known by Canadians as Alberta, it is known by my Cree relatives as Treaty 6 Cree Territory. Nomadic as we were, I settled in the Okanagan, the territory of the Syilx people, for the past 14+ years with my husband.
Since the birth of our son, I started a heart centered quest to reconnect back to our roots. He ignited something that was buried deep inside of me. My son was born in the Syilx territory, his father's maternal roots stem from the Sto:lo Nation on the Fraser River near Hope, BC. On my quest, I had formed a friendship with a strong, knowledgable, kind, cultural and traditional Syilx woman, through her, I found out that my son and husband have relatives that are Penticton Indian Band and Osoyoos Indian Band members, on this Syilx territory. My son's roots were becoming more visible.
Due to my son and my quest, for the first time in 30 years, I showcased my art at the Rethink 150 Exhibit at the Alternator Art Gallery in Kelowna in June 2017. Prior to that I was in High School, my art work was among the very few that were selected by the High School art teacher to be publicly displayed in the school's showcase. Unfortunately, I was very generous, so all art from my early years have all been given away. Every time I completed an art piece, someone admired it. So, I gave it to them. My rationale? They didn't have the ability to create it. It was my gift of enjoyment to them. I could always make another. BUT I hadn't exercise my ability to make art very much over the past 20 years and my soul and heart wanted me to restart again, all because I gave birth to a son. This time my art is very different from my earlier years, this time I am listening very deeply to my spirit, my soul, to my intuition.
Kristine Lee
Idle
Acrylic and plaster on canvas
&
Segregation Isolation
Acrylic on wood
Kristine Lee has wanted to be an artist since she first put pencil to paper. She is a self-taught artist living in beautiful Penticton BC. Building her own frames and stretching her own canvas, building her own cradleboard as well as painting on salvaged wood and other items. Kristine often produces a textured look by layering plaster and primer to her canvas before painting and sanding. Then adding more layers of acrylic paint to add depth and age to her paintings. She also enjoys the life lines of wood often leaving the grain showing through in her work. She is influenced by the environment/nature, social/political issues, biblical imagery, the human form/portraits as well as her own pain and bliss. Kristine has been involved in several local art shows including the "2013 Erotic Art Show" at Sparkling Hills Resort in Vernon BC as well as a personal show in Osoyoos, one in Vancouver and a show at The Penticton Public Art Gallery in spring of 2016 titled "Tarnished Saints". Kristine is very community involved and currently a member of The Penticton Art Gallery Board. You can see more of Kristine's distinct artwork at "Smudged Paint by Kristine Lee"
https://www.facebook.com/smudgedpaintbykristinelee/
Patricia Leinemann
Embracing the Weight, 2018
Medium: Pine, Inherited Scarf

Artist Statement
I am a first generation Canadian with a sense of identity gained from story and objects. My German grandparents and mother were refugees displaced in Europe during World War II. In 1950, they emigrated to Canada. As a young girl, learning of their challenges had a deep impact on me. Their attempt to integrate was devoid of normalcy as they adjusted to new environments and cultures. During this time, they experienced xenophobia. They were accused of being Nazis or called DPs (displaced persons). I was confused with people's ignorance and lack of acceptance. When I attended elementary school myself, I experienced how they must have felt when a couple students discovered I was German and called me a Nazi. I was shocked, and I buried this experience deep within for many years.
Embracing the Weight (2018) honours my Oma and my mother who taught me to love and accept all peoples. This foundation instilled in me a compassion and curiosity of the world and its cultures. Embracing the Weight has these words laser-cut into pine. My Oma's scarf covers the wood which references the facades we use to protect ourselves. Seeing one's reflection in the glass provides an opportunity to contemplate the text. My artistic practice exists to create a dialogical relationship between the viewer and artwork. It is in this exchange that the unpredictable and unknowing power of art manifests as I relinquish control of the final work.
The nature of this art piece incorporates the memory of my family's endurance. The ability of my ancestors to start their lives over, even with the challenges along the way, continues to give me an understanding and compassion to welcome foreigners to this valley.
Biography
Returning to my hometown of Kelowna after twenty-six years in Alberta, I travelled around the world before entering UBC Okanagan to attain my Bachelor of Fine Arts degree in 2018. I am an emerging interdisciplinary artist primarily interested in sculptural installation, and the elements of body and movement through performance. My work's reoccurring themes are family, memory, time, and identity.
Camila Linaweaver
"US | THEM"
Handmade artist book
Reconstructing Border Art
My printmaking work depicts themes of immigrant displacement through representations of the landscape. My prints question the use of land, and humans unwavering search for a better life. I immigrated across the U.S./Mexico border as a child, and the effects of that journey created lasting psychological and physical dualities. Time has distorted my perceptions of that experience, yet even as a child I was aware of the social, political, and cultural implications of the event. A recent return to the U.S./Mexico border reframed the significance of the landscape as a means to address migrations and border issues. The landscape itself is used as a barrier, and rivers and mountains function as natural deterrents that delay and prevent illegal entries (often resulting in death). Areas of high border crossings are devoid of people, but items left by migrants on their treacherous pass are scattered throughout. My prints depict memories of charted landscapes and allude to the border's subtle presence of people, yet remain devoid of figurative representation. Borderwalls, barriers and fences physically scar the land while the use of stark bright colors suggests a vivid, disorienting awareness. The resulting narratives are a unique juxtaposition of past and present; real and imagined.
During my research on border topics and immigrant themes, I have found myself actively engaging in immigration forums and discussions online, always attempting to share my story and provide a different perspective to hateful, and ignorant opinions on social media. I would often take screenshots on my phone of particularly hateful and racist comments. After some time I noticed that I had compiled an interesting collection of quotes and noticed that the words began to resonate as one very unified anti-immigrant voice.
These quotes would become the inspiration for "US|THEM", a handbound book that aims to visually highlight the arbitrary nature of the walls found on the U.S./Mexico border. Juxtaposed with this imagery are the anonymous quotes found online. The book aims to compile this opposing view of immigration alongside sets of mirroring words that represent the concept of social mirroring: a term used in immigrant psychology to describe the way immigrants form a skewed sense of identity based off of society's view of them.
The book mirrors the immigrant struggle: constantly faced with racist opinions that question their own sense of identity and belonging in America. This piece aims to humanize this marginalized group of people, while addressing an issue that transcends the borders of America.
Biography
I was born in Santiago, Chile and raised in Texas since the age of 8. I received my Bachelors of Fine Art in 2013 from The University of Houston-Clear Lake and am currently an MFA candidate at The University of Oklahoma in Norman, Oklahoma, where I live with my husband and daughter. My current body of work, and Thesis research deals with themes of immigration, displacement, and immigrant psychology. After Graduate school, I am hoping to teach Printmaking at the University level, and someday open a non-profit print shop.
Shelley Lippert
Fine Line, 2018
Charcoal, Driftwood, Wool
Artist Statement
My use of white paper and white fabric to make three-dimensional art began two decades ago with a series that celebrated the Winter Solstice. White represents snow that temporarily blankets life, yet the natural world is waiting for the return of the light. I used wrapped paper boxes with internal illumination, and openings to let natural light in. White Japanese paper was, and continues to be my substrate.
During cold winters in Canada and the US, the Hudson's Bay Company point blanket kept fur traders, miners and prospectors warm, and Native inhabitants traded their beaver pelts for the blanket. It was easier to sew and quicker to dry than bison and seal skins. Beginning in 1670, HBC controlled 15% of North America and was the largest landowner in the world. As the fur-trade expanded, demand for the blanket increased production in England. North American resources were harvested as corporate capitalists profited while great losses were incurred by exploitation, colonialism, and patriarchy. The heavy, scratchy HBC blanket of my childhood is today a trendy décor icon … collectable, still produced, and warm.
I used the line to represent the way that activism can change ignorance and racism. Making art that subverts the use of the substrate, in this case the blanket, and dispelling the black/white dichotomy of ignorance versus enlightenment are ways to draw the line.
www.shelleylippert.com
Greta Loeppky
David's Understanding, Kindness and Friendship, 2018
Mixed media
36" x 36" (Triptych 12" x 36" x 3)
Artist's statement regarding the painting
David's Understanding, Kindness and Friendship is the name of this triptych that was inspired by an Australian Peanut rock, and a conversation that included a racist slur.
While spending a morning browsing on Granville Island, I came across a kiosk that carried jewelry made from unique rocks from around the world. I asked for the cost of a particular pendant and the merchant quoted me a price. I continued to browse, and then due to a glitch in my memory, I again asked for the price of the same pendant. For the second time told me, but then added that he would sell it to me at a reduced cost. My thinking was, that he probably thought that I had asked the second time, hoping that he would lower the price, which was not my intention at all. I then tried to reassure him that I was not trying to "barter", but for the life of me could not think of the word, "barter". The word had slipped away. My mind went blank. I kept standing there waiting for the word to come to me. Seconds passed. More seconds passed, and I was still standing there trying to find that word. Desperate to let him know that I was not wanting to bargain with him, I said, "I am not trying to Jew you down." He then leaned towards me and quietly whispered, "I am Jewish". I apologized profusely, and tried to assure him that I had not meant to be derogatory. He graciously accepted my apology, and said that he knew that. But I could feel my eyes welling up, knowing that what had come out of my mouth had been hurtful. After a lot of reassuring on his part, our conversation continued on various topics. By the end of our visit I told him I would use the pendant that I had bought from him, as an inspiration for my next painting. This triptych is called "David's Understanding, Kindness and Friendship" to commemorate the grace that he showed me that day.
As for the word, "barter," I will never forget that word, ever again!

Biography

Greta Loeppky has been painting for the past ten years. Although she enjoys painting landscapes, her first love is creating abstracts using colour and texture. She believes that "When a piece of art speaks to you, you will hear it." Her goal is to create artwork that is enjoyable to look at and that communicates with the viewer. Her works have been displayed at the Summerland Art Gallery, Front Street Gallery, Shatford Centre, Summerland Art Show, Artisans of the Okanagan, At the Front Door, and at the Summerland Waterfront Resort.
Wanda Lock
#1 Crush, 2018
mixed media
Artist Statement
#1 Crush is about racial bias, profiling and race relations with the RCMP…all under the guise of a Harlequin Romance.
Biography
'When I was a child every once in a while I would come across a dead animal, usually a bird , sometimes a mouse or other small rodent. After looking, observing and contemplating the quietness and beauty of the deceased creature, a few quick impromptu words would be said and I would bury the critter. A week or so later I would return to the burial sight and dig up the now decomposed body. I search the earth with anticipation, curiosity and uneasiness, much like my art making process in the studio. The world that one discovers when digging through the earth goes beyond the initial beauty of the dead creature, it reveals a world that talks about decay and nature and the cycle of life…and provides a far more deeper understanding of the subject and it's surroundings. This is what art can do, or, in my opinion, what art should do'.
Wanda Lock was born in Oliver, British Columbia in 1969. In 1989 she enrolled into the Fine Arts Diploma program at Okanagan College before transferring to Emily Carr College of Art & Design where she graduated in 1992 with a studio major in painting. Lock returned to the Okanagan in 1992, and since then she has had numerous exhibitions throughout the Okanagan and beyond.
According to her significant other, Wanda watches too many coming of age movies. She is also known to Pearl Jam and even a bit of Soundgarden while working in her studio. She is not sure what her fondness of grunge music or teenage angst movies have in common with her current body of work but she is convinced that all will become clear in good time.
website: wandalockart.com email: wandalock@shaw.ca
Hanss Lujan
Questions from One to an Other, 2018
Embroidery floss on mirror dura-lar
16 x 20 inches each (triptych)
Artist Statement
My work is interested in the experience of the Other. As a visible minority living in the Okanagan, I continuously get these questions asked. I witness the anxiety in people's eyes as they try to figure out my cultural background and the relief they experience when it is given to them. These questions, at times as innocent as 'Where are you from?' turn to micro-aggressions when furthered interrogated by "Where are you really from?" or when asked, "What are you?"
These questions immediately bring awareness to one's own identity; by acknowledging the one in question is different. Depending on the intent, these questions can at times feel invasive or ostracizing. They may also contribute to exoticism and othering. I present these questions in mirrors to reverse the privileged gaze. Through the laborious task of hand embroidery, I explore my Peruvian background, which has a well-knonw history of textile arts.

Description:
Three framed mirrors with embroidered lettering that reads:
WHERE ARE YOU FROM?
WHAT ARE YOU?
WHERE ARE YOU REALLY FROM?
Biography
Hanss Lujan (b. Cusco, Peru) is an artist and curator based in Kelowna, BC. His artistic practice is focused on photography, assemblage, and installation. He is interested in questions of cultural identity as well as the memory of objects and the histories they possess. Lujan has exhibited in exhibitions throughout the Okanagan and is a resident artist at the New Arts Collective. He holds a Bachelor of Fine Arts in Visual Arts and a Minor in Art History and Visual Culture from the University of British Columbia Okanagan. He will be attending Concordia University for a Masters in Art History in the fall of 2018.
Laura Martina
In the Beginning, there was Slavery, 2018
Mixed media on wood panel

Artist Statement
Painting and poetry have the ability to represent subject matter that often remains invisible, such as concepts of essence, race and regional history. The painting is a response: call - and - response, to George Elliott Clarke's poem Zanzibar: A Meditation on Slavery (Canticles I (MMXVI), Guernica Press 2016). A painted song, commentary to his written song. A continuation of work song in the tradition of the trans - Atlantic slave trade. It is meant to invite dialogue.

Biography

Born: Chicopee Falls, Massachusetts
Tribal Affiliation: Qalipu Mi'kmaq First Nation, Port au Port , Newfoundland
Research Interests: Diaspora subjects of Eastern Canada: Space and Time: Ideological and Vernacular; Issues of Culture and Identity: Culture and Tradition; History and Landscape; Interpretation of Cultural Identity: Body and Self; Nova Scotia Regional Plein Air Painters
I am a visual artist and writer exploring diaspora subjects, both literally & lyrically. I obtained a BFA from the Nova Scotia College of Art and Design in 1987, where I studied printmaking with Ed Porter and textiles under Naoko Furue - disciplines to which I devoted my practice until 1993. My current work is interdisciplinary in nature with a focus on painting and writing . My PhD work is in the Philosophy of Fine Arts - Media Film & Communication at the European Graduate School, Switzerland where I have studied with Atom Egoyan, Peter Greenaway, Morgan Fisher & Manuel Delanda. My work, both narrative and landscape can be found in collections in North America & Europe.
Rachel Mercer
Carmen, 2018
Mixed-Media Collage
20"X30"
Artist Statement
"Carmen" is the hidden face within a faceless person. Covered with the touch of others, her own hands out of sight, she invokes a feeling of discomfort, distrust, and disempowerment. She seems trapped.
Creating a portrait of confusion, anger and defiance is meant to reflect some of the complicated experiences of those victims of racism. Not being able to speak openly is another situation being depicted in this piece.

Biography
Rachel mainly works within the collage medium, applying mixed media techniques that keep her style edgy and experimental. By using found images, her work relies on skilled manipulations and alterations to create new compositions and interpretations. Mainly using National Geographic magazines as her material, Rachel's work often contains strong themes of relationship and identity that lead the viewer to examine her images as narratives.
Donna Morrison
Dividing Lines Feed the Pig, June 15, 2018
Oil on 140lb Arches Oil Paper
30" x 22"
A one lunch hour stolen on the bank of a man-made creek during my Korean Sojourn of 2001- 2004… I came across a pig's head bobbing between the cemented, man-made rocks of a newly diverted creek behind the English School where I was gainfully employed. Overcome with disgust, intense nausea and disbelief, I immediately raced back to the school wondering what kind of bizarre person could have done that to a poor pig. The director of the school, when asked what that was about, merely shrugged it off and said it was probably thrown there after serving as a 'lucky in money' symbol that was often used in Grand openings or anniversaries of businesses. The patrons would stuff money into its facial orifices to bring financial success to the business. The image has stuck with me and has for me become a symbol of fascism, greed and the atrocities committed in the quest for the all Mighty Dollar.
The image of the bobbing Pigs Head has surfaced in my mind as time and time again I have pondered the lengths mans greed will drive him to. I chose to represent the people of our world upon whose backs the burden of wealth has broken. All the colours of skin that contribute to the fascist race are the background which is divided by the very Blood Lines (represented by Arteries) which are our common denominator that the fascist regime successfully manipulates to keep us segregated… Hence the name, "Dividing Lines Feed the Pig". The shadow of the platter and the shape of the dark brown skin visually serve as a suit under the bubble encased pigs head. All our blood lines converge to feed the fascist pig.
Norberto Rodriguez de la Vega
Racism Kills us All, 2018
Mixed media on paper and board
12 x 48 in.
Made America White Again, 2018
Mixed media on canvas
17 ½ x 21 in.

White Supremacy?, 2018
Mixed media on canvas.
30 x 22 in.

Artist Statement
From my early years as an artist the main subject of my work has been humankind suffering, and all the galleries rejected my work because "… it was good, but it is not commercial", and I couldn't make a living our of my Art.
After moving to Canada, my paintings became darker, living in this wealthy country, I could not understand why so many people suffer in the world, while so many Canadians have such a wasteful way of living. By then, I realized that this destructive attitude of humankind, towards ourselves and everything else, is not new, it is just part of being human. We are a very young species and have lots to learn and evolve.
I use my art to express my deep sorrow from humankind suffering and hopefully create awareness about this dark reality in the world. I believe that Art can be used as a social change tool, as a healing and inspirational means.
Statement about Racism
Racism is one of the worst maladies in humankind. For many reasons and many forms, it has existed from the dawn of humanity. After so many centuries and advances in many areas, racism still exists today, even if new scientific studies are saying in DNA sequence each human is 99.9 percent similar to any other human. We are all the same, and we all come from the same African ancestors.
Furthermore, "race" is more a social concept rather than a biological one. There is no scientific, nor genetic basis to separate humankind in groups, only because we have different skin colour. We all are the same.
Many of the past, and todays, wars have been based on the idea that one race is superior to another, that one religion is better than another. In many countries around the world, including Canada, our politics, our cities, our communities and schools, are still defined, or shaped, by physical characteristics.
Some people like to say there are fewer racial conflicts today than in the past. However, daily global news tell us a different story when we read about the millions of refugees, re wars, discrimination, suffering and so on. Racism has always been, and still is, a humankind shame. We must. Eradicate. Racism. Once. And. Forever.

Biography
Born in 1942, and educated in Mexico City. I studied Business Admin and Fine Arts in several institutions
Participated in several group exhibitions in different galleries in Mexico City, between 1960 to 1980.
Working for a computing company, I immigrated to Calgary, Alberta in the early 1980's. Joined a group of Latin artists and had several shows around the city for several years.
Retired to the West Coast (Cortes Island) in 1997. Created an small community art gallery in 1998, and managed it until 2010. Participated in many group shows and had two solo shows. This gallery is still working in the island
Moved to the Okanagan area in 2010. Joined the Ripoff group in Oliver in 2013.
Organized two anti-violence exhibits in Oliver. Organized the annual Art for Peace exhibition at Shatford Centre.
Joseph Sanchez
Water Woman on Fire, 2018
Mixed media on paper

Born in Trinidad, Colorado to Pueblo, Spanish, and German parents, Joseph Marcus Sánchez was raised in Whiteriver, Arizona on the White Mountain Apache Reservation. In 1966, he graduated from Alchesay High School in Whiteriver, with the intent to join the priesthood. This was not the right fit, and he returned home to the White Mountains. Sadly, his mother became ill and died unexpectedly. Soon after, in 1968 he joined the United States Marine Corps and was stationed at the El Toro UCMC Base in California, where he trained soldiers drafted for the Vietnam War.
In 1970, He travelled to Canada, where he met Ann Nadine Krajeck, a young photographer. They were married and settled in Richer, Manitoba, eventually purchasing a 20-acre farm in Giroux, Manitoba. In February 1975, Sanchez returned to the United States under President Gerald Ford's amnesty program. Ann stayed in Canada, and Joseph traveled back and forth until she joined him in Arizona in 1978.
In 1981, Joseph and Ann had a daughter, Rosa Nadine Xochimilco, and they lived in Scottsdale, Arizona, where Joseph maintained a studio on Cattletrack Road. During the 1980s, Sánchez developed a program as an artist in residence at Rosa's schools, teaching college level art history and technique to elementary school students. More than half of those students have gone on to become professional artists.
Sánchez travelled for his work, and in 1990 began traveling to Santa Fe, New Mexico where he met Margaret Burke. In 1996 he made his Santa Fe residence permanent, and they had a son, Jerome Bonafacio Xocotl. Joseph and Margaret were married in 2006.

Though mainly self-taught, the skills and valuable critique of the many artists and art professionals Joseph M. Sánchez has worked with as a collaborator, assistant, exhibition designer, curator, and museum has provided him with an education the fine arts.
An artist from an early age, beginning in 1956 with the encouragement of his 5th grade teacher Ms. Gutierrez, his first mediums were painting on glass and embroidery. He continued to work; creating large portraits of friends and family, and in high school began to independently study art in the Renaissance, Surrealism, Dada, and Contemporary Art of the 1960s. His personal surrealist style began to formalize in 1968 during his years as a member of United States Marine Corps with a drawing on newsprint called the Unconsummated Rape of Mongo.
Sánchez lived in Canada from the early to mid-1970s, and was a founding member of the "Professional Native Indian Artists, Incorporated", otherwise known as the Indian Group of Seven. In Winnipeg he met Daphne Odjig, who had opened up the Warehouse Gallery in the early 1970s (now the Wahsa Gallery). In 1971, Sánchez showed Odjig a second version of the "Unconsummated Rape of Mongo," which she purchased and used to create an offset print, starting the career that continues today.
It was with Odjig, Alex Janvier, Norval Morrisseau, Jackson Beardy, Eddy Cobiness, and Carl Ray, that Sánchez collectively created the PNAI, Inc. in November of 1973, which was officially incorporated in February of 1974. Although more than 50 artists had been invited to participate, it was only these seven that answered the call to come to Winnipeg. Solo and with the group, he has exhibited in Canada, Europe, and the United States. It was during this time, he was named by the Ojibwa.
In 1974, Sánchez was commissioned to create the painting "The Virgin of Light" to be given as the Juno Award for Multiculturalism in Music. The same year he was measured and photographed with the painting for the Toronto Wax Museum. Also that year, Sánchez was commissioned to create "Fertility Totem," a nine-foot sculpture made of Manitoba cedar, which was installed in the Franco-Manitoban Center in St. Boniface, Manitoba, and created for the Winnipeg Centennial.
Sánchez returned to the United States in 1976 and, meeting new artists, formed three collectives near Phoenix, the Movimiento Artistic del Rio Salado (M.A.R.S.), Azoma, and Ariztlan, helping lead Chicano artists to collaborate and exhibit together. In addition he helped create the National Association of Artist Organizations (NAAO) to benefit American artists on a national level. With this activist attitude, Sánchez developed exhibitions, changed museums, and created artist in residence programs for schools, with a focus being on sharing these experiences with the Native American community, especially the youth.
Sánchez continued to paint, perform, and develop art workshops for youth during the 1980s and 1990s, while developing his career as a curator, while honing his craft. Joseph opened a studio on historic Cattletrack Road, where he had Fritz Scholder and Phillip C. Curtis as neighbors. He maintained this studio for 22 years, firmly ensconcing him in the Scottsdale arts scene as a creator as well as an art professional.
In 1990, Sánchez visited Paris, which sparked an abundance of work. Yet, despite occasional exhibitions, Sánchez's energy was mostly spent supporting the careers of fellow artists. It was during this time that he shared a second studio with Jim Covarrubias in an old church in downtown Phoenix.
In the 2000s, with his move to Santa Fe, New Mexico, Sánchez's work shifted in tone and color, adapting to the new landscape. With a new studio, Sánchez returned to large-scale works like those of the early 1990s, some measuring as much as 15 ft tall. Also returning to drawing more frequently, the quality of work produced in the Santa Fe studio shows his long time dedication to craft and technique.
During his career, Joseph has worked with many incredible artists, giving him the opportunity to experience their creativity, work, and learn from them. Some of these artists are: Daphne Odjig, Norval Morrisseau, Eddy Cobiness, Alex Janvier, Guenther Uecker, Rotraut (widow of Yves Klein), George Segal, Norman Bluhm, Manuel Neri, Jesus Bautista Morales, Luis Jimenez, Philip C. Curtis, Jean Paul Ledeur (contemporary restorer for the Centre Georges Pompidou & Yves Klein Archives), William Wiley, Fletcher Benton, Roberto Matta Echaurren, Jean Tinguely, Bob Haozous, Roxanne Swentzell and David Tooker.
In 2006, his work and career was recognized by Bill Richardson, Governor of New Mexico, at the New Mexico Governor's Awards for the Arts where Sánchez received the Allan Houser Memorial Award for "Artistic Excellence and Community Involvement," and for being an "Activist for Native American and Aboriginal Arts."

In 1978 Joseph M. Sanchez began work at the worked at the Scottsdale Center for the Arts as a security guard, becoming a gallery assistant until 1982. Soon Sánchez was recruited by the Phoenix Art Museum as a preparator, where he remained from 1982-1984.
In 1983 Sánchez began his own business, ARTS, catering to museums, galleries, institutions, collectors, and artists in the Phoenix, Area in all manner of art preparation, crating, transportation, and curation, which he maintained until 1988. It was through this that he met one of his mentors, Phillip C. Curtis for whom Sánchez served as an artist assistant from 1979-1999. It was also during this time that he also returned to the Scottsdale Center for the Arts as a contract exhibition designer and curator. His curatorial success during this time was "First Contact...the search," a provocative and successful exhibition about UFOs and the paranormal. "First Contact…" was Sánchez's first major exhibition as a curator, and more than 10,000 people attended the show. The exhibition showcased the Mitchell-Hedges Crystal Skull, NASA Astronauts, Travis Walton, and Native American mythology concerning UFOs.
In 1989, Sánchez began working for the Riva Yares Gallery in Scottsdale, Arizona full time, though he had been their registrar beginning in 1977. He worked in Scottsdale, and facilitated the opening of the Riva Yares Gallery in Santa Fe, New Mexico, now known as the Yares Project, until 1996.
In 1996 he became Director for the Laynor Foundation Museum.
In 2001 Sánchez began volunteering for the Institute of American Indian Arts in Santa Fe, and he soon became their Exhibition Coordinator. Later, Sánchez was named the Chief Curator at the IAIA Museum, now known as the Museum of Contemporary Native Art, and was acting Director until his retirement in 2010. It was during his tenure at the IAIA that Sánchez developed several exhibitions relating to the communication of Native Artists across the continent, including "Relations: Indigenous Dialogue." He also curated the Bob Haozous retrospective, "Indigenous Dialogue," and "Fritz Scholder: An Intimate Look."
In 2008, Sánchez was named the United States curator for the SITE Santa Fe Biennial, "Lucky Number 7," including an essay in the published catalogue.
In 2011, Sánchez was curator for "Native American Art at Dartmouth from the Collection of the Hood Museum," at Dartmouth University, including an essay in their book on Native American art coinciding with the show.
Joseph M. Sánchez's essays lectures, performances, workshops, artworks, and curated exhibitions, continue to make an impact, and have been referenced in numerous publications.
Since retirement, Sánchez has continued to curate, lecture, and educate, but primarily works in the studio full time, and continues to exhibit in galleries and museums internationally.
www.josephmsanchez.com
Alaa Sharabi
Untitled 1 & 2, 2018
Acrylic on canvas

Born in Damascus, Syria in 1988
Lives in Damascus, Syria
A young emerging artist on the contemporary art scene, Alaa Sharabi's portfolio already features a number of personal and collective exhibitions. He obtained a degree from the Faculty of Fine Arts in Damascus in 2011, and as a reward for his excellent results in his final exams, he was quickly appointed Assistant Professor.
Finding oneself. Taking a tortuous path to find one's own language, a unique form of communication and expression. Disregarding aesthetics, trivialities, to focus on the essential. Being open to everything, absorbing knowledge, understanding the notion of being, in order to finally remove oneself from the noise of others, and give into the lethargy of introspection. Go deeper. Break with the established order, and persevere.
Such are the aims of contemporary artist Alaa Sharabi, who provides a new and unusual perspective on the act of creating, crafting one of the many aspects of contemporary art with his unique signature. His bold paintings combine a chromatic richness with frenetic lines and complex compositions. It is expressed through delicate but vigorous, often black, strokes, the abstraction proves to be deep, the intensity of the gesture is palpable, demonstrating a fiery disposition. Entangled and twisted, sometimes almost cubist, his characters, humans or animals convey a sense of chaotic confusion, compensated by a palette of deep, warm hues, sometimes bright and playful, other times dark, lightly Sienna, with the base canvas often a brilliant black.
Sharabi achieves this avid pursuit of an artistic ideal by fusing dabs of colour which appear to lighten up the canvas' interior, with lines and forms which follow the artist's train of imagination, mixing the modern with something intrinsically intimate.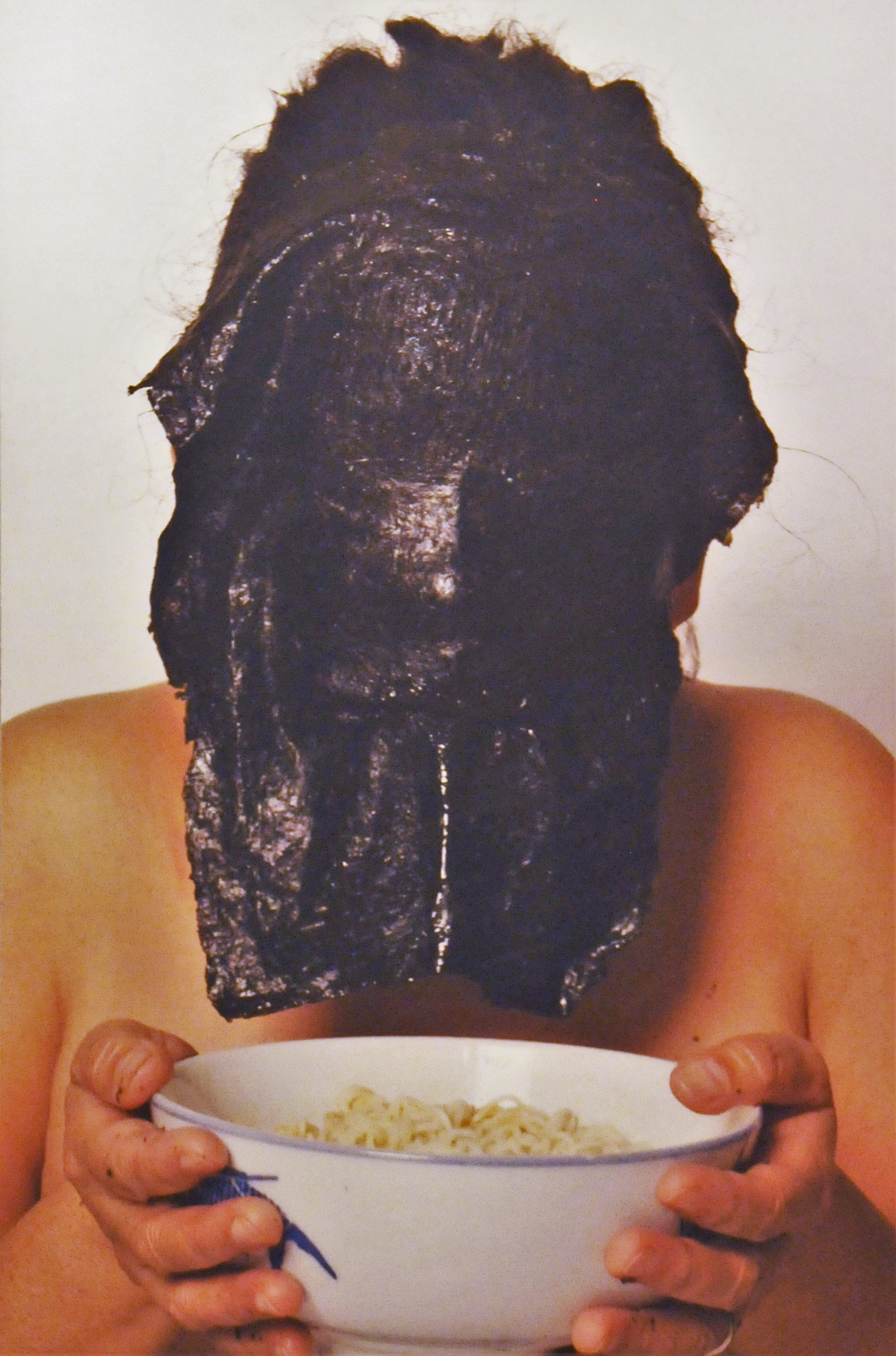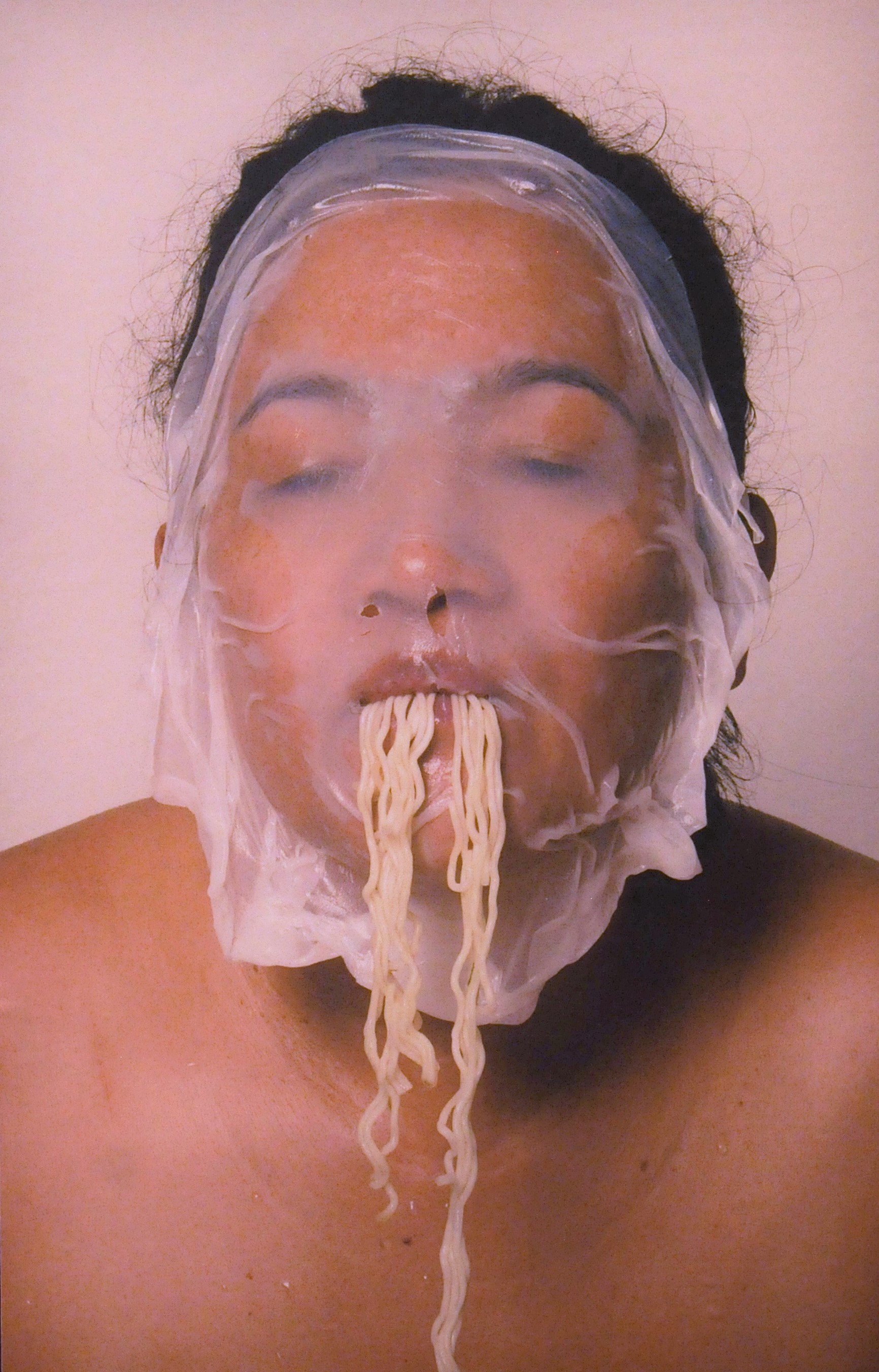 Over Dare We Can Dream
Neon

Sometimes I feel like I shouldn't eat noodles, but it's really, really hard
Mixed media
Artists Statement
My identity as a Filipino woman in North America is the driving force behind my art. Incessant feelings of uncertainty is what I want to express through the integration of photography and installation.
I immigrated to Canada when I was 14 years old. I landed at the Winnipeg Airport in 1981. That is now over 37 years ago. My first encounter of racism was at Victor Wyatt School in St. Vital, an area of Winnipeg that was predominantly white as compared to the other areas. My first day of school, I was called "Paki." Bewildered, I turned to my classmate and ask, "what is Paki?" She replied, "it means Pakistani." I said, "but I am Filipino." She shrugged her shoulders and said, "hmmmm? Brown is Brown." At the end of the year, I looked at our yearbook, and I can say that there were maybe 5 Filipino kids in that entire school. Another significant encounter with racism was in 1993, Calgary, AB. My friends and I went to a country pub. We were just about to sit at a table and a couple passing by said, "hey, you don't belong here." Jokingly, I said, "yeah, I know, we forgot our cowboy hats, but I am wearing short cowboy boots," Over the years I have encountered many more racists comments that I could probably write a book about. At this point in my life, I have assimilated quite comfortably and have embodied the western culture, and I have even lost 98% of my Filipino accent, but once in while I will receive comments such as, "young lady, you should be proud, you speak very good English." My reply, "Thank you, I worked very hard so that I could speak English very well."
"Sometimes I feel like I shouldn't eat noodles, but it's really, really hard" - images 1 and 2 express my identity crisis. The incorporation of rice wrapper, seaweed and noodles in these portraitures, illustrate my feelings of ambivalence.
Language is another tool I use in my art to stimulate discourse. The selection of simple words highlight the chasm between my two worlds. "We no rice" is a red neon installation evocative of restaurant signage. The play on words is my way of confronting my family's fidelity to my culture. We are Filipino, yet I see us exhibiting a more Canadian way of life. The blue neon "over dare we can dream" is an acknowledgement of the sacrifices and hardships we have endured just to immigrate in North America, but that it also signifies hope. The dynamic and fragile nature of neon creates desire and emotion - very much like human connections that leave an indelible image. Lani Maestro's ruby-red neon installation, "No Pain Like This Body" is my inspiration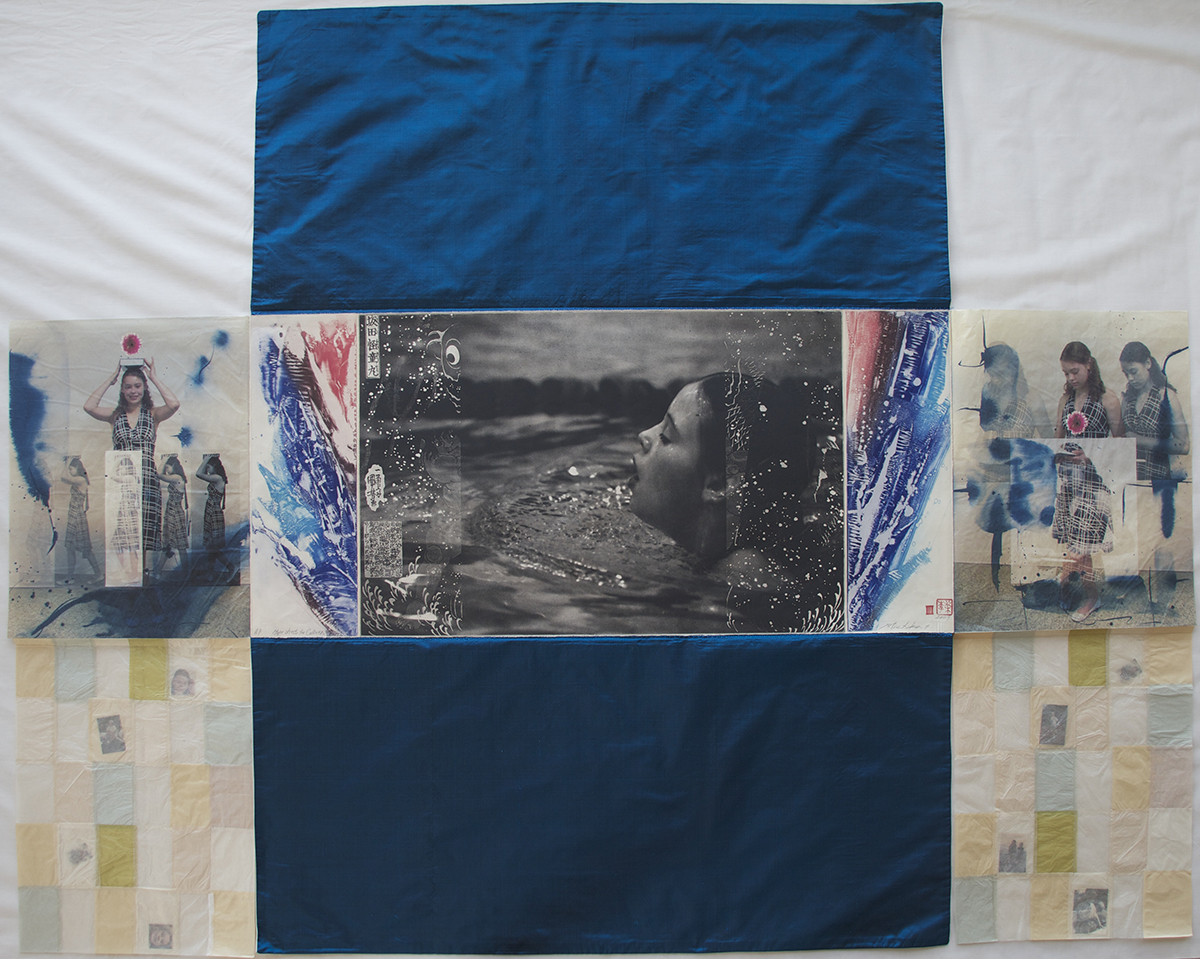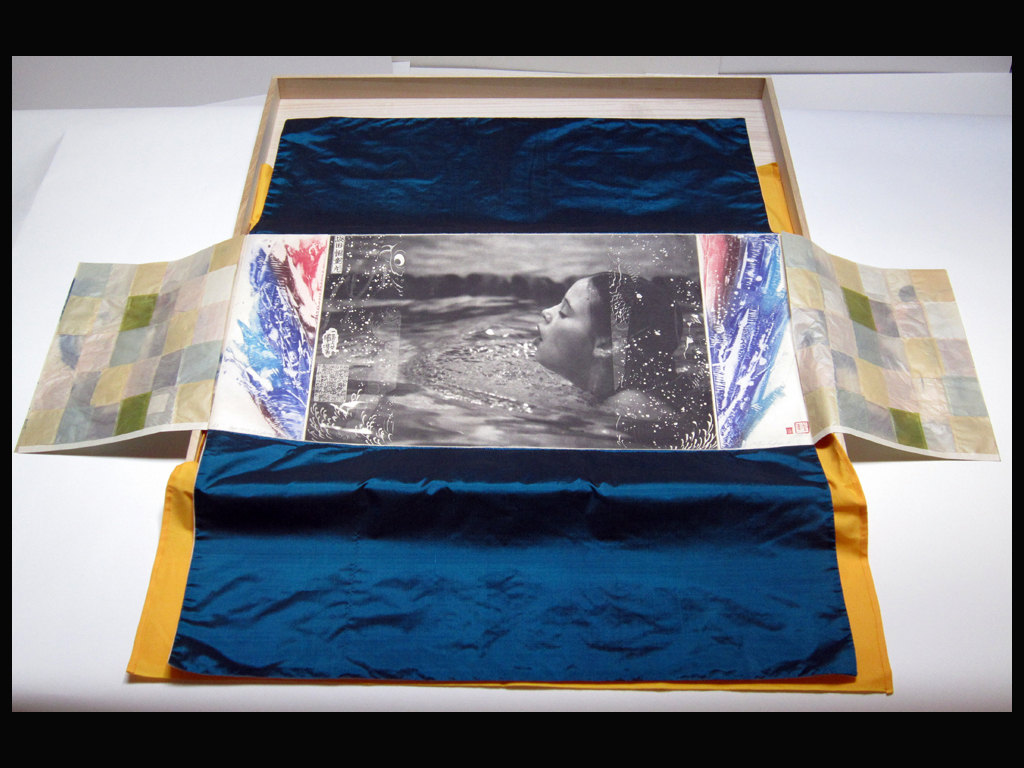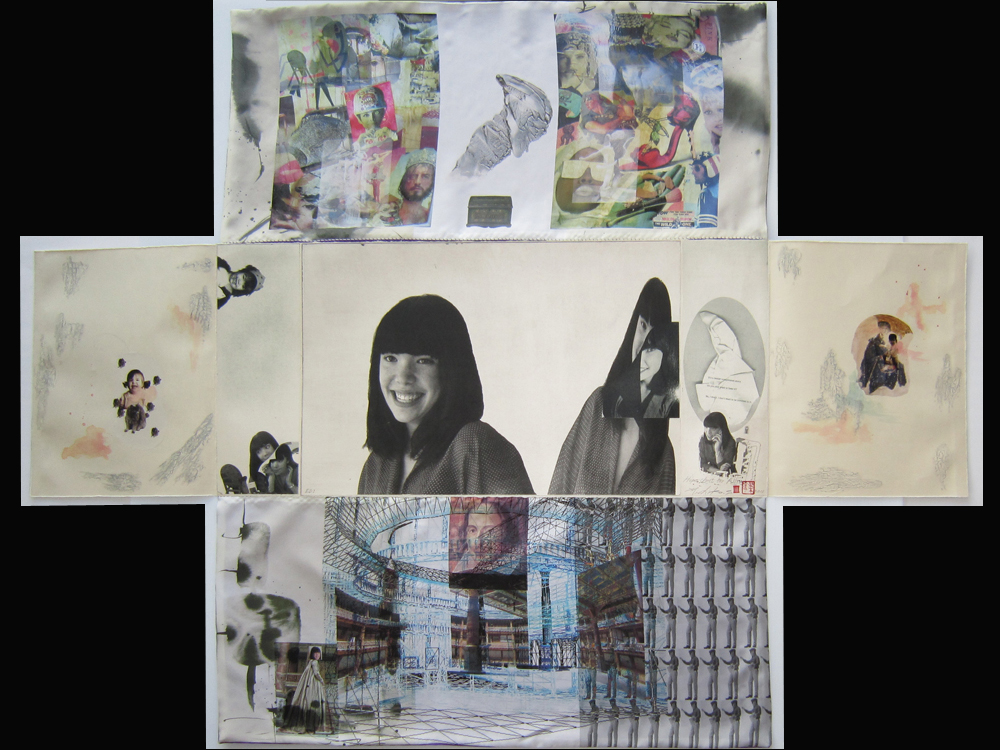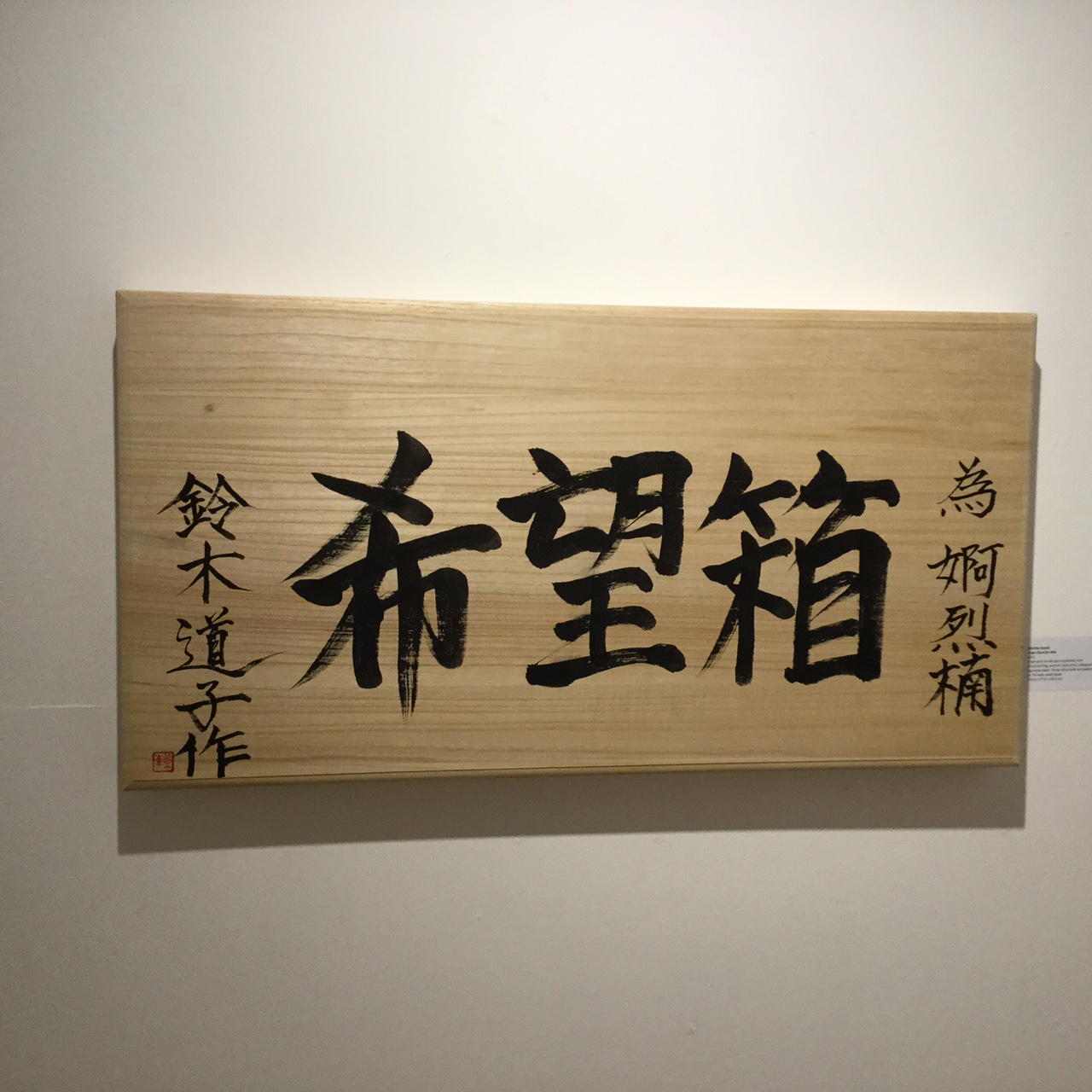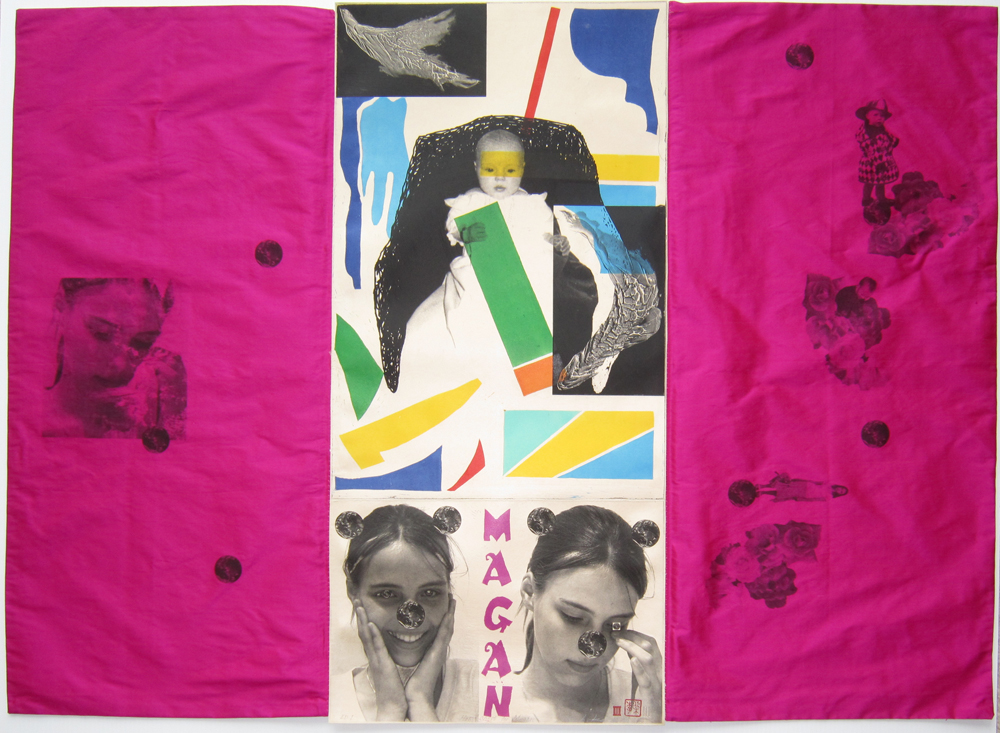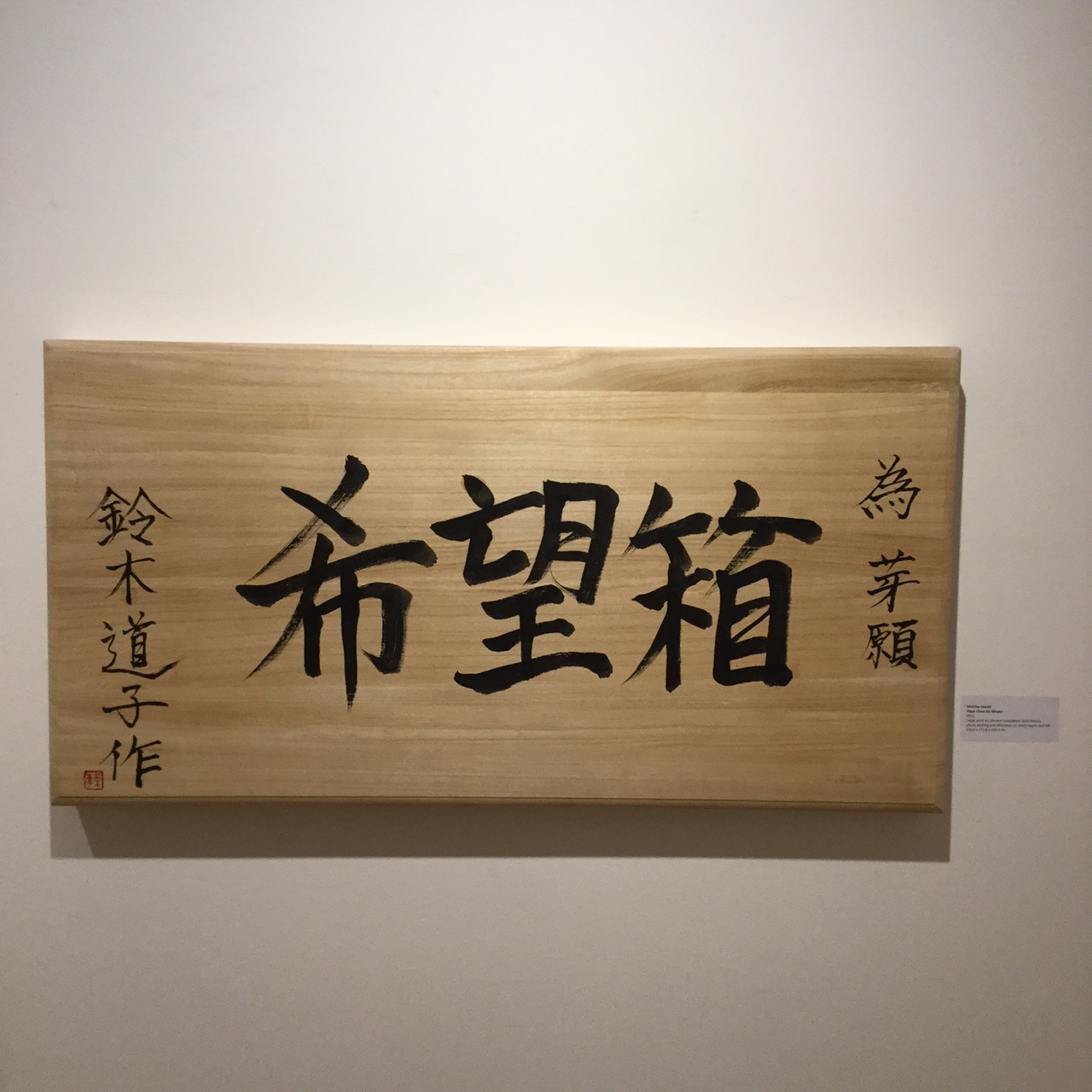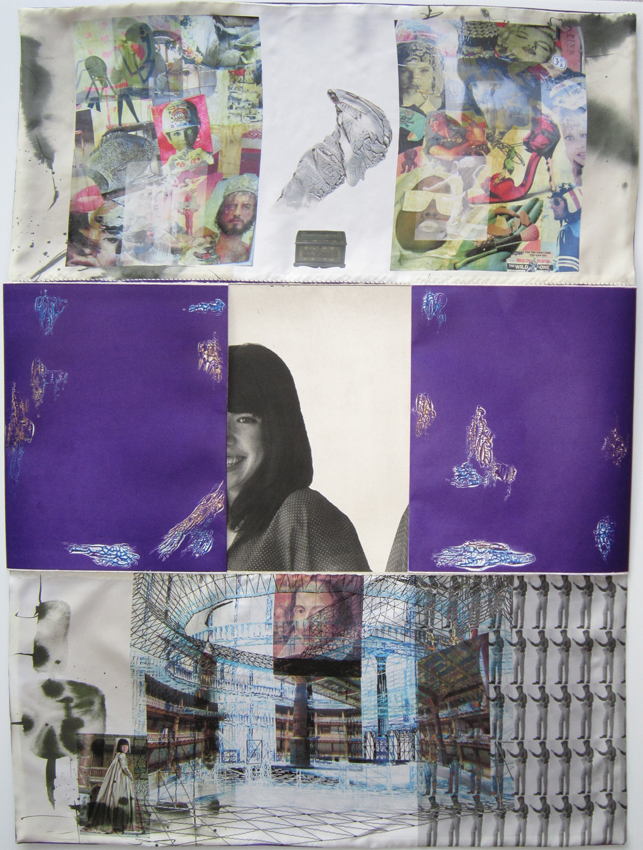 Michiko Suzuki
Hope Chest for Colleen, 2010
Photo-etching, Toner-etching, Digital inkjet, Gampi paper-collage on Washi paper, silk-fabric
46.85''×59''

Box of Hope Chest for Colleen, 2010
Kiri box with signature and chop
Hope Chest for Megan, 2011
Linocut, Photo-etching, Silkscreen on Washi paper, Silk-fabric
34.25''×47.24''

Box of Hope Chest for Megan, 2011
Kiri box with signature and chop
W: 37.4'' ×D: 19.3'' ×H: 2.75''
Artist Statement
Until 2005 I was a Tokyo based artist and I now live in Vancouver. I was active in Japan and abroad, including Canada, since 1975. In 1993 I developed what I called "toner-etching", which allowed me to produce highly -detailed images, and to work on an unusually large scale. In 2002, while an artist-in-residence at Capilano University, North Vancouver, I collaborated with Canadian artist Wayne Eastcott, incorporating digital processes into our work along with traditional and personal procedures. Since then, my work has again changed dramatically. I now strive for as direct a connection as possible between printmaking and life.

My project, Hope Chests is a mixed media installation that includes video interviews and printed (traditional and digital) works documenting girl's life-images. The original concept came from the terrible situation in Cambodia. Even to-day, Cambodian children continue to be victims of brutality, sexual abuse and forced prostitution. I felt a huge shock and anger about that! However, I thought anger could not help children. Art can give children relief!
On March 11th, 2011 in Japan, there occurred a tremendous earthquake, tsunami, and radiation leak. Many children's families and precious memorials and keepsakes were lost in just one moment. They can now just recall from the bottom of their hearts.
In the summer of 2012, I visited Fukushima. I could not find any girls for my project. However, I did see the Fukushima area and the reconstruction that the people are doing there, slowly, by their own effort. After one month, at last, I received some contact information about one girl. Her name is Kahoriko Ishii. She is living in the Kohriyama area of Fukushima, which still has very high radiation. Fukushima children always wear a Geiger counter for their protection from radiation. However, for children and teenagers, even more serious and emotionally destructive than the radiation, is the damage from nasty rumours ("You shouldn't marry Fukushima girls because you might get radiation")!
Girls are the subjects for the "Hope Chests", because they are the gender whose bodies influence the health and development of babies. This is a key point for humankind and their love: that these girls be given the opportunity to develop into healthy, balanced good examples and leaders for our future.
The work is presented in Kiri wood boxes (which are signed on the lids with Japanese calligraphy and chop mark) and installed in a pure white silk tent. The tent has a large image of the girls face on the front. (Note: Kiri is a special wood, very important in Japanese culture with deep meaning for my project. It is archival and able to protect precious things.)
I would like to request that viewers come into the tent in a gentle manner- it is a holy space for girls.
I hope that viewers will have a deep reaction in this environment, perhaps like they have never had before – a moment between themselves and these girls.
(from 'Hope Chests', exhibition catalogue, Burnaby art Gallery, 2016)


Biography
Michiko Suzuki is a Tokyo artist who received her training at the prestigus Musashino Art University, graduating from their Art Junior College in 1974. She then went on to work as a professional printer at OM Studio's gaining much experience in various aspects of printmaking processes.

She has since progressed to develop her own technique which she calls Toner Etching. This, along with her deep understanding of esoteric papers, has allowed her to produce works of incredible sensitivity culminating in the famous, "A Feeler"series.

Since 1993, Michiko's work has been exhibited internationally, winning many awards and commendations Including the First prize in the International Biennial of SMALL FORT GRAPHIC Vilnius'98, Talin, Lithuania. Within this exhibition is the Semi Grand Prix winner from the 5th Kochi International Triennial exhibition, Kochi, Japan.
Janice Iniskimaki Tanton
White Man/Red Man, 2018
Diptych – 2 – 40"x80" separate works
Oil on linen
White Man/Red Man was created as a work within the two-person exhibition, "Yours. Mine. The Other." in 2010 with Don (Ahnahnsisi) MacIntyre. The theme of the exhibition explored identity, self and the other within the context of being indigenous and non-indigenous in Canada….or in my case, "other", being from European background and adopted into the Blackfoot family and community of Siksika, Treaty #7 by Elder Tom Cranebear. Don is an Anishnabe man also with Scottish heritage.
Living in the 'skin' of another, meshing cultures and being an individual person can be tricky waters to navigate. I am often asked or assumed to be full Blackfoot, because I use my Blackfoot name. Don is often mistaken for a non-indigenous lawyer. Outward appearances can deceive and place both positive and negative assumptions and stereotypes on the underlying individual. Racism occurs all ways, from all cultures. Scandal can erupt when one holds oneself out to be one thing and 'proof of identity' is becoming de rigueur in our society. People's reputations, even when doing good in a community, are questioned, as well as their motives when possessing a dual identity and working as an artist with these constraints have become dynamite explosions with public and commercial galleries when assumptions are made without delving into the truth of a matter from a factual perspective.
White Man/Red Man plays on J.S. Sargent's, "Portrait of Madame X" (Virginie Amélie Avegno Gautreau, wife of the French banker Pierre Gautreau). Sargent was notorious for portraying hidden meanings in society around the personages that he painted. Virginie was notorious in Parisian society for her beauty and rumoured affairs outside of her marriage. Sargent painted her with a great deal of her flesh showing, in a sexually suggestive pose (for the times) with a whiteness and pallor to indicate the elite upper class. The portrait did great damage to Mme Gautreau and caused a great deal of scandal when shown in the Paris Salon (1884).
My intent with White Man/Red Man is to challenge our perceptions of what is indigenous and what is not….who is indigenous and who is not….and how we perceive this through symbolism, portraiture and history. The male model on the left (White Man) is my husband Kevin – a white male of German descent, adopted also into the Blackfoot and possessing a dual alliance to both of our families; while the male model on the right is Don MacIntyre (Ahnanhsisi), an Anishnabe man with Scottish blood. Who is who? Why? What makes one "Red" or "White"? Who are we…as human beings and why do differences matter?

#iamnotahashtag, 2018
Oil on linen
63" x 99"
Artist Statement
My good friend "M" has an inner glow – you know, that kind that you just can't put your finger on, but the kind where you know a fire burns deeply in the soul, from joy, from love, from inspired life and humanity, and from pain and hurt. I wanted to paint "M" from the moment that I met her. We had little time together – she being from the USA and just there for a visit, and so instead of being able to sit for a portrait, she came out to my studio in the Leighton Colony at Banff Centre and agreed to sit for a few photographs while we talked about life, our children and our history.
I had a dream about a quilt and white sheets hanging on the line, and I knew that somehow it was to become part of a painting. Three days before our sitting, I'd hung some antique quilts out on the line in the woods and sketched, painted and photographed them swinging in the gentle mountain breeze, freshly laundered. Each stitch, hand-sewn such a very long time ago, dating back to my great-grandmother's time and fondly handed down to me and crafted by someone that had passed before I came into this world. The red and white compass and wheels have always been a comfort to me and the quilt has followed me across Canada, always in a place of warmth in our home. I recalled the memory of my mother hanging fresh sheets on the
line in our backyard…running through them and smelling the fresh outdoors. It was a good memory, and yet it made me sad that no one seemed to hang out their laundry anymore for fear of it 'not being the required aesthetic' in a modern neighborhood.
During the quiet hours that I sat and photographed "M", our chatter turned to our families and especially to our children; how we worried about our sons (both in their late teens/early 20's), how dangerous the world could be and how we, as mothers, had such concern about their future…and about how annoying their habits could be at times too. She told me of her son's constant habit of leaving bits of paper in his jeans pocket when the laundry was done, and finding white, chewed up and soggy bits all over the washing machine. And then, our conversation turned to more serious matters. "M" got annoyed enough to ask her son why these bits of paper kept showing up in her washing machine, and her young son replied, "They're receipts, Mom. They're receipts!" "M" told me…she still didn't get it, and she pressed him again, as any mother, annoyed with the mess he made, would do. Then, when her son explained, she was shocked, sad and angry…and ever-forgiving.
He had kept every receipt for the things that he bought because being a young black man in an affluent neighborhood, he would be constantly pulled aside by the police, searched and asked what business he had…near his own home, walking to school, and walking to his part-time job. Providing the receipts to the cops as proof that he had bought the things that he had with him became a way to protect himself. It was M's worst nightmare, having moved across the country to a state that she thought she could find safety for her family. Here, in her new home, she had to face the same dangers that she thought she had left behind.
We were both silent, and then began to weep. Because her son was black, he had to prove to the police by carrying receipts for a can of soda…or a ball cap…or the running shoes or jeans he was wearing. The disgust of the racism hit us both squarely in the face, for this was something that my white son would never have to live in fear of – police pulling him over because of his colour, possibly shooting him, beating him or degrading
him by profiling. He would never have to prove his 'worthiness' to walk the streets in his own neighbourhood. This is something, in my own white privilege, I would never imagine. Can you? Can you imagine living in fear all of the time? My friend is well known in her field, has a doctorate and works to improve the lives of many, and yet this level of racism is with her and her family every day.
She continued on, telling me other horror stories that I could not relate in this artist statement – for they are her stories to tell.
A lightbulb went on in my head as we quietly talked into the night, and I told her – I think I know what this painting is about. You talked about the laundry…and I see you in front of this laundry line, as a statement of defiance in front of these quilts. Her eyes opened wide and she said, "Do you KNOW the quilt story?" Again, in all my whiteness, I had no idea what she was talking about. She explained that in the underground railroad, safehouses would hang quilts a certain way outside to point the right direction and give the clue to escaped slaves as to the direction to Canada, and to safe haven. For me, this was a revelation, and the 'compass' quilt in the painting, so long ago stitched by hand, and the white sheet hanging on the line, became symbolic items in the painting representing a plethora of dark history and hope for African Americans. #iamnotahashtag is the titles that my friend came up with. She is rising above. She is strong. She is an individual, defying categorization and wants to be seen as such.
I see you, M.

White Privelege, 2018
Mixed media on linen
63"x99"

The words "White Privilege" spelled out in braille using beaded round medallions, approximately 2" in diameter. I have been beading for a year on them, and simply need to attach them securely to the linen, and ensure that the white background is painted…so it is a white on white piece.

Biography
Janice Tanton is an interdisciplinary artist, working for over 24 years to create works that resonate widely. An Alumna of Distinction (Creative Arts & Design) from Durham College, also studying at the University of Windsor BFA (Acting), Janice continued her interest in the arts, working professionally in theatre, film, music, vocal performance and graphic design, culminating in the launch of her own art, publishing and design company in 1989.

She quickly developed a wide network for her art throughout North America, securing major corporate accounts and licensing opportunities while operating two commercial galleries and a design/fine art studio. Her entrepreneurial success led to an invitation as a delegate to the first Businesswomen's Summit between Canada and the U.S. as well as a nomination for the Rotman Woman Entrepreneur of the Year Award. Janice's work resides in numerous corporate and private collections across the globe.

In 2005, Janice moved with her family to Treaty 7 Territory (Canmore, Alberta) where she accepted a position to serve as Program Manager for Aboriginal Leadership at The Banff Centre. Setting aside a successful art career to devote time to her young family and her new role, Janice discovered artistic inspiration and support through close relationships with faculty and participants from Aboriginal communities from across Canada and Australia. She is greatly honoured to have been adopted as the daughter of Elder Tom Crane Bear of the Siksika Nation (NAAF Culture and Spirituality Award Recipient), initiated into the pow wow dance circle, is a tipi owner, has been given the Blackfoot name Iniskim-Aki (Buffalo Stone Woman). Curious as to how to reconcile the wide spectrum of diversity within her communities and families, Janice began to work in a new vein of artistic exploration. Focusing upon these cross-cultural relationships through painting, film and a melding of performance arts practices, she launched the Community Fusion Project with the support of a grant award from the Canada Council for the Arts.

Janice retired from her role in Aboriginal Leadership at The Banff Centre at the end of 2010 to devote her time solely to her art studio and project work. She continues her strong relationships with aboriginal communities and leaders across Canada with the focus of her work centered upon artfully discovering the colourful contemporary threads of commonality woven within the remarkable diversity of our species. Janice's breaks new ground by exploring the intersection of collaborative cross-cultural arts practices to strengthen relationships through practice in the arts.

She is working hard at becoming a Full Time Human Being

www.janicetanton.com
Marion Trimble
Keep Out, 2017
Paper collage on canvas
30" x 40"
Artist Statement
I make collages that communicate my point of view in landscape form. Keep Out is a visual narrative highlighting acceptance or the lack of it between peoples and nations of the world. Referencing the contradiction of the way humanity deals with one another, the sentiments in my collage became more relevant as objection to refugees coming into Canada gained attention. Was my Canada sending the same message as Trump's Xenophobia?
My collage suggests it's a random accident at birth that determines our circumstances. We all come into this world the same way - through birth, and, depart the same way - through death. Two distinct levels appear in Keep Out. One is dark, desperate and sad; the other green, affluent and happy. The levels are separated into a lower level where desperation is visible, and, an upper level where people relax, worry free.
I enjoy the challenge of finding the right illustrations to assemble a satisfactory amount of material. I start by visualizing an overall layout design of the theme. Cutouts are separated as components of the theme and set aside in folders. The collage is worked one folder at a time.
Eventually all the scenarios appear as a united landscape picture. In speaking through my art, Keep Out addresses Xenophobia by asking the question: can we on either side choose to reach beyond our circumstances of birth to create change.
Biography
Raised in Vancouver, Marion and her husband retired to Oliver in 2002 where the Okanagan landscape that had lured her artist heart became home. During her full time career in office work, Marion made time to pursue art as a hobby, and on a whim, entered one of her collages in the PNE Creative Arts Show. Winning first place in her category and the "G.H. Tyler Shield for Art other than Ceramics" added fuel to her passion to create.
Art - and predominately collage - is her frame for viewing and expressing life. As a child, she could be found cutting and pasting from the Sears catalogue. Later, it was the colours, textures and pictures of mixed papers arranged to create landscapes or to tell a story that enticed her.
With her husband's support, Marion left the office and enrolled in Fine Arts at Kwantlen College in Surrey. For two years running she achieved the "President's Honour Roll" status and thus began the most exciting period of her life. She says she felt like a sponge wanting to learn everything about art, it's history and it's many forms. Painting, drawing and printmaking expanded her resume.
Over the years she has won numerous awards in art shows in the Lower Mainland and in the Okanagan. Her works in both collage and acrylic painting have been especially appreciated and can be found in executive suites and homes all over Canada. Currently Marion is working on larger scale mixed media collages to reflect the complex and controversial times we live in. Some are serious, others humorous, but they all present her insightful view of the world's stories as she interprets them.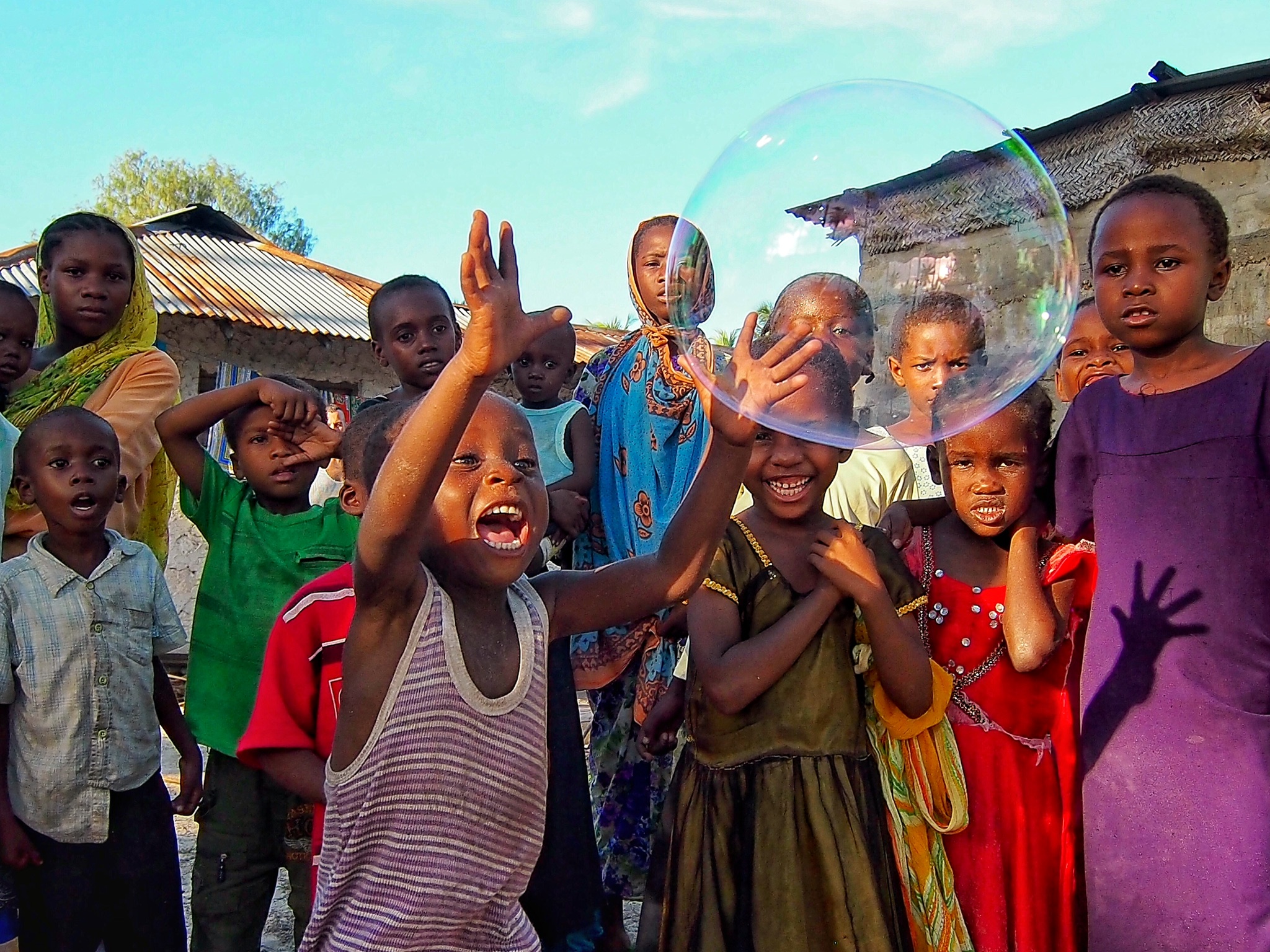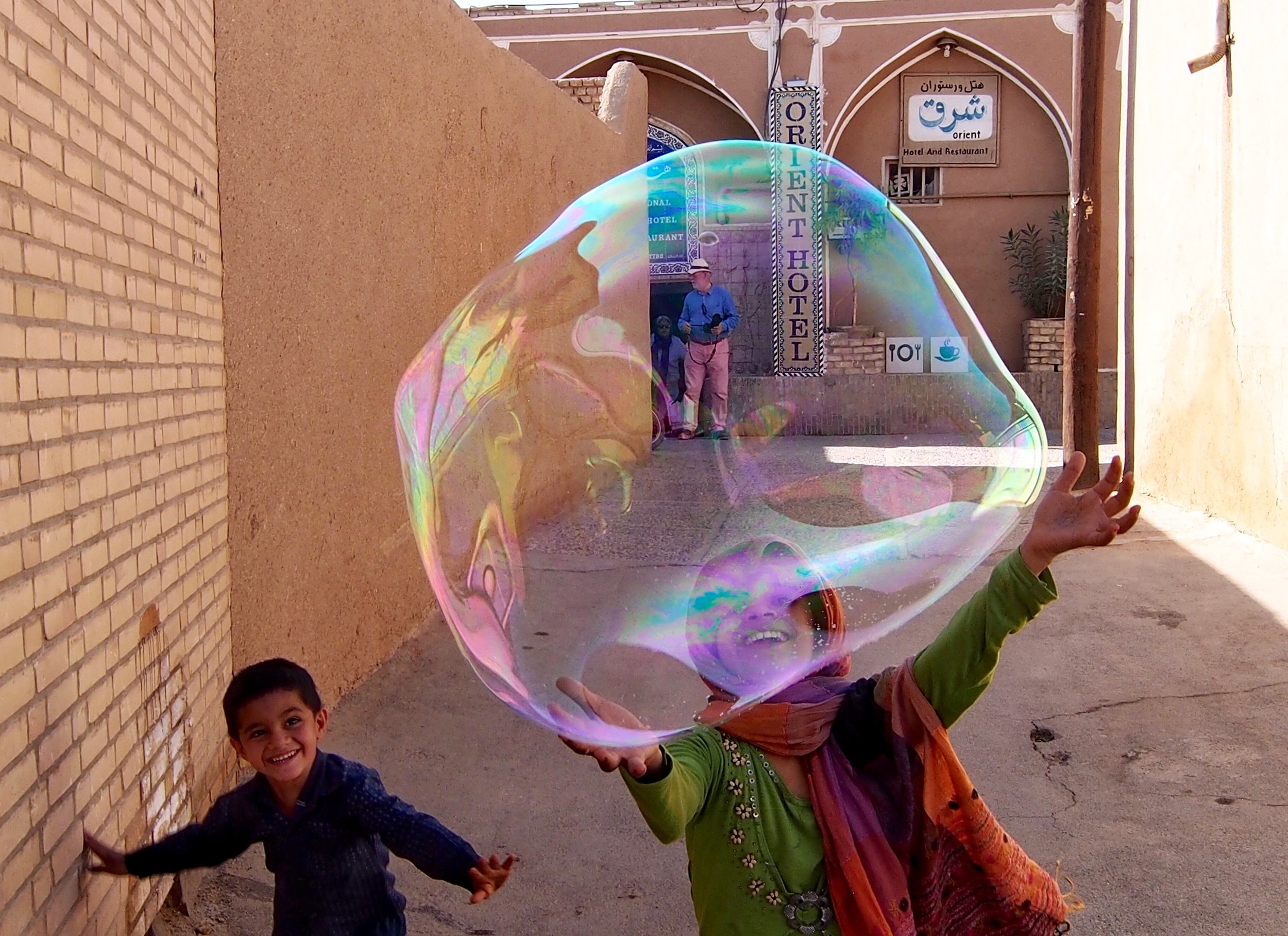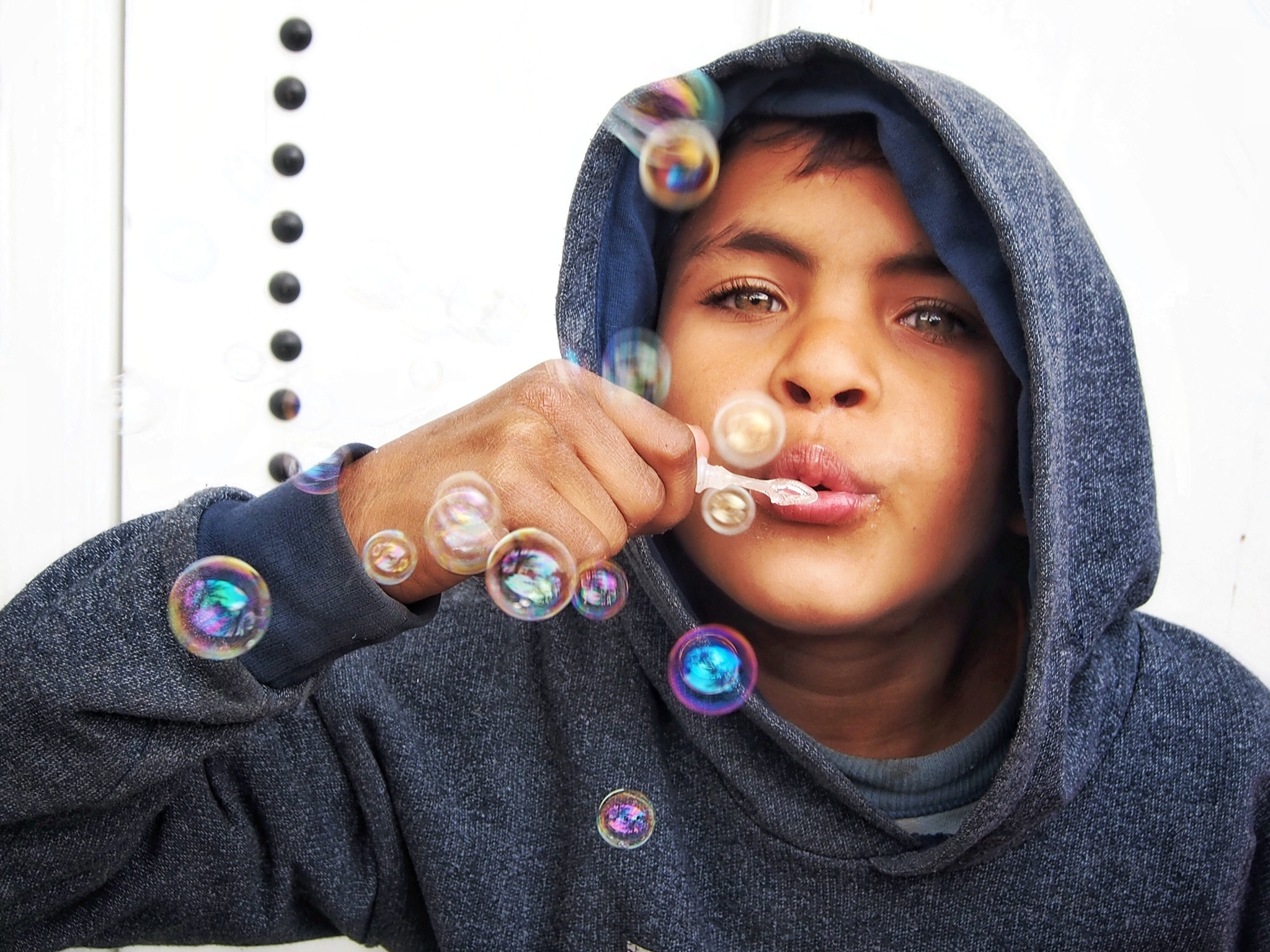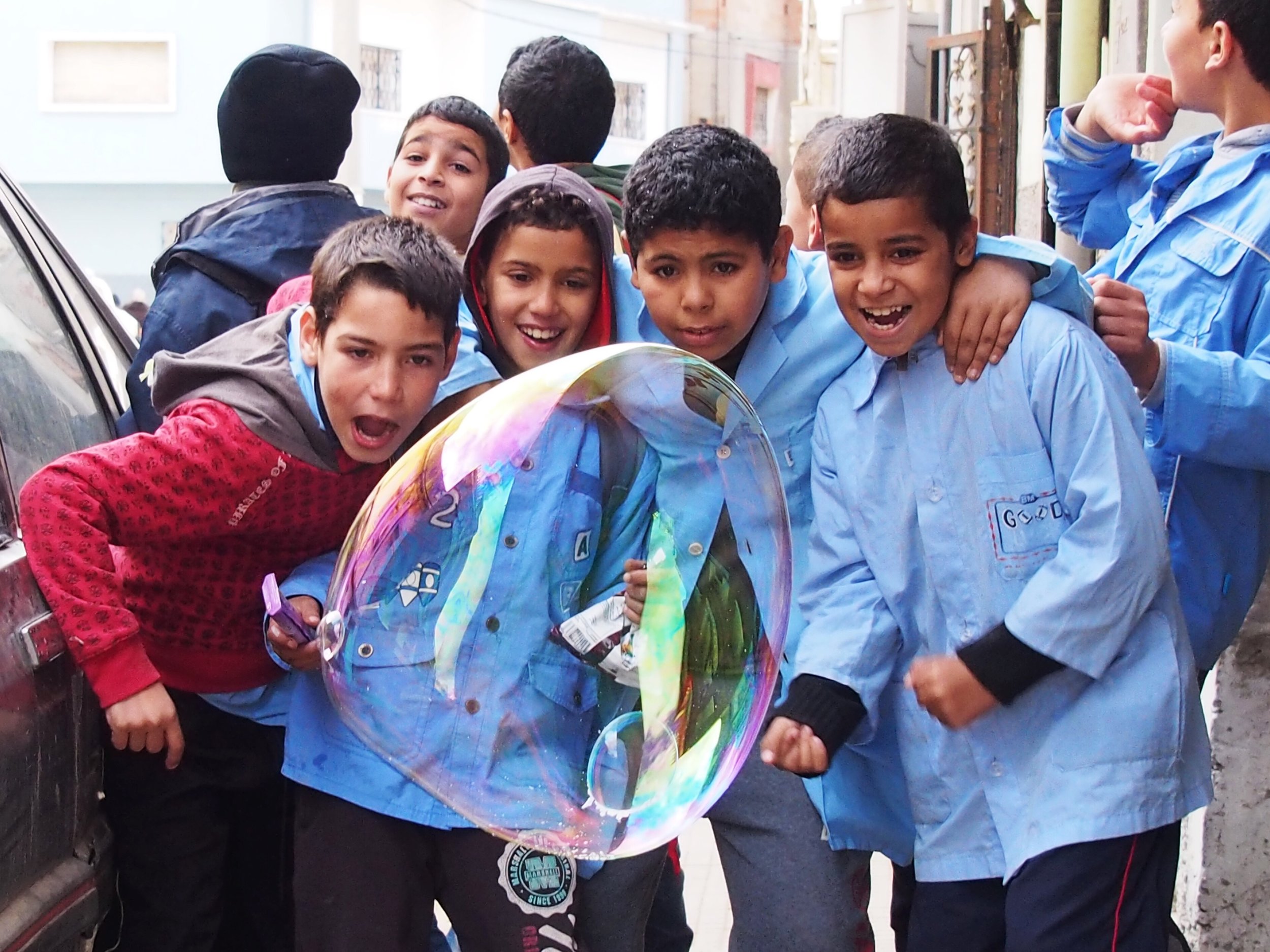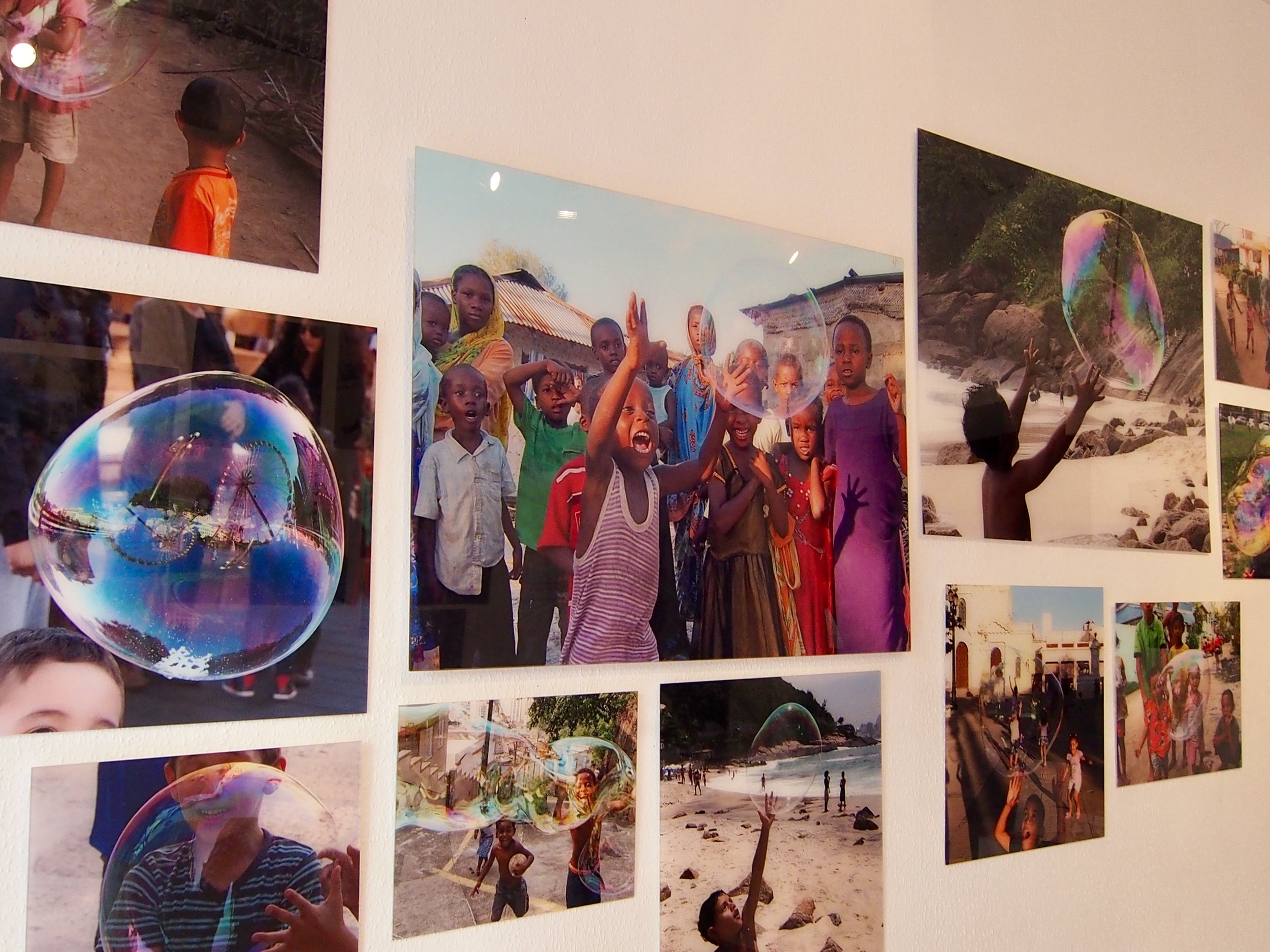 Khaled Youssef
Make Bubbles Not War
Digital photohgraphs

Make bubbles not war
Everything starts with a dream and life is a story that feeds on the substance of dreams. It is in childhood that hope is anchored, since happiness is a child's dream realized in adulthood. Innocence and spontaneity, a sense of wonderment, a light air bubble that dresses with the colors of the rainbow an empty space, all this builds up our dreams that we long to see growing, and perhaps one day coming true. In a world full of uncertainty, violence and complexity, this album is a human response as to deepen an awareness of the happiness and the beauty of life, an attempt to visualize dreams, to draw a smile upon people's faces from here and elsewhere. By taking these soapy creatures along with me in my travels, I try to create moments of joy, inspiration and wonderment that the camera will capture and archive in time and space. The bright eyes of a child in Istanbul or in Nice are the same as that of a Brazilian or Algerian child. We are born equal, and when we know how to share and give these treasures of simple happiness, then we align ourselves to our common humanity that unites us all.

Our era could have been one of the most lenient and tolerant times, thanks to communication technologies, we could have imagined that borders are being erased so that we can reach out to our brothers from places that were once far and unknown. Alas, we live in troubled times filled with prejudices, discrimination, hate and fear of the Other, and a pseudo-belief in the superiority of some over others.
I have always wondered: what defines our humanity? An alleged race, skin color, physical traits, socio-economic level? Would our judgment be influenced only by criteria related to the chance of birth and life? I myself experienced these prejudices and discriminations, Syria my beautiful homeland has become an obstacle to my travels despite my French passport; from one day to the next I have been discriminated against because of what I have not chosen and which goes beyond my own will, but which nevertheless forms an essential part of the plurality of my being.
I often remember these words by the poet Adonis: "You do not hate me, you hate the image you created of me, and this image is not me, it is you."

Thus, pursuing my quest for Beauty, I tried to highlight what is beautiful in humanity, and what unites us all: Childhood.
Free from distrust, scorn and prejudices, children know how to love, to smile, to wonder at the world around them. The innocence of childhood is the creative essence of the Earth and the Universe, an unconditional yes that sanctifies the gift of life. What is more beautiful than discovering the world through the smile of children? From Myanmar to Brazil, from Cuba to Iran via Europe and Tanzania, I brought these soap bubbles with me, stopping in big cities or in remote villages. These ephemeral creatures that fly freely through the air, do need neither passport nor visa nor take into account the color of the skin to draw a smile on the faces of children and to bring forth their joy from the depths of their hearts.
I saw the eyes shine in the faces of light, and the innocent souls rejoice at this game so simple and colorful, as life can be. The gaze is this light behind the eyes, bursting with a real and deep brilliance, transparency that radiates, penetrating the other by its gentleness, producing in all its being a discreet trembling, sign of a face to face, of a true communion. Blacks, Whites, Asians, Caucasians, whatever, all these faces merge into eternity and become One! With the joy that breaks out, the frontiers disappear as if to give place to the beauty of difference and otherness.
We were born equal; it is therefore up to us to remind ourselves of it and rid our consciences of these dusty prejudices in order to relearn how to discover ourselves through the Other, and so that the bridges eventually replace the walls.

Biography

Khaled Youssef is a Franco-Syrian doctor, photographer and poet, and co-founder of the not-for-profit organization SYRIA.ART - Association pour la Promotion de l'Art Contemporain Syrien. The artist has participated in several collective and solo exhibitions in France, Europe, the Middle East, the USA and Canada. He lives in Nice, France.
In order to express a different view of the world through poetry and photography, Khaled Youssef follows a singular adventure: bubbles, pictures and words. Traveling from continent to continent, country to country, city to city, he makes us see the world through the lens of a bubble and the prism of poetry.
Beyond the childish game, those translucent creatures are the very image of our dreams that we dream to realize, of the good moments lived that we wished to last forever, and of our beautiful flighty ideas that we wished to recapture. Iridescent, they have the power of reminiscence, as they realign us with our childhood and its memories. Crystalline, they symbolize hope and joy. While flying, they wear the seven colors of the rainbow, and burst out at a patch of blue sky to allow us to escape beyond the boundaries of our imagination. It is for all these reasons that he creates them, observes them, shoots and captures them with his camera.
In this vast world, on continent after continent, in country after country, city after city, these translucent spheres are traveling alongside with him, while drawing the silhouettes of people, highlighting the details of a face or a smile, reflecting a place or a monument, or while remaining suspended in unknown skies, such as an exhortation to escape to some nomadic regions.
Each bubble is itself a realm of dreams inside an oneiric world. A journey through the lens of a bubble is an invitation to lightness, to the pleasures of travel and discovery, and a call to come out of one's own bubble to finally dreaming the dream of life.