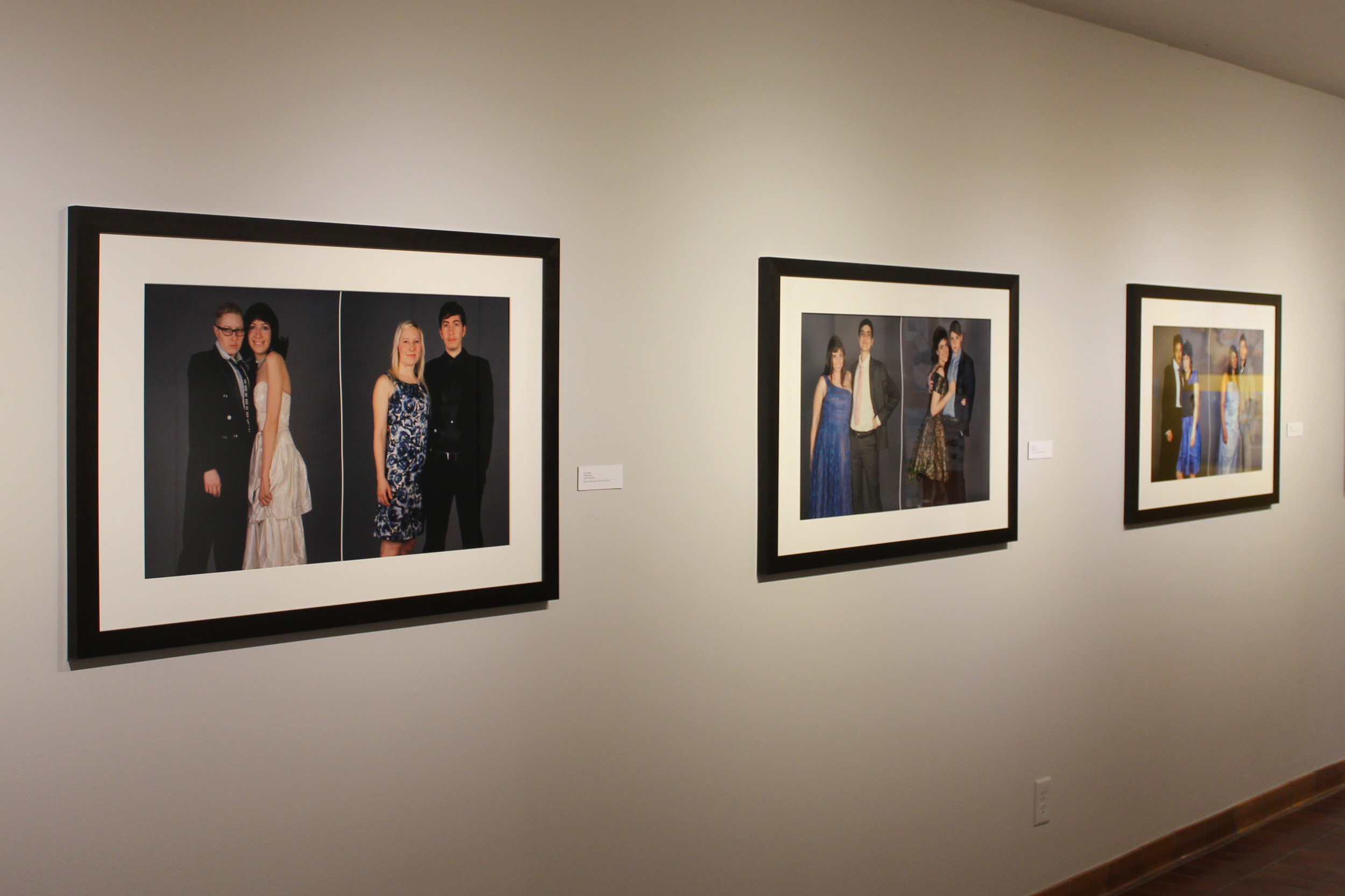 Installation photos by Ron Marsh
JJ Levine is a Montreal-based artist working in intimate portraiture. Levine is currently enrolled in a Masters of Fine Arts in the Photography program at Concordia University. Mostly known for the series Queer Portraits, Alone Time, and Switch, Levine has been honoured with several awards and received grants from the Conseil des arts et des lettres du Québec and the Canada Council for the Arts. Levine's work has been exhibited at galleries and art festivals across Canada, the United States, and Europe. As well Alone Time and Switch have been featured in art magazines, journals, and newspapers internationally. Levine's artistic practice balances a radical agenda with a strong formal aesthetic.

In an interview with Matthew Hays for Vice Magazine in May 2015, JJ Levine said: "I like the idea that portraiture confers importance on its subjects, and in photographing people who do not fit into mainstream, or what are generally considered culturally valuable representations of bodies, genders, and sexualities, I'm suggesting that we are important. So in that sense I would say that my work is not about gender non-conformity, but a desire to contribute to a visual culture that assigns value to people I identify with and care about, because they are fiercely beautiful and deeply valuable to me. Some of my projects address ideas around gender perception, such as Alone Time and Switch, but Queer Portraits is more about my relationships and the people I feel connected to, some of whom are trans and some of whom are not."
Alone Time is a series of brightly coloured photographs of couples sharing intimate interactions of domestic life; however, each "couple" proves to be a single model, appearing as both the male and female character in the same frame. By demonstrating an individual body's capacity to engagingly and believably embody two genders, my project questions the mainstream depiction of binary gender roles. This conceptual decision to double the gender presentation of a single body challenges normative ideas surrounding gender presentation and instead implies that gender expression can be fluid and multiple. As well, through the technical aspects of my work, I challenge representational tropes: while the individual photographs are shot on slide film, scanned, layered, and digitally collaged to create the final illusion of "two people," no aspect of the subjects' genders are digitally altered – the images are successful because they are visually convincing without manipulation of the subjects' body through means other than makeup, costume, and pose, further emphasizing the notion that gender is malleable.
Switch presents the viewer with what initially appear to be pairs of classic studio portraits of heterosexual couples. Upon closer examination, however, each diptych is comprised of two models, not four. I dress each model as a man in one image and a woman in the adjacent one. By staging the same models twice in each pair of photographs, I don't give any clues as to the subjects' lived genders, therefore challenging the idea that gender is stable, consistent, or single. A parody of traditional portrait studio images of couples, the project specifically challenges the gender roles espoused by such photographs, subverting imagery of so-called normative existence. Through this project, I aim to reconstruct relationship dynamics with a queer and camp sensibility.

Queer Portraits 2006-2015 is a large photography monograph depicting one hundred portraits of Levine's friends and family in Montreal over the past nine years. Each studio-lit portrait is shot on medium or large format film, and taken in a different domestic setting, characterized by saturated colours, and discursive backgrounds.

Reflecting on the challenges faced by the Trans Community today JJ states: "until trans people can access employment, housing, public washrooms, and basic social services such as healthcare, with the safety, respect, and dignity that cis people are granted, I don't think anybody should be over it. Trans people, and especially trans women of colour, are disproportionately subject to violence, harassment, and state repression such as incarceration in Canada. I also think that sometimes racism and imperialism are replicated when we talk about "us" as progressive, tolerant Canadians and "them" as non-Western societies that are homophobic or transphobic. I do think it is important to acknowledge when victories are won and encourage people working for change. It's because of the work of so many trans activists around the world, and people just living their queer/trans lives, that more and more people are able to come out as trans. Sometimes just bravely existing and people supporting each other day to day is huge even if it isn't under the banner of "activism."