It is with great pleasure we once again get to partner with Island Mountain Arts and the Toni Onley Artist Project in Wells, B.C., to introduce the work of an amazing emerging artist to our community. For just over a week each year, 20 artists from across the country are selected to participate in an intensive self-directed studio program led by two senior artists who are hired to guide the program and act as mentors. This past summer, we were excited to welcome back Joseph M. Sanchez from New Mexico and welcome for the first time Shary Boyle of Toronto. Both of these artists have enjoyed international recognition and have been at the forefront of the contemporary Indigenous art movement.
As part of this residency program, the two mentors are asked to consider each of the participating artists for this exhibition opportunity and over the course of the week-long program they take into consideration their artist talk which introduces the group to their previous work along with the work they each of them creates while in Wells. It's never an easy task and this past summer was no exception. One of the purposes of this exhibition opportunity is to give an artist a goal to work towards in the hope that it will help further the work undertaken in Wells and provide an emerging artist with some much needed exposure and critical engagement. After careful consideration, the mentors are asked to not only select one of the artists but to also provide some context for their selection and each mentor has contributed the following thoughts on Charlie Walker's work and the reasons behind their selection.
"The selection of Charlie Walker for an exhibition at the Penticton Art Gallery from a very talented pool of artists participating in the Toni Onley Project was one made with confidence and connection. Looking hard and listening to all the ideas, sharing in such a safe and non-competitive way our paths crossed as artists and collaborators. Charlie is an imaginative and creative storyteller who shares the intimate with the cosmic, her dream world with life and a work ethic that revealed many of these works during our nine days in Wells. There is music in the work, rhythms in the marks and a joy in the use of materials as these narratives unveil themselves for us to enter." ~ Joseph M. Sanchez
"A through-line of the 2017 Toni Onley Residency group was sincerity of intention, and careful love of materials. Charlie Walker shares these sensibilities, while also delighting us with her spontaneous imagination, and courage in working free, large, and prolifically. Whenever I visited Charlie's workspace her rich dynamic colour palette and cast of endless interwoven characters invited me into the cosmos of her interior realm. She has an idiosyncratic voice all her own and a strong compulsion to give it open rein. Her approach to art-making is celebratory and liberated, the drawings embody a spirit of the uncontrollable, tumultuous with love, humour and grief." ~ Shary Boyle

This year's program will take place from July 7 - 15th and will feature the distinguished mentors: Lisa Milroy who was born in Vancouver, and lives and works in London, UK, where she graduated from Goldsmiths College in 1982, and was elected to the Royal Academy of Arts in 2005. Since 2009, Lisa has been Head of Graduate Painting at the Slade School of Fine Art. Milroy won First Prize in the John Moores Painting Prize in 1989. She was Artist Trustee of the Tate from 2013-2017 and Liaison Trustee to the National Gallery 2015-2017. Jen Mann is a Toronto-based figurative painter, who studied at the Ontario College of Art and Design. Mann has exhibited in numerous shows across the United States, Canada and the United Kingdom and is a recent recipient of the Emerging Artist Grant for the Ontario Arts Council. Since graduating in 2009 with a BFA from OCAD, Mann has been steadily gaining accolades and recognition for her work on the national and international stage and in 2015 won the prestigious Kingston Prize for Canadian portraiture.

As part of this ongoing partnership with Island Mountain Arts the Toni & Bernie Cattani Fund for the Arts, provides an Okanagan-based artist with a 50% Bursary to attend the program each year. For more information on this years program and the extensive list of Bursaries and Scholarships available please go to their website at:
http://support-imarts.com/about-toap/
Charlie Rae Walker: =UnShameMe!= : "My painting and drawing method is not initially concerned with aesthetics or imagery. It is a form of reckoning with forces which i feel bombarded or oppressed by. I use the act of image making to relieve myself of pain, confusion and mental conflict. In this exhibition, I am using drawing as a tool for unravelling shame: shame of self, shameful memories, body shame, shame of sexuality. As a child, I felt overwhelmed with shame. As a teen I developed deep shame surrounding my sexuality /gender and identity. It needed to come out. Shame is corrosive if it stays too long. Art is my medicine, and I am using the act of drawing and painting as a shame-breaking ritual. These works are about healing and breaking through barriers of shame."
My process: "When I paint, draw, write songs, performance, installation or animation, I am digging towards understanding and psychosomatic transformation. The imagery unfolds as it wants. I rarely have a predetermined image or plan. Letting go of control and saying yes to every colour line shape lyric impulse allows my imagination to give birth to what it wishes, without my intervention, designs can emerge in a more essential and untainted form. In painting and drawing, I usually start with a very fast scribble/ ink mess applied in an urgent/playful/ destructive way. It is during this initial scribble mess, that I am most focused on the exact question/ issue/ pain/ angst which I am seeking to unravel, understand, and transform. The images I need to paint and transform appear out of the scribble mess. Sometimes the images/ beings go through many transformations before they settle. It is almost like watching a movie. It is similar to the animation techniques I use. Underneath a painting there are usually layers and layers of now unseen scenes and beings and transformed ideas. As the images appear, I engage in a process somewhat like divination, I find great pleasure, revelation and insight from 'reading' into the images that appear out of this spontaneous mess divination process."
Charlie Rae Walker (Aka A Raven Called Crow) is a multi-disciplinary artist hailing from Unceded Lekwungen and Wsanec Territories (Victoria B.C.) and Gadigal/Darug territory (Sydney, Australia). She works in diverse media of drawing, painting, animation, installation, music and theatre and performance art. Storytelling, collaboration, transformation, healing, identity, and truth telling are key themes to her work. Currently based in Vancouver, She divides her practice between drawing & painting, writing & performing music as A Raven Called Crow// transcribing her dreams// travelling, and developing her hand drawn charcoal animation company 'Delicious Dirt Machine'. Her unconventional musical project 'A Raven Called Crow' has been sneaking around underground venues, house concerts and festival stages in Canada and Internationally over the last 6 years. Her latest album is a collaboration with Vancouver/NZ Chamber pop duo 'The End Tree' and is due for release late Spring 2018.
Many thanks to the brilliant artists and crew of the 2017 Tony Onley Artists Project, to the town of Wells, IMARTs , ArtsWells festival, Penticton Art Gallery and to all the loving and supportive friends and family who have contributed to this exhibition becoming a reality.
Instagram: A RAVEN CALLED CROW
Installation photos by Ron Marsh
"Thank you for putting a smile on my face and a few chuckles (especially from the mothership!)" - Donna B.
"Fabulous show!" Gail M., Salmon Arm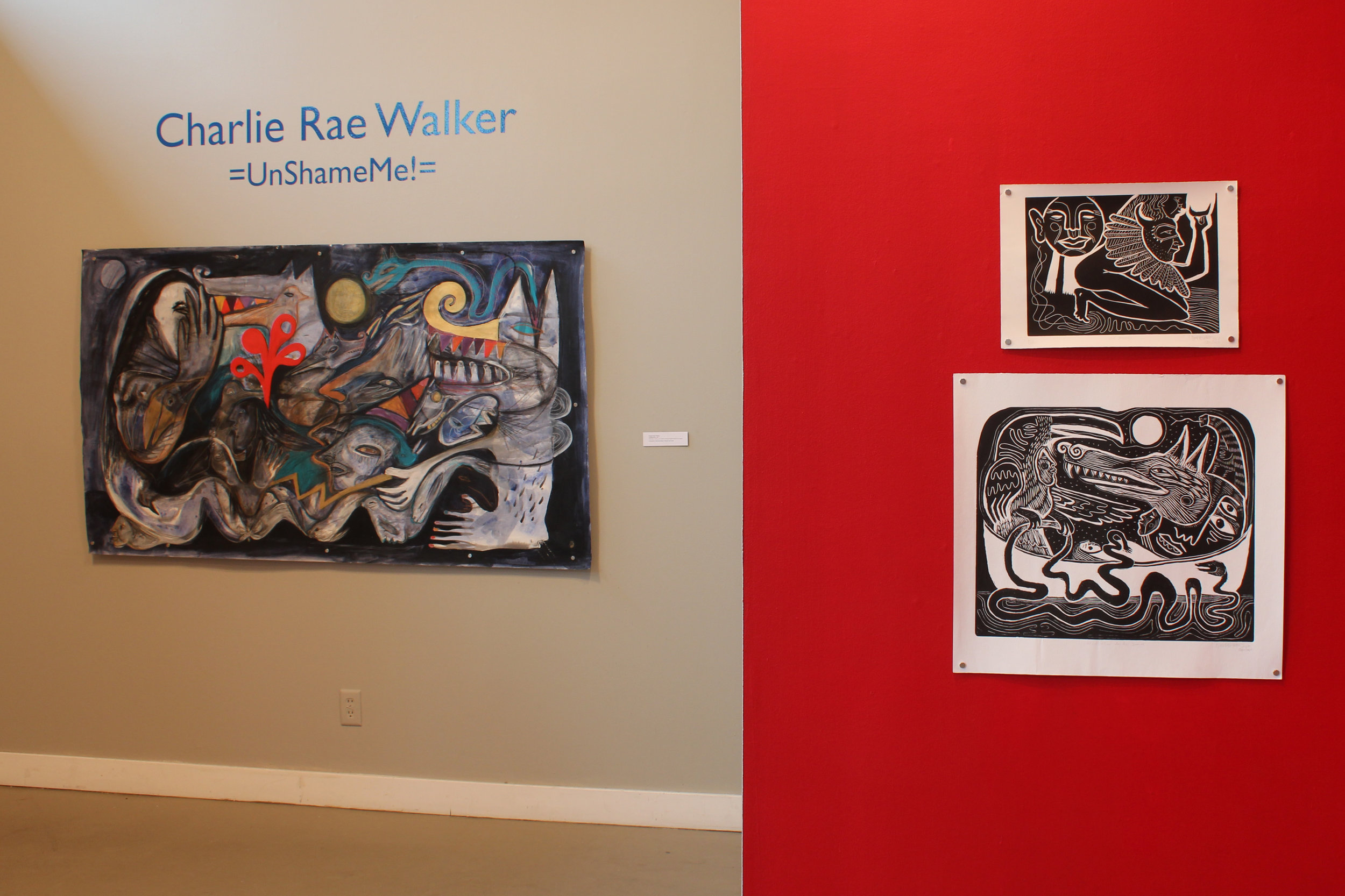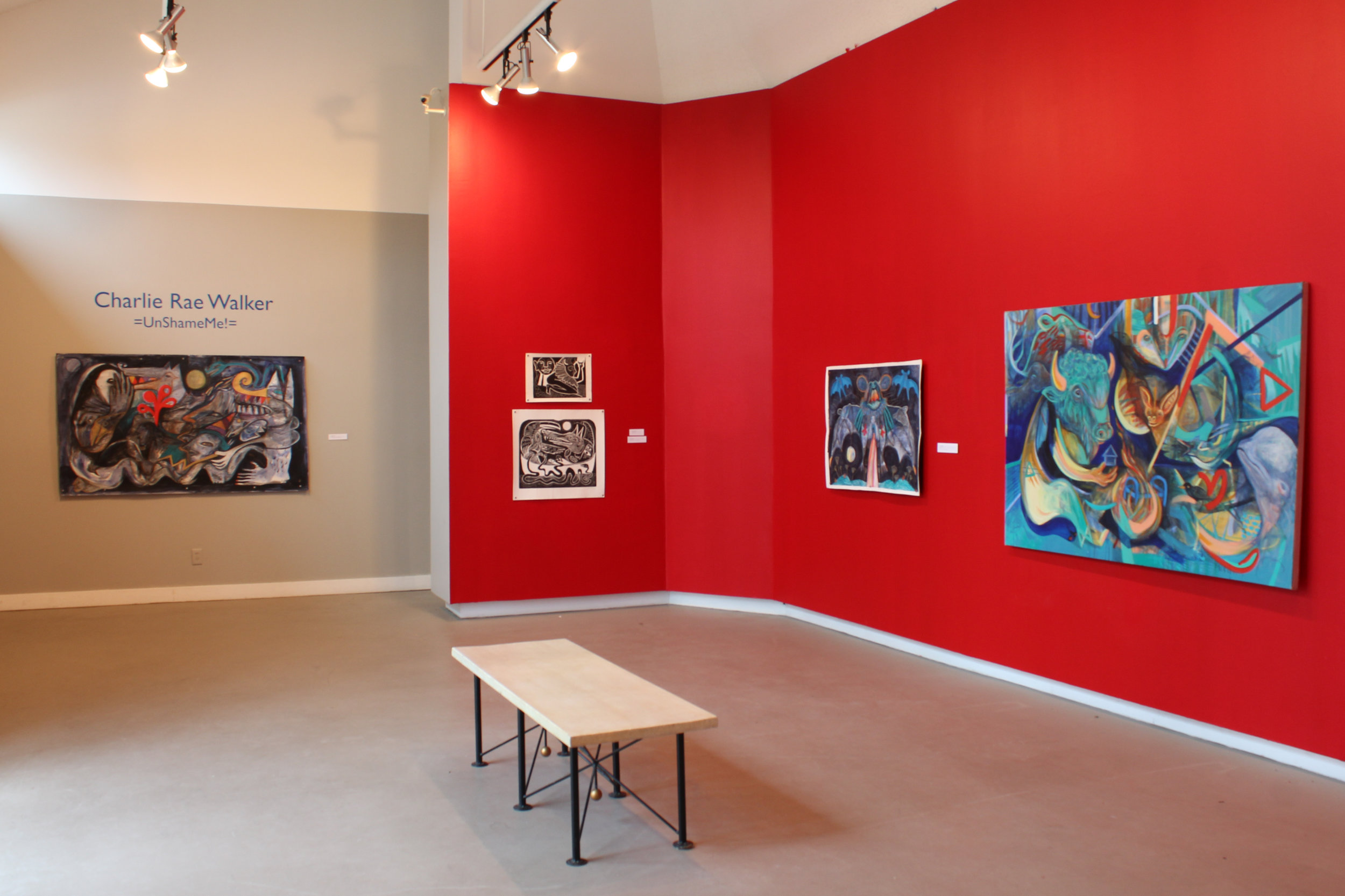 Installation photos by Ron Marsh.