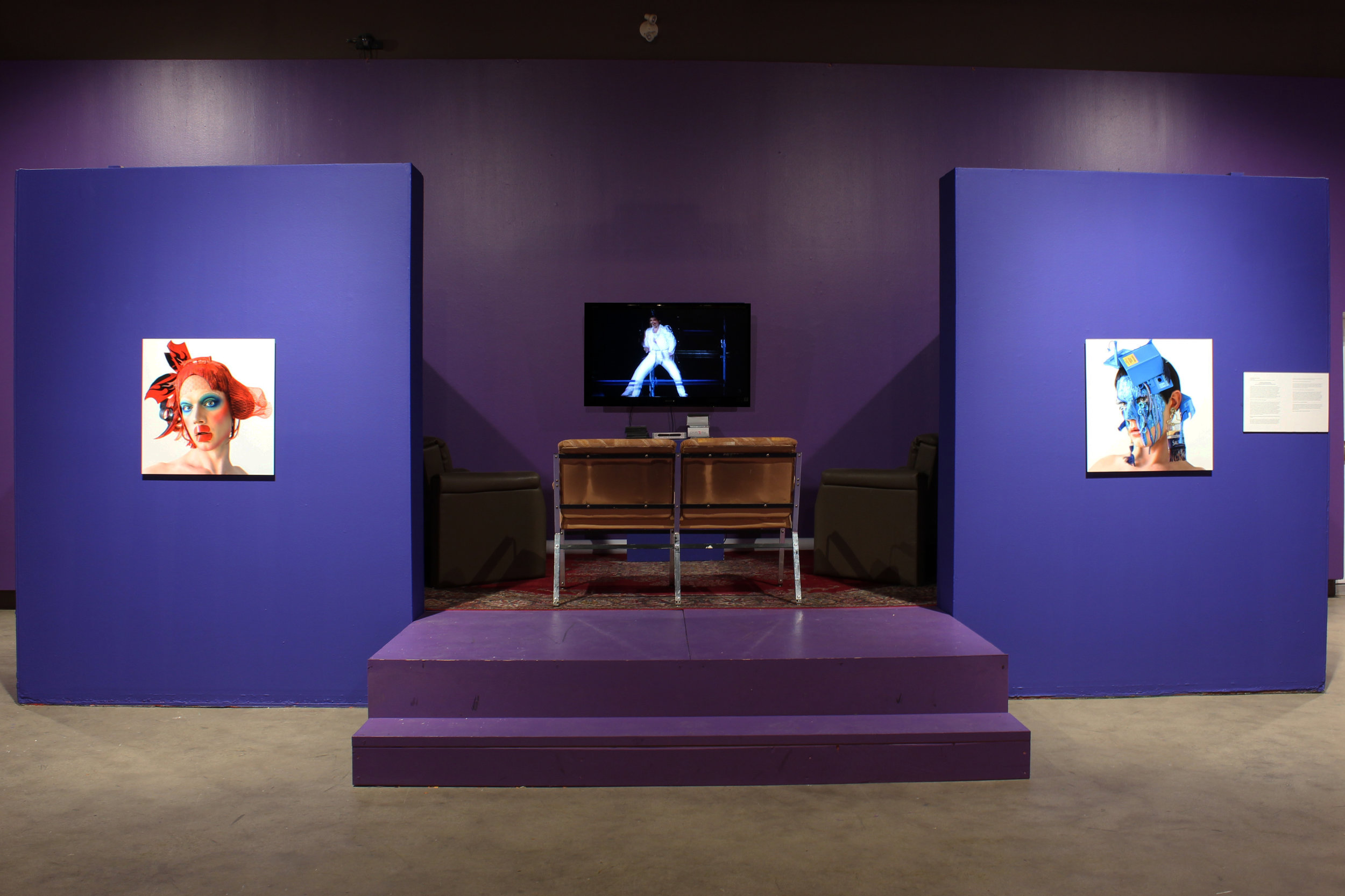 Installation photos by Ron Marsh
The title of the exhibition, Ipseity, traces its etymology to the Latin root ~ ipse, "self", and is used as a noun to describe one's selfhood; individual identity and individuality. Through the eyes of each of the participating artists we hope to bridge our differences and expand the fabric of our culture by promoting and accepting everyone's uniqueness and individuality including those age old constructs regarding gender and identity. "Ipseity" is by no means intended to present a thorough exploration of gender and identity, but rather this exhibition presents a number of personal narratives intended to start a greater conversation which I hope will lead to a better understanding of the complex issues faced by those in the LGBTQ+ community.

This exhibition has been one of the most challenging I have ever undertaken and as open as I thought I was, and for all my friends who are part of the LGBTQ+ community, I have come to the realization that this is a subject way beyond my own life experience and all I thought I knew has been thrown out the window. I am grateful for the help and advice I have been provided, and the guidance of so many to help me navigate the complex issues that surround not only the LGBTQ+ community, but also ideas and notions of gender and identity. I owe a huge debt of gratitude to Cassils and especially Tobaron Waxman for their mentorship, patience and help co-curating a significant part of this exhibition and for taking the time to help me navigate the Transgender Community. This is not a black and white world and there are as many answers and experiences as they are people on this earth and we need to free ourselves from fearing those who are seen as being different and embrace the one thing we all need most in our lives: love and respect.

There isn't a person alive whose life hasn't been profoundly touched by or inspired by a member of the LGBTQ+ community and we need to come together as a united voice in support for all those who are out and proud and more so for those who are still struggling to become comfortable with their own gender, identity and sexuality. As much as this exhibition will be a celebration of diversity, it will also take a hard look at the dark history suffered by so many and that reality is still a daily struggle for Hamed H. who is currently living in Istanbul awaiting his chance to be re-settled as refugee. He longs for the freedom to finally be himself and safety of the west, but the recent news of serial killer Bruce McArthur who preyed for the most part on immigrants and those living on the margins of society proves that there is no guarantees of safety here in the West. His is one of the heart breaking stories and is one that repeated around the globe on a daily basis. We will only become enlightened when we can all be free to live our lives open and honesty and love who we want without fear of death.

I invite you to join me on this journey of discovery and, as I mentioned previously, and it bears repeating, this exhibition is not intended to present a thorough exploration of gender and identity, but rather we are presenting you with a number of personal narratives intended to start a greater conversation and I invite your participation and input. A large part of this exhibit will feature public engagement opportunities and we will be partnering with SOS Pride to host a number of pubic forums where members of the LGBTQ+ community will be present to answer any questions you may have, dispel any myths and provide support for those who are also questioning their own sense of identity. All I ask is that you come to this exhibition with an open mind and heart and in doing so it will ensure that the gallery remains a safe place where everyone can be vulnerable without fear of judgement or persecution.

We are excited to partner with the SOS Pride, School District No. 67 (Okanagan Skaha), RADAR, YES Project, and the Community Foundation of the South Okanagan to provide a wide range of public programs over the course of this exhibition. Additionally it is an honour to partner with guest curator Tobaron Waxman from Toronto who has curated the installation of works by James Diamond (Montreal), Jade Yumang (Vancouver/New York) and Syrus Marcus Ware (Toronto). Other artists that we are happy to work with and present are A Raven Called Crow (Victoria), JJ Levine (Montreal), LyleX0X (Vancouver), Hamed H. (Istanbul via Kabul, Afghanistan), Ali M (Kabul, Afghanistan), Patrick Kearns (Vancouver), Parlour Panther, Rae Spoon plus an installation from Pride House at the 2018 Winter Olympics in Pyeongchang, South Korea along with a number of other local artists: Janette Damsma, Reasha Wolfe, Stephane Cantavenera, Sabrina & Josh, Heidi Smith, Deb Runge, Norah Curiston, Heather Yip & Son, Nichola Cornell, Neva Carson, Lynn Greene, Rogue, Charlie Parcher, TET, lgh and Elliot Easy.
Saturday March 24th, 2018 at the Penticton Art Gallery
Suggested $10 donation or PWYC
Licensed, all-ages event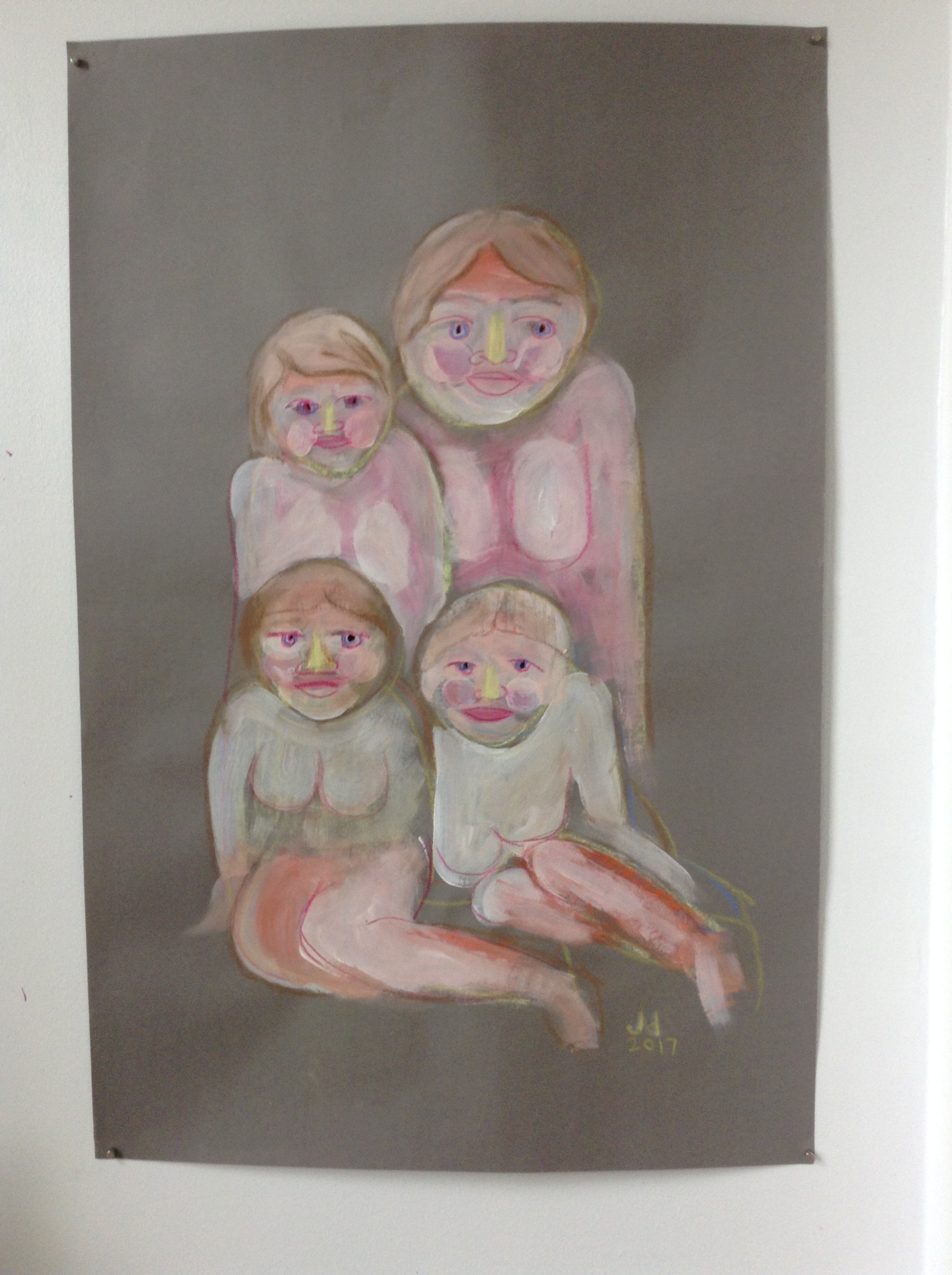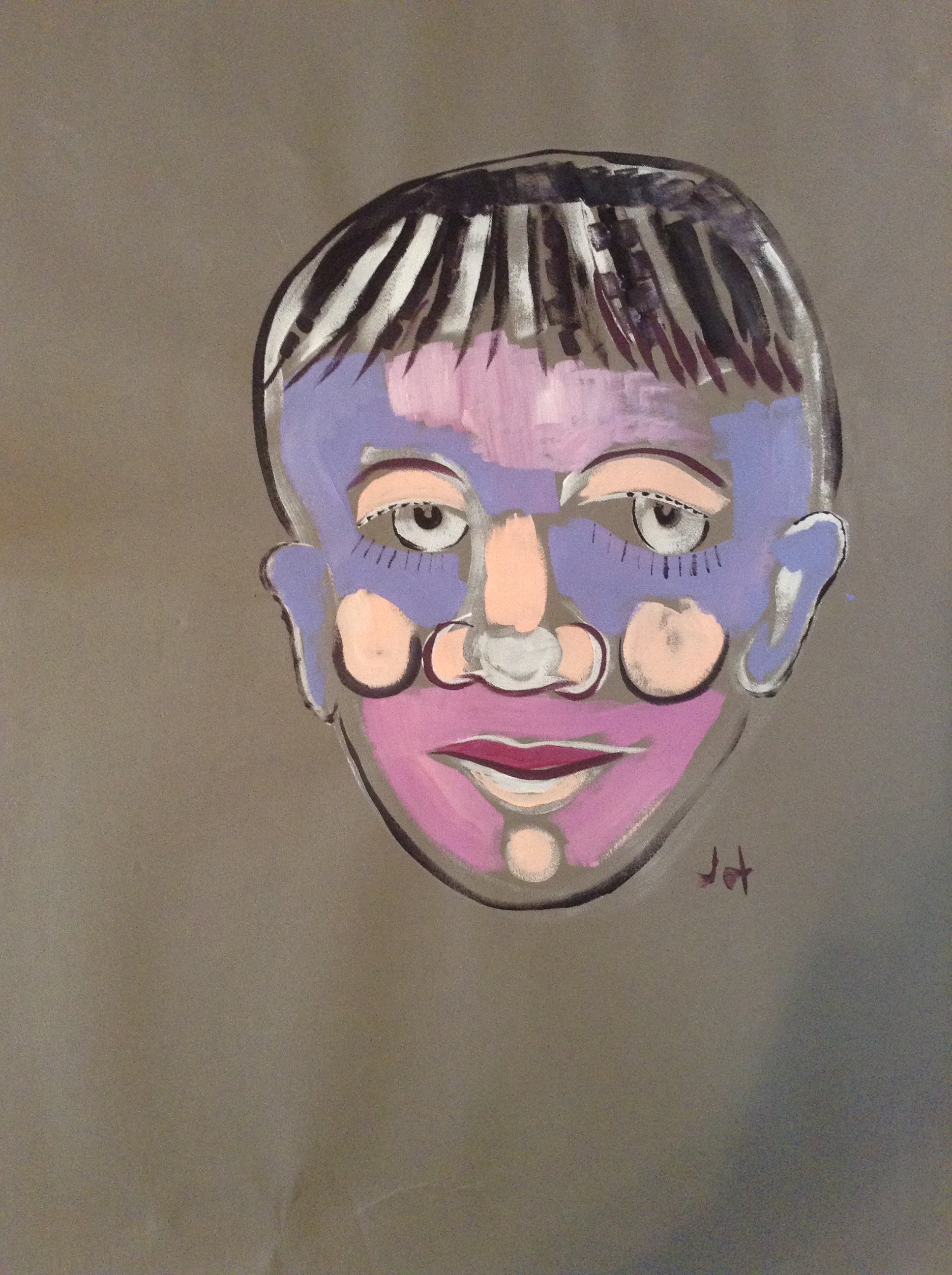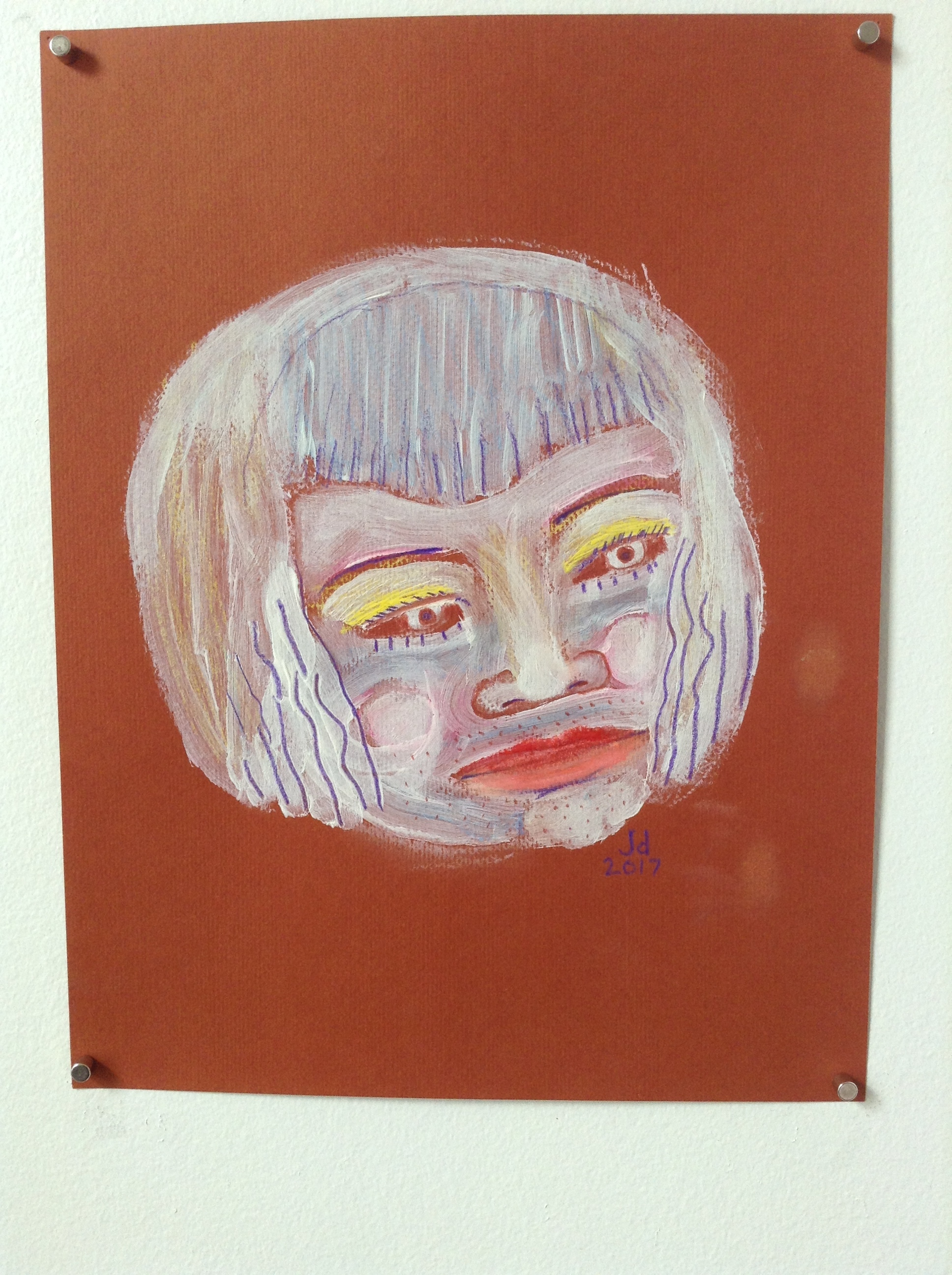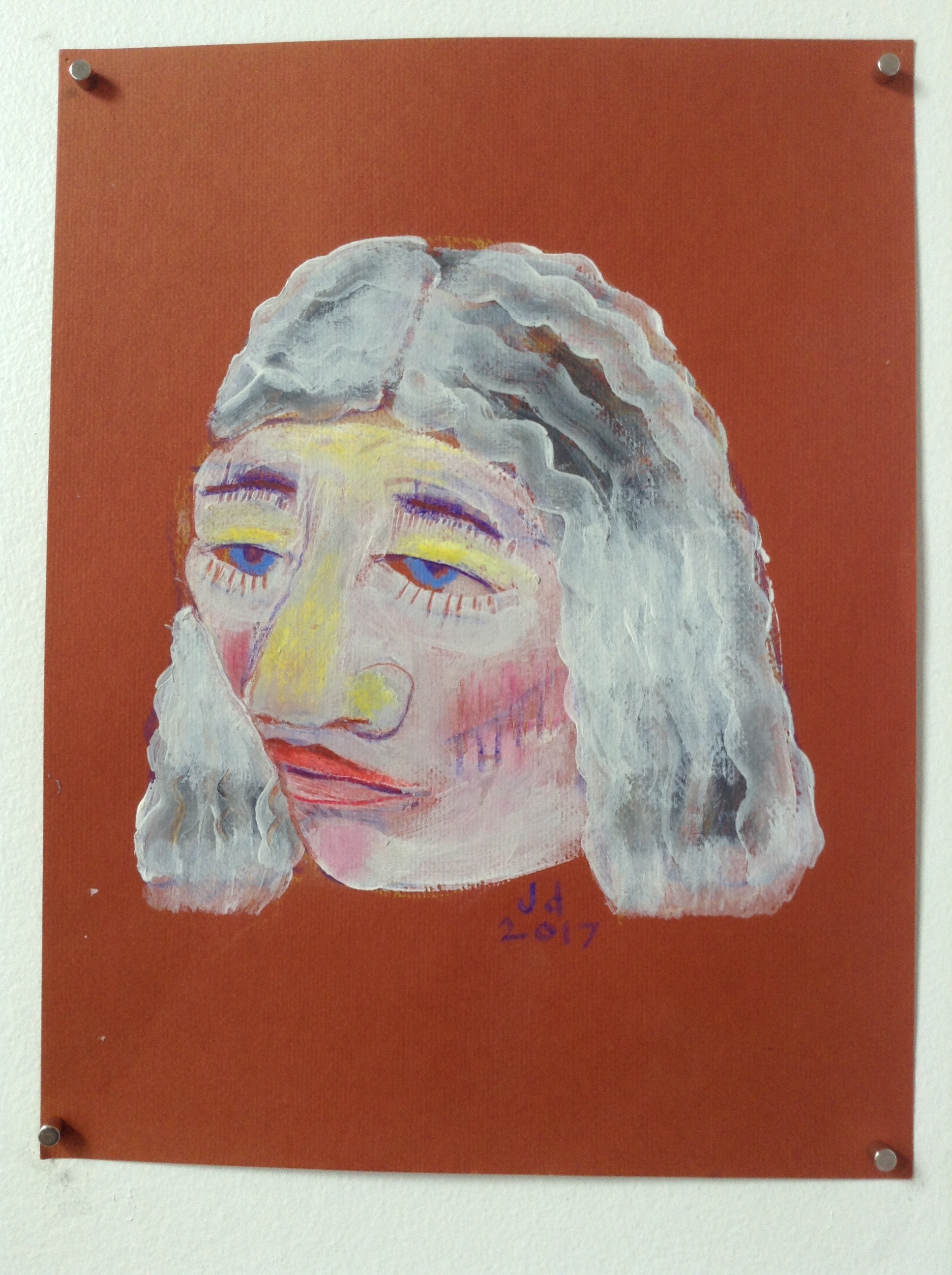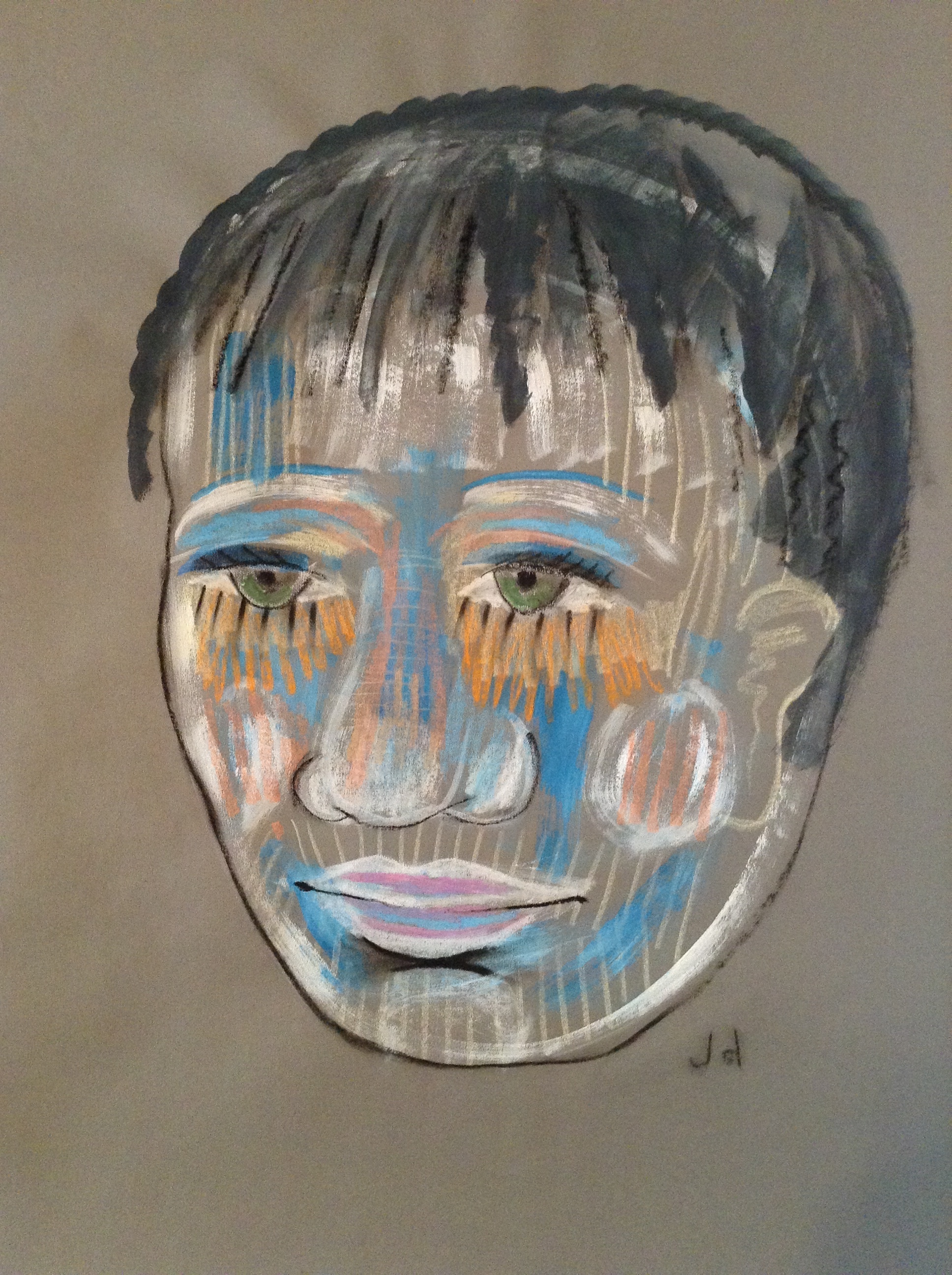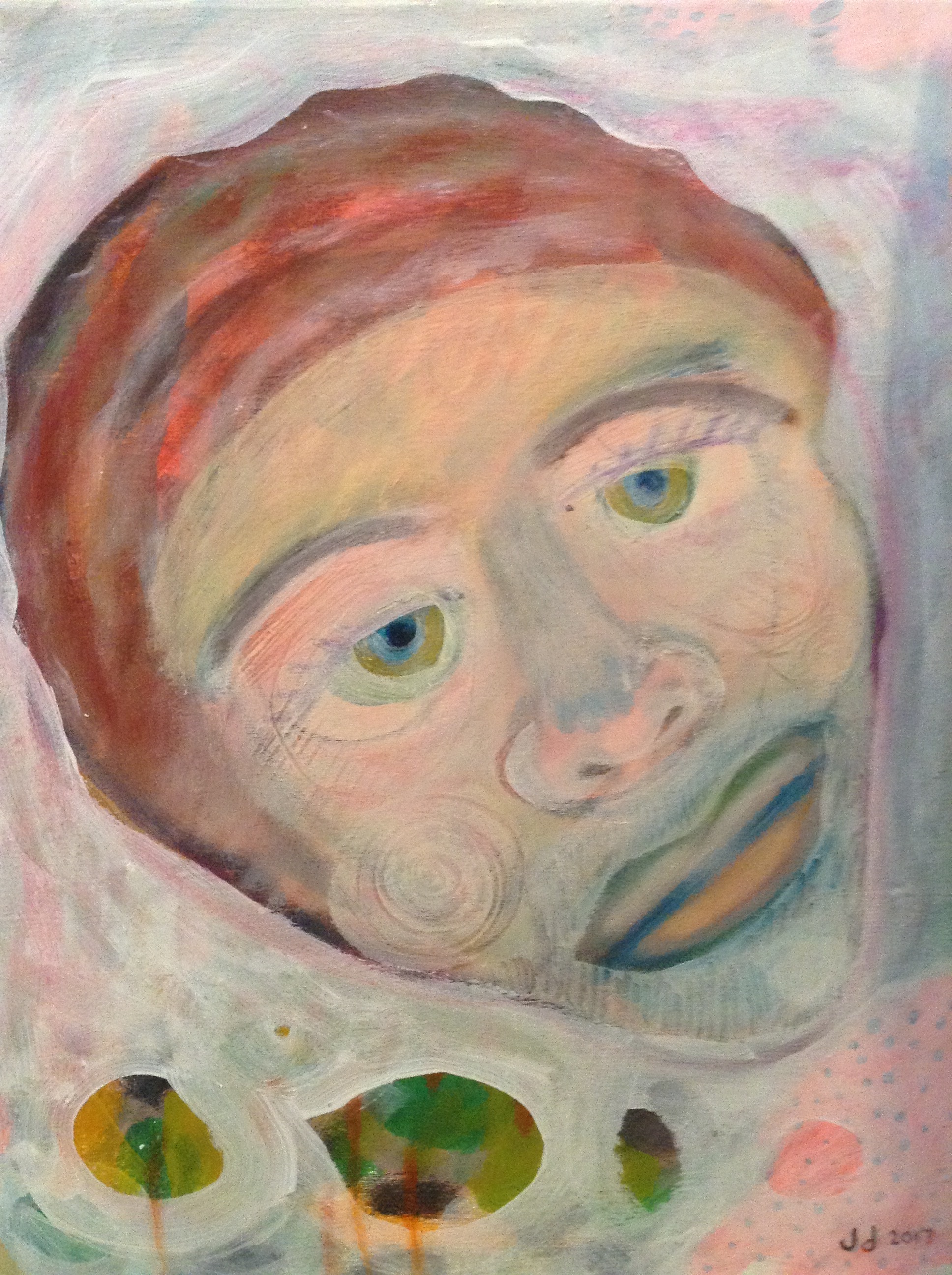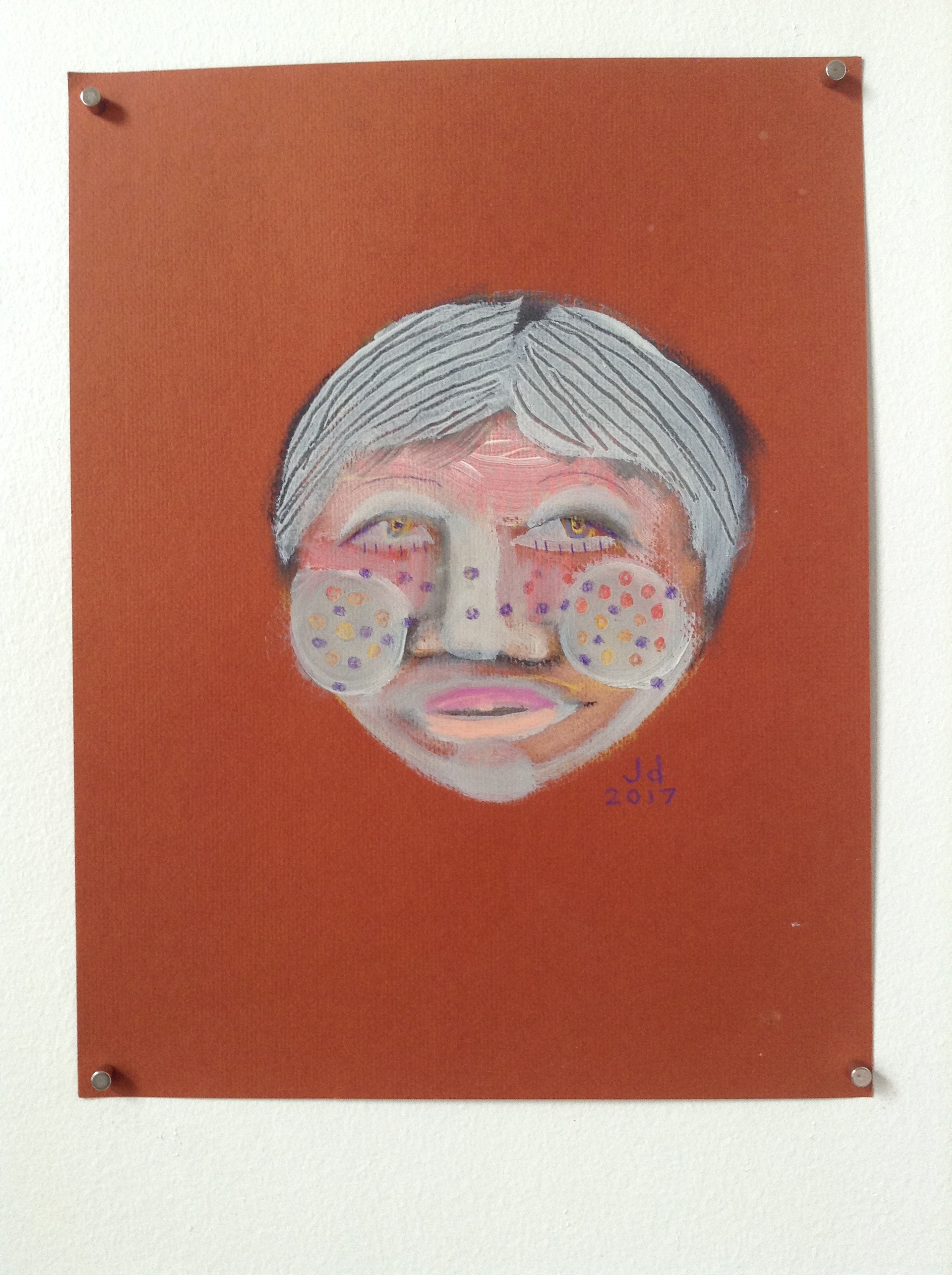 James Diamond is an experimental and multidisciplinary artist based in Montreal. His past film/video works, including the award winning "Man from Venus", "Outline," and "Mars Womb Man," have screened internationally for over a decade. As an outsider artist, he had the honour of presenting his first film retrospective in Toronto at the age of 35 at Toronto's 'Rhubarb' Performance Arts Festival. His films continue to be screened internationally in gritty underground festivals and more established venues alike, such as the National Film Board of Canada. His paintings have been curated extensively across North America/Turtle Island.

While his work transcends categorization, it is often described as experimental, political, and autobiographical. Through video, theatre and painting, he exposes and entwines intimate accounts of analyzing and cultivating genders and sexualities, experiences of mental illness and poverty, as well as being an artist striving and thriving within a post-colonial society.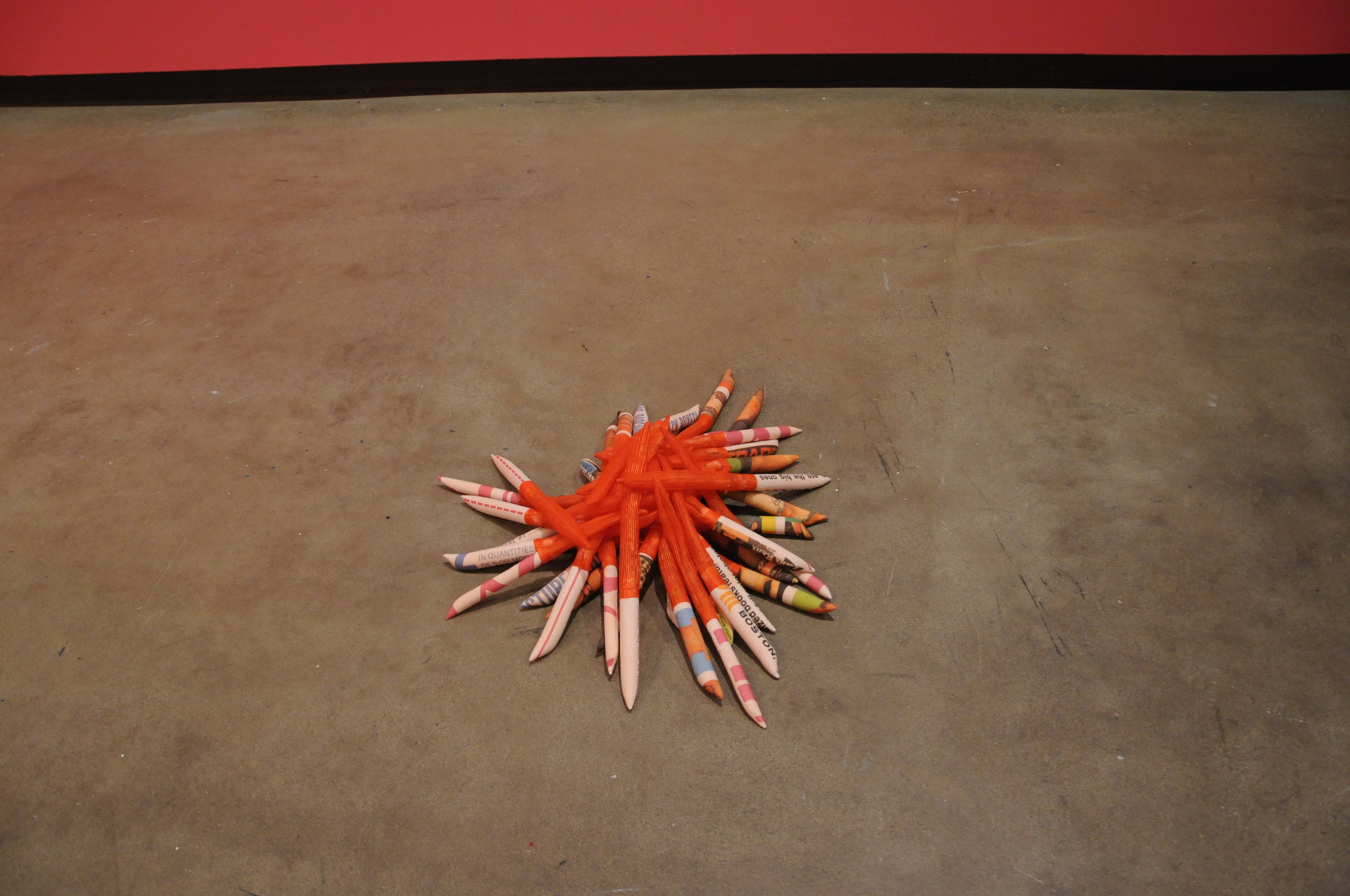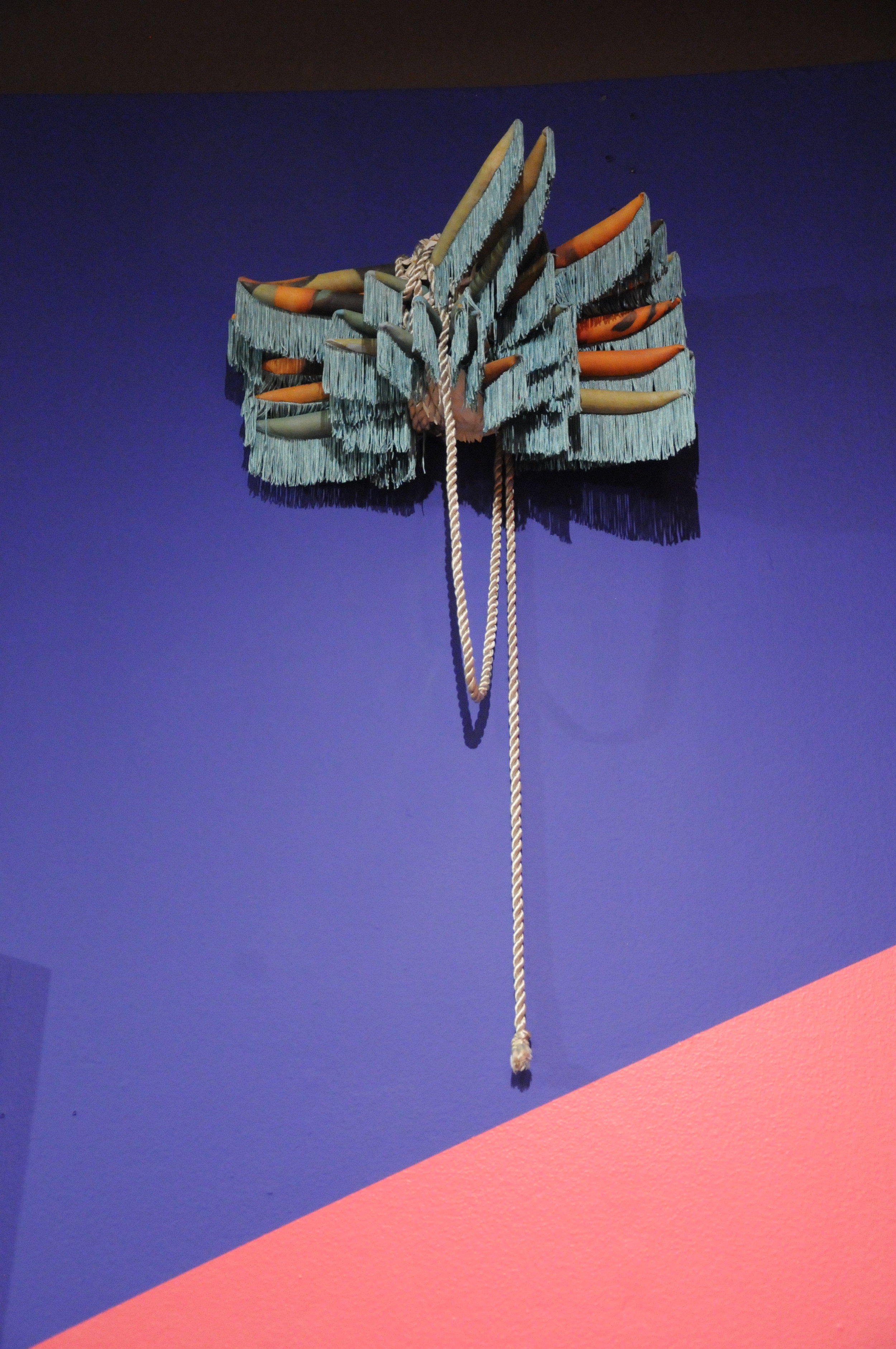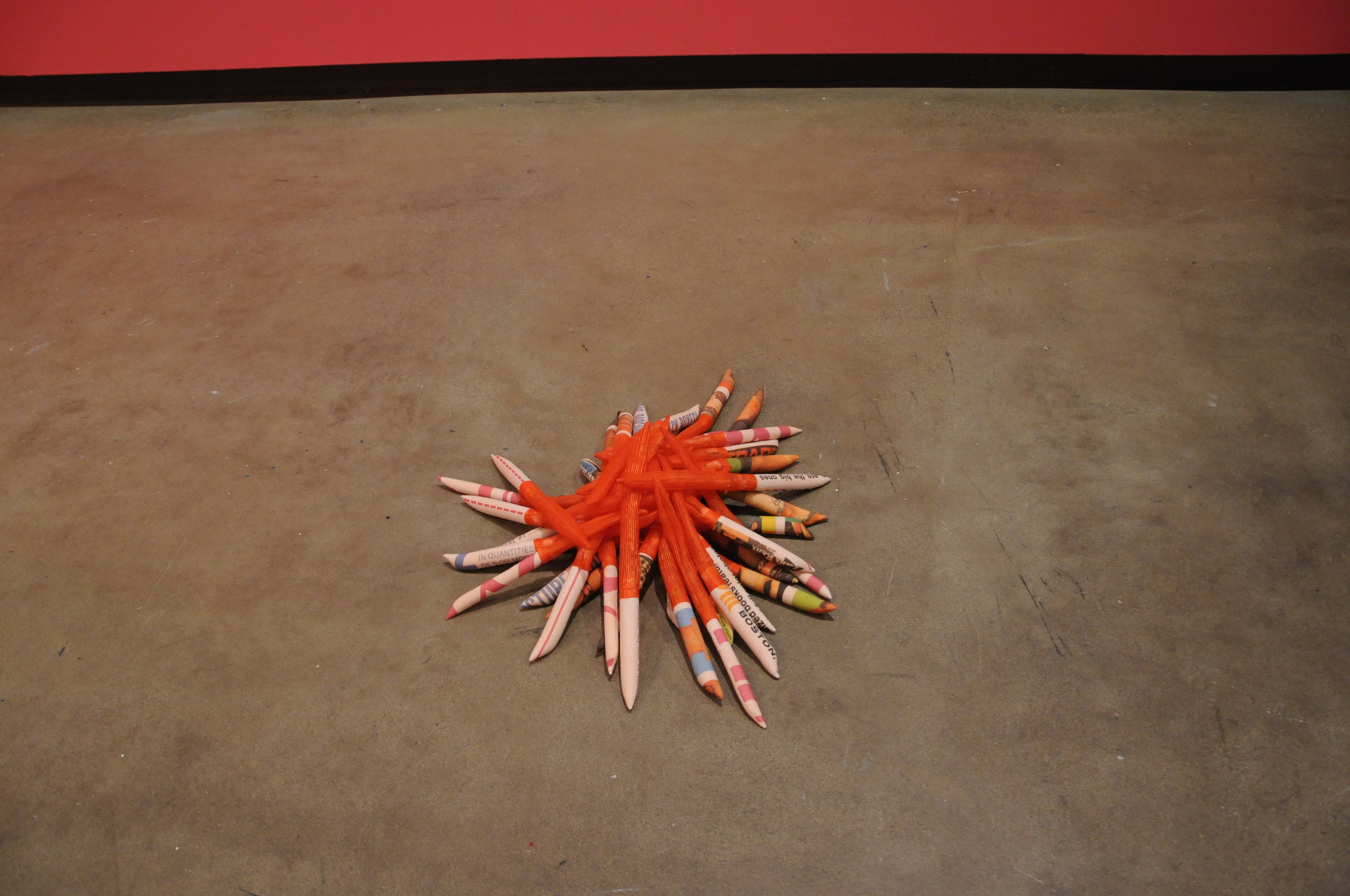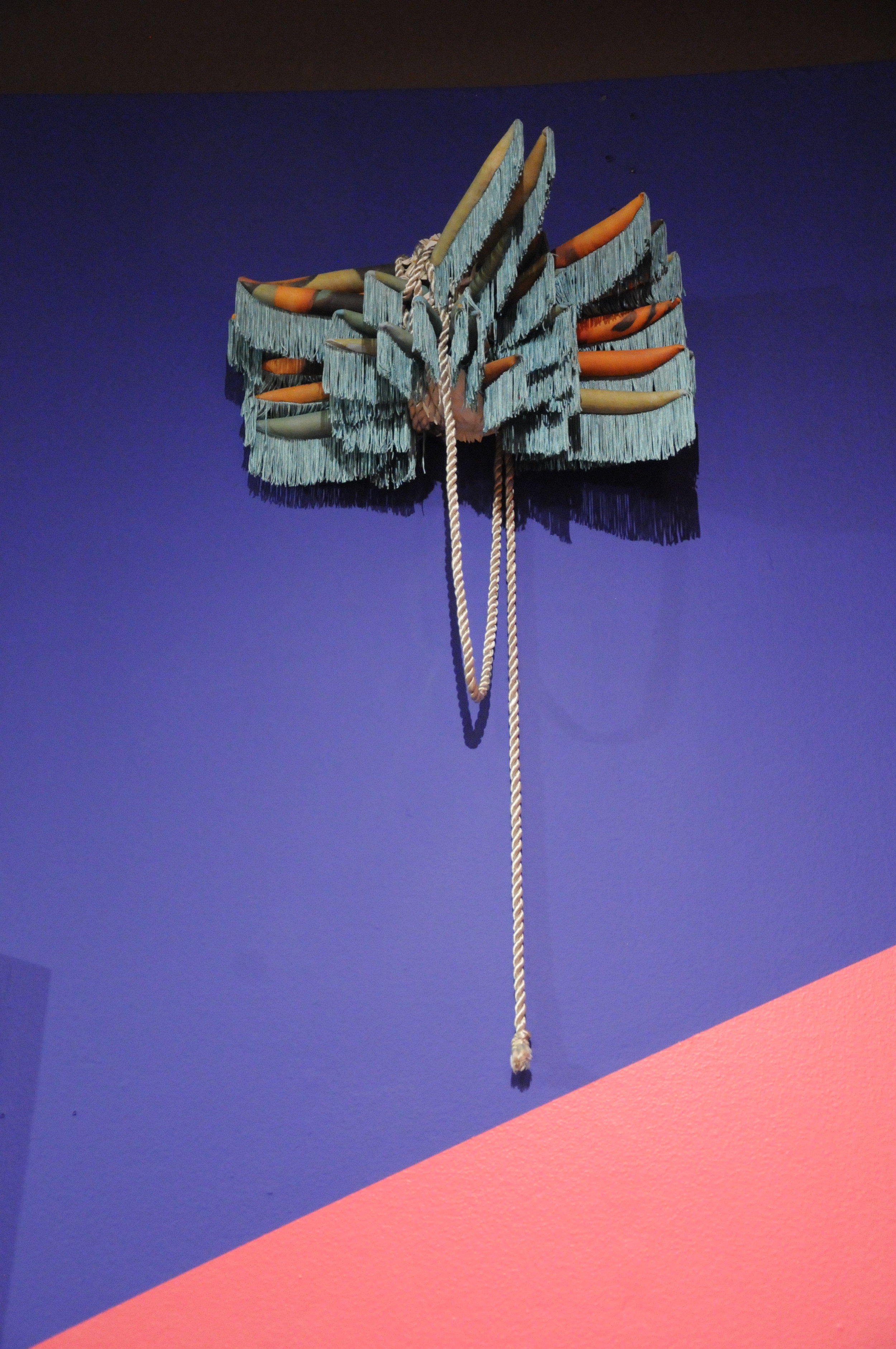 Jade Yumang
Jade Yumang was named after his mother's beauty salon and from an earlier age has been obsessed with beautiful, yet slightly off things. His work primarily focuses on the concept of queer form through sculptural abstraction, installation, and performance.
He is also part of a collaborative duo, Tatlo, with Sara Jimenez.
"My work primarily focuses on the concept of queer form. I use a variety of techniques to convey notions of phenomenology, affect, and "queer" as a process, as a verb rather than a quality. My current work addresses the term "queer" and its aesthetics through three-dimensional, site-specific installation, and performative work as a way to see how the body resists or submits through materiality and technique vis-à-vis obsessive acts, strict parameters, repetition, and forms of discipline. This direction is guided through the tracing and summoning of historical amnesia, by means of myths, scandal trials, obscenity laws, and filmic tropes. I filter these procedures through meticulous techniques and create abstract shapes that initially come from a corporeal form. My compulsiveness to place things in order in reality breaks into pieces that expose the pressure placed on non-conforming bodies and their values.
Syrus Marcus Ware
Syrus Marcus Ware is a Vanier Scholar, a visual artist, community activist, researcher, youth-advocate and educator. For 12 years, he was the Coordinator of the Art Gallery of Ontario Youth Program. Syrus is currently a facilitator/designer for the Cultural Leaders Lab (Toronto Arts Council & The Banff Centre). He is the inaugural artist-in-residence for Daniels Spectrum (2016/2017). Syrus is also a core-team member of Black Lives Matter Toronto.
As a visual artist, Syrus works within the mediums of painting, installation and performance to challenge systemic oppression. Syrus' work explores the spaces between and around identities; acting as provocations to our understandings of gender, sexuality and race. His work has been exhibited at the Art Gallery of Ontario, the Art Gallery of Windsor, the University of Lethbridge Art Gallery, Art Gallery of York University (AGYU), Gladstone Hotel, ASpace Gallery, Harbourfront Centre, SPIN Gallery and other galleries across Canada. His work has been reproduced in FUSE Magazine, The Globe and Mail, THIS Magazine, and Blackness and Sexualities, amongst others. His work has also been included in several academic journals including Small Axe and Women and Environment International.
In addition to the Church Street Mural Project (2013), Syrus has curated That's So Gay (2013-Present) at the Gladstone Hotel and Re:Purpose at the Robert McLaughlin Gallery (2014). He is part of the PDA (Performance Disability Art) Collective with Leah Lakshmi Piepzna-Samarasinha and co-programmed Crip Your World: An Intergalactic Queer/POC Sick and Disabled Extravaganza as part of Mayworks, 2014. Syrus is part of the Black Triangle Arts Collective (BTAC), a visual arts collective dedicated to exploring disability, racial and economic justice.
In 2017, Syrus was named the TD Arts Diversity Award winner through the Toronto Arts Foundation and the Toronto Arts Council. In 2015, Syrus was named a Vanier Scholar and was ranked 7th nationally. In 2012 he was awarded the Steinert and Ferreiro Award for LGBT community leadership and activism, the largest award of its kind in Canada, and in 2005, Syrus was voted "Best Queer Activist" by Now Magazine. In addition to sitting on several arts council juries, Syrus was part of the Canadian Jury for the Inside Out LGBT Film and Video Festival in Toronto in 2013, the Intergenerational LGBTQ Artist Residency Jury in 2015 and 2017, and the Ontario Public Service exhibition jury for "Queer Landscapes, Queer Journeys: Reflections of LGBTQ rights and struggles in Ontario today" in 2015 and 2017.
Syrus' chapter in Who's Your Daddy?: And Other Writings on Queer Parenting (Sumach Press, 2008) entitled, "Going Boldly Where Few Men Have Gone Before: One Trans Man's Experience of Fertility Clinics" and his co-authored chapter, "How Disability Studies Stays White and What Kind of White it Stays" are part of curricula at several colleges and universities. He co-edited a book chapter (with Zack Marshall) about disability, Deaf culture and trans identities in Trans Bodies, Trans Selves (2013) and coauthored "It Cannot be Fixed Because Is Isn't Broken" in Disability Incarcerated (2014), a chapter about the experiences of disability, racism and the Prison Industrial Complex. He is the author of Love is in the Hair, part of Flamingo Rampant's 2015 book series.
Syrus is a core-team member of Black Lives Matter-Toronto. For 14 years, Syrus has worked with Blackness Yes! to produce Blockorama (the black queer and trans stage at Pride), and other related events throughout the year. Syrus is also a founding member of the Prison Justice Action Committee of Toronto. For 17 years, Syrus hosted the weekly radio segment, "Resistance on the Sound Dial" on CIUT 89.5FM. Syrus is a past program committee member for Mayworks Festival, and is a past board member of the FUSE magazine. He is a founding member of the Transparent-cy Working Group at The 519 Community Centre. He helped to initiate the Trans-Fathers 2B course- the first course for trans men considering parenting in North America. Syrus is also a member of the Gay/Bi Trans Men's HIV Prevention Working Group for the Ontario AIDS Bureau and one of the creators of "Primed: A Back Pocket Guide for Trans Guys and the Guys Who Dig 'Em".
Syrus holds degrees in Art History, Visual Studies and a Masters in Sociology and Equity Studies, University of Toronto. Syrus is a PhD candidate in the Faculty of Environmental Studies at York University.
LyleXOX
"For me, it is not about Drag, female impersonation or living the life of a New York City clubkid. It has always been and continues to be about the art. My face as a canvas. I have loved makeup since childhood, and can still remember the smell of my aunt's makeup bag filled with designer cosmetics from her world travels. Clearly, the art of makeup is having a field day and society's appetite for beauty is insatiable. We are also witnessing a continued exploration into the world of diversity, gender fluidity and sexuality: moving in a direction that blurs the lines between each. We see transgendered models gracing runways, appearing in print ads and appearing as cover models in print, from Vogue to National Geographic. Young men are scouted to be the faces of beauty campaigns which until recently, was strictly a "girls only club". It is in this creative climate of blurring that I find my mixed media self portraits not only accepted, but highly celebrated. My portraits are transformative in nature and fuse inspiration from high fashion with the mundane objects of every day life; taking beauty and turning it on its head.
I create mixed media self portraits that fuse facial sculpture, makeup, found objects and
fictional writing into works that speak about the power of transformation and the ability
to move beyond the sense of self. Each portrait is a study in contrast and fantasy, with
humour and irony woven throughout.
My work has become a playground for evolution, giving birth to characters that defy
gender, cultural background, and beauty norms.
I am a lover of the mundane and find a strong attraction to the items of the world that
have been discarded and no longer serve purpose to society. The broken, the misshapen,
the packaging that houses the commodity with perceived value, the objects that were
once loved and have reached their expiry date.
Using these cast off pieces to create the facial adornments and accessories,I grant the
objects an additional leg in their journey before reaching their final resting place.
My shoulders and neck serve as a plinth which supports the work, demonstrating a
disconnection from the human and the art, all the while highlighting the notion of a
symbiotic relationship.
Through the process of removing my self identify and replacing it with that of an object, I
encourage dialogue on a journey connecting the viewer with a myriad of objects relating
to their own carbon footprint and consumerism through a surreal lens.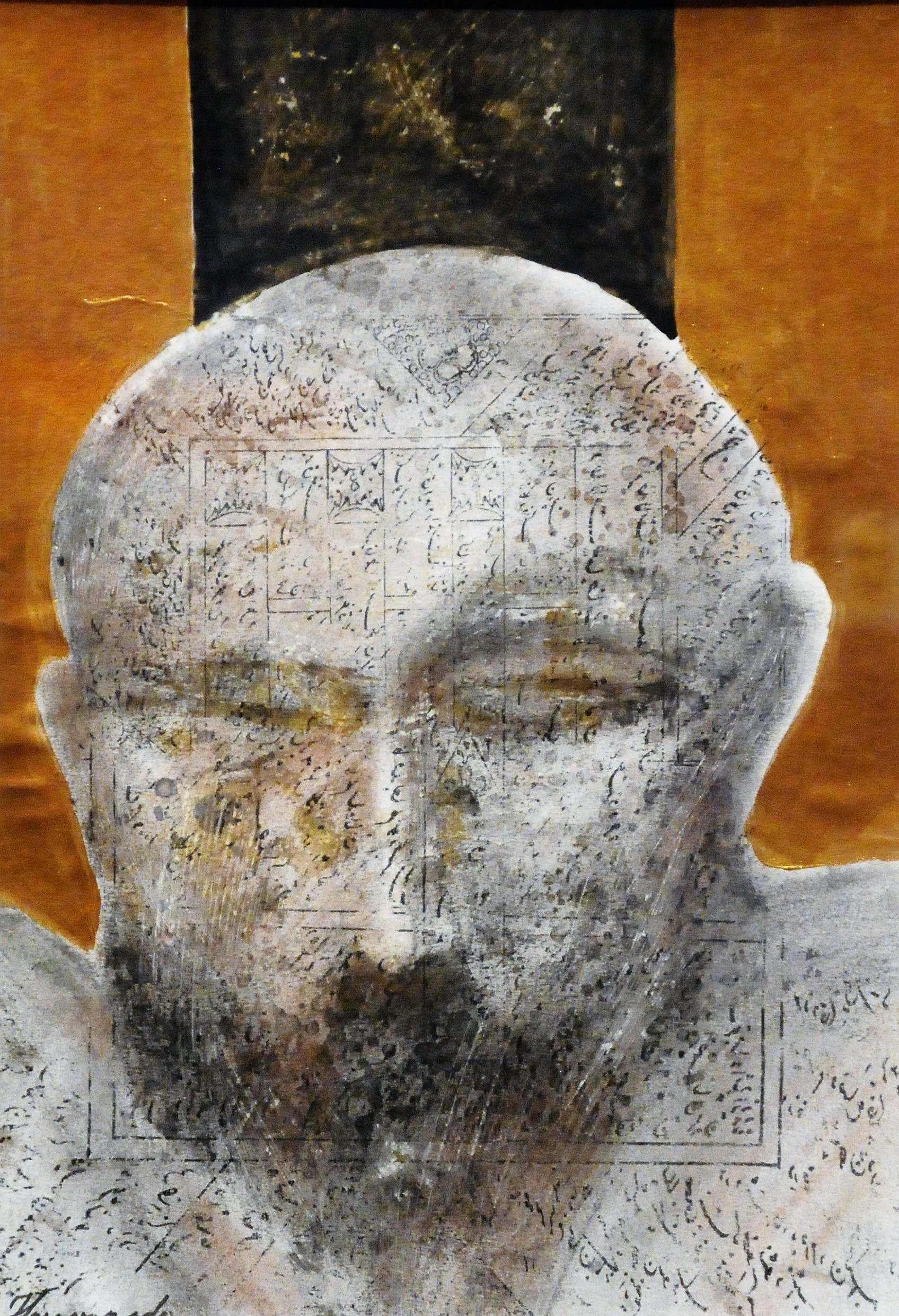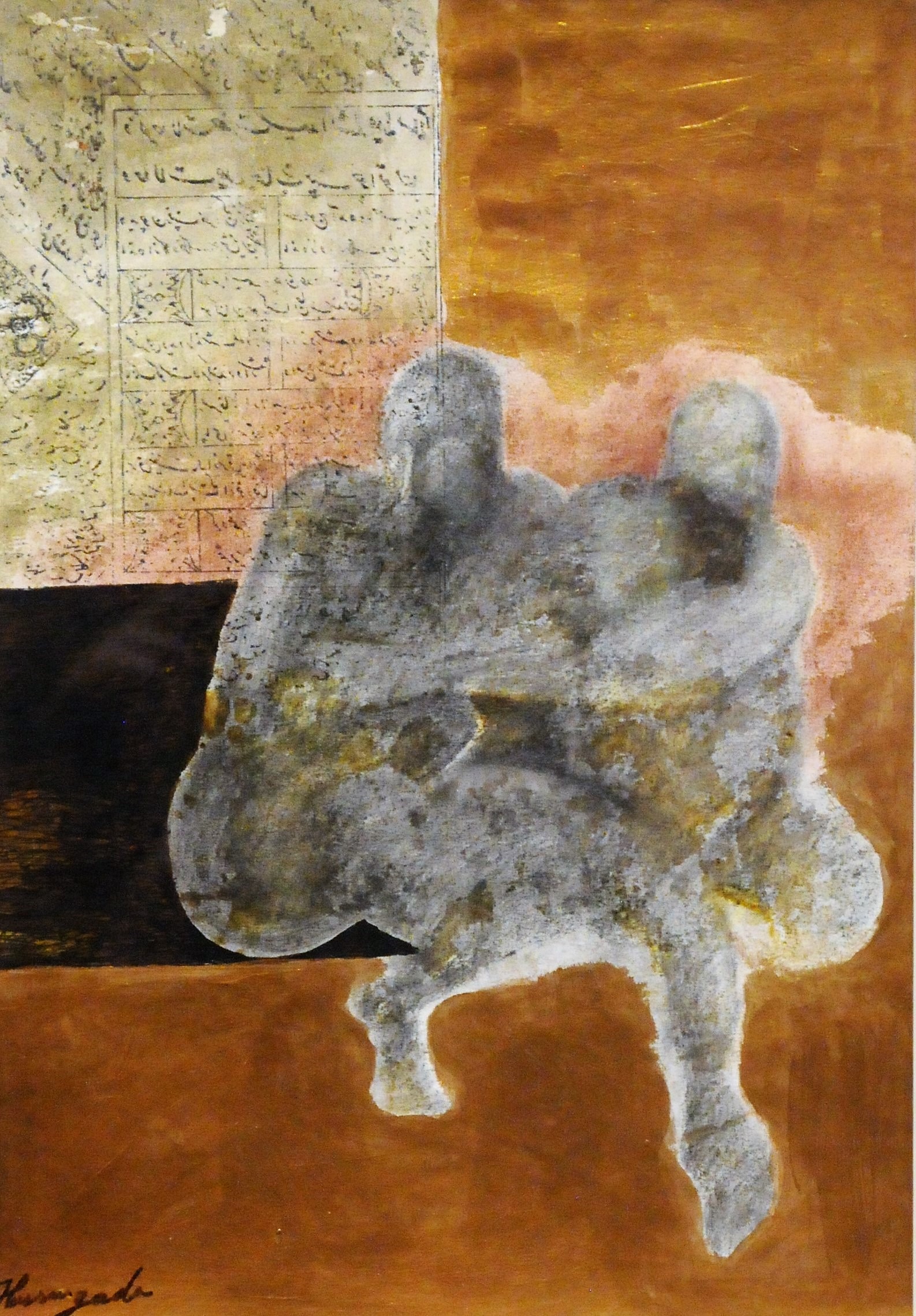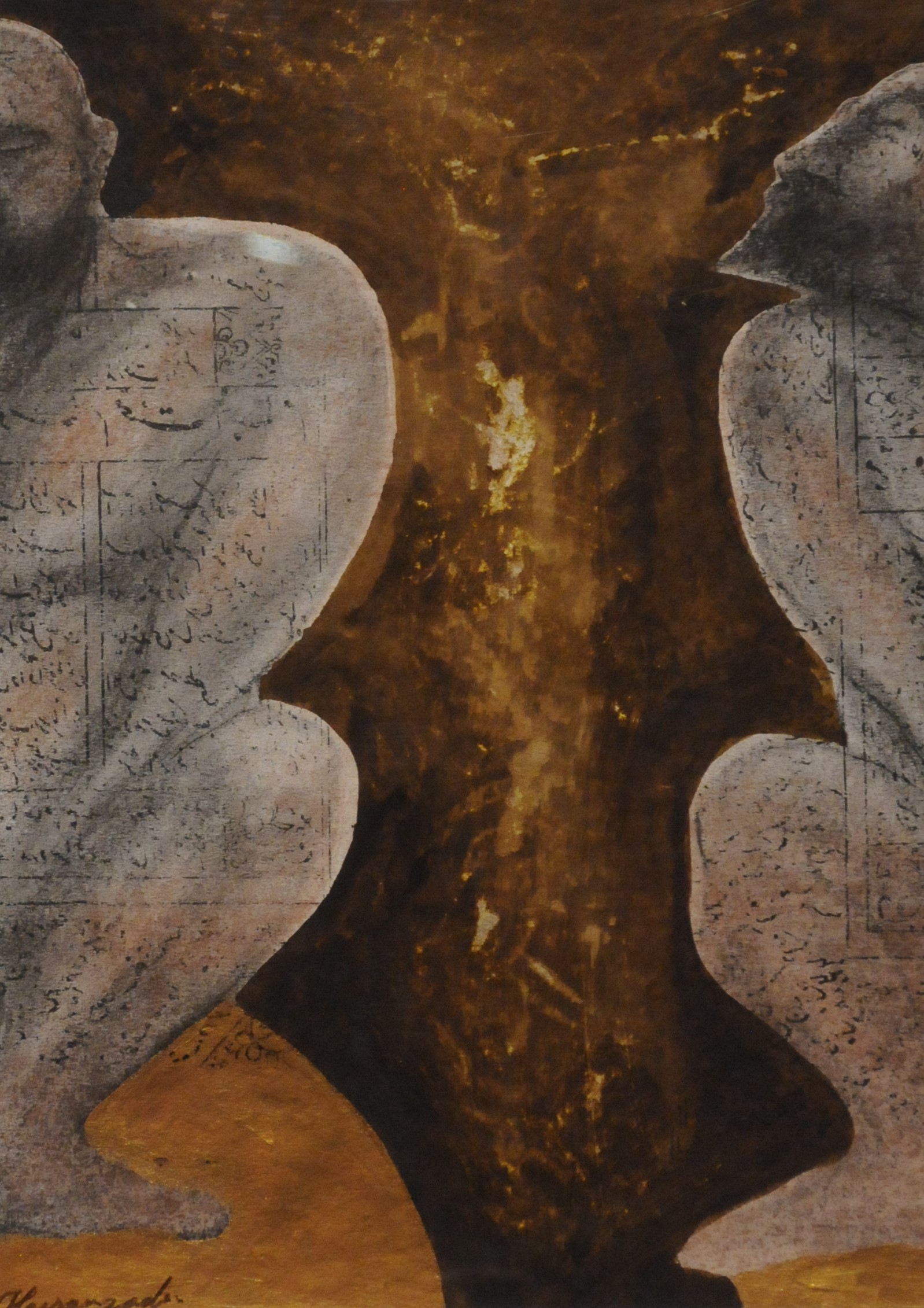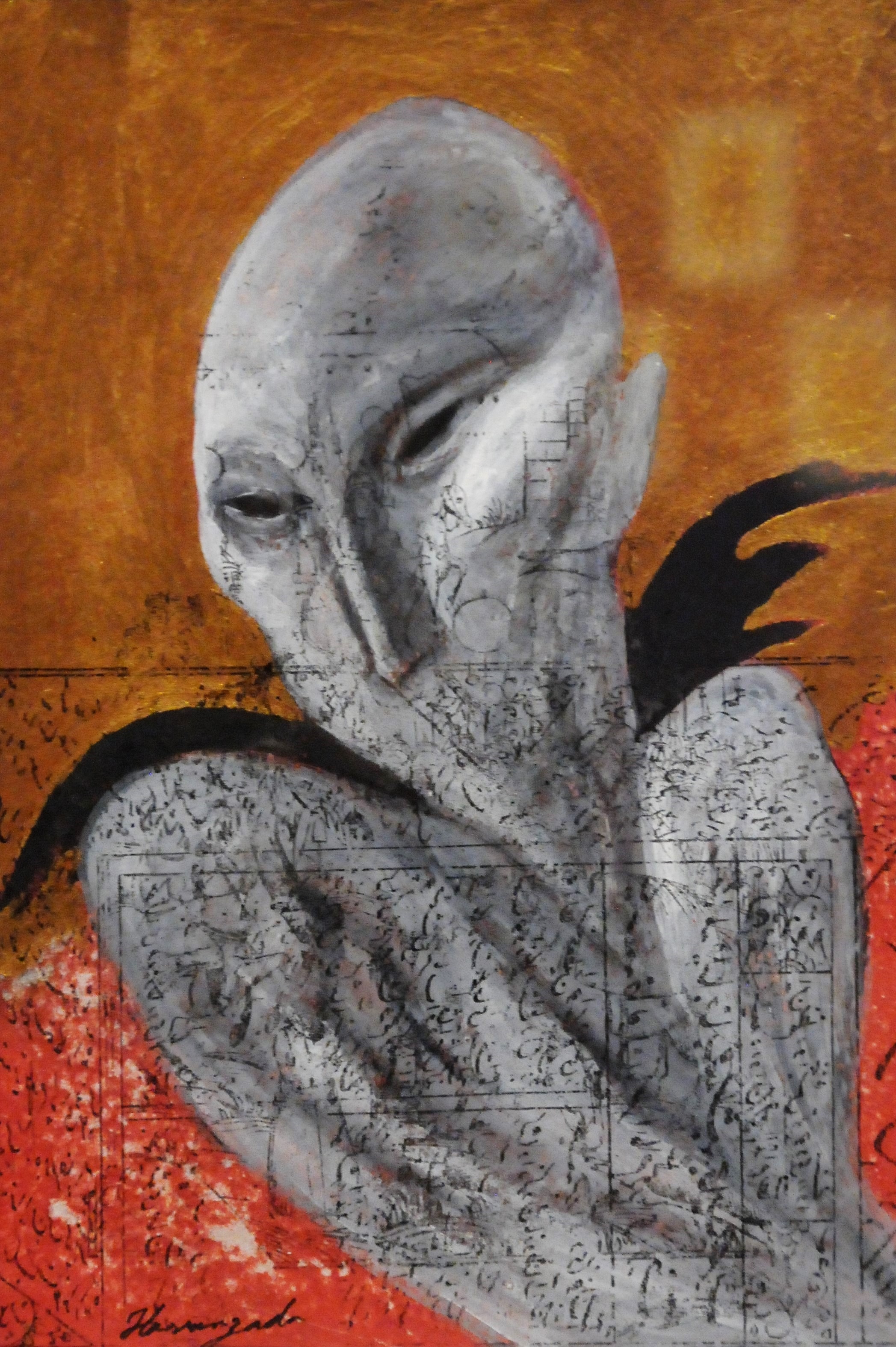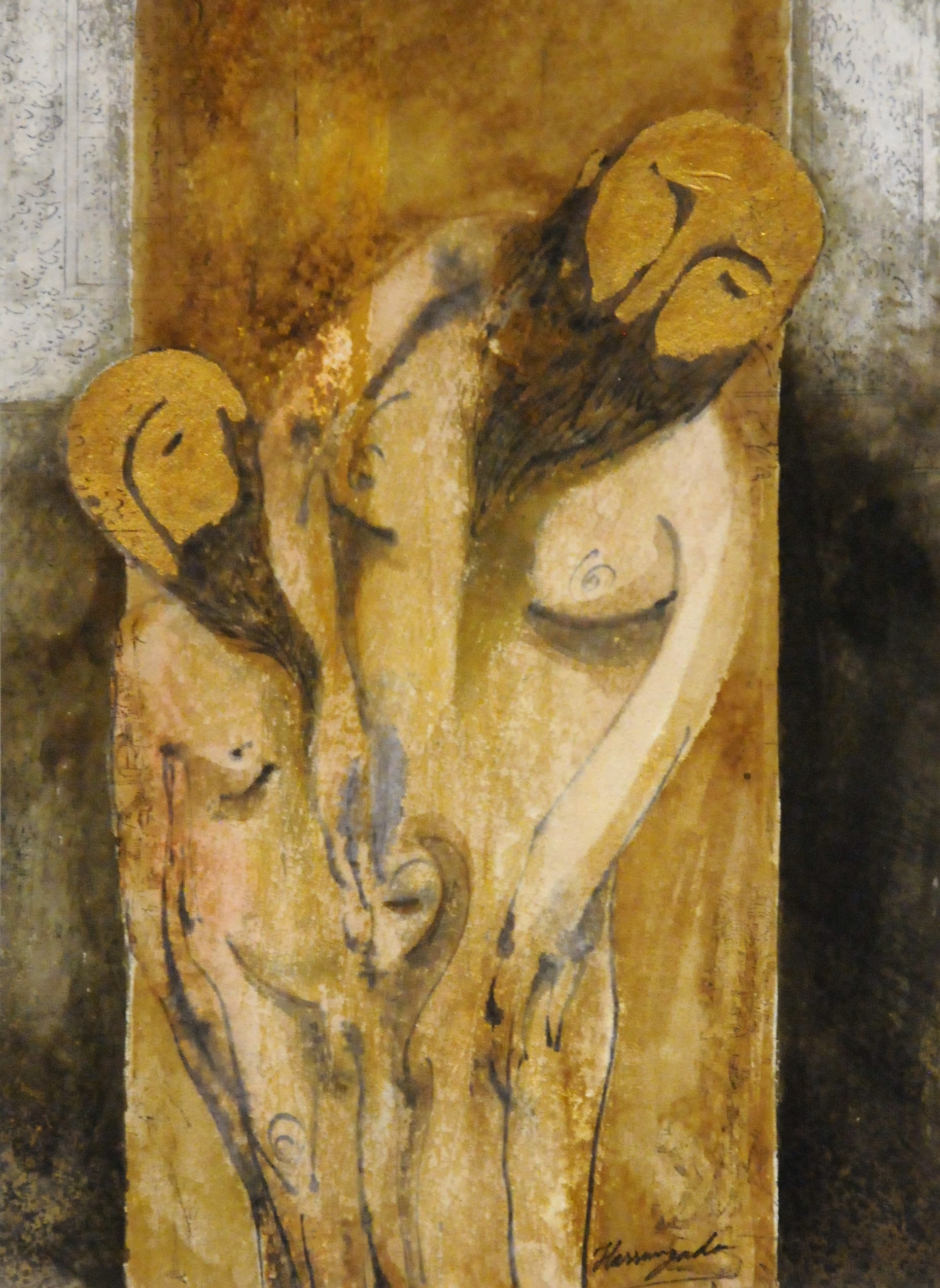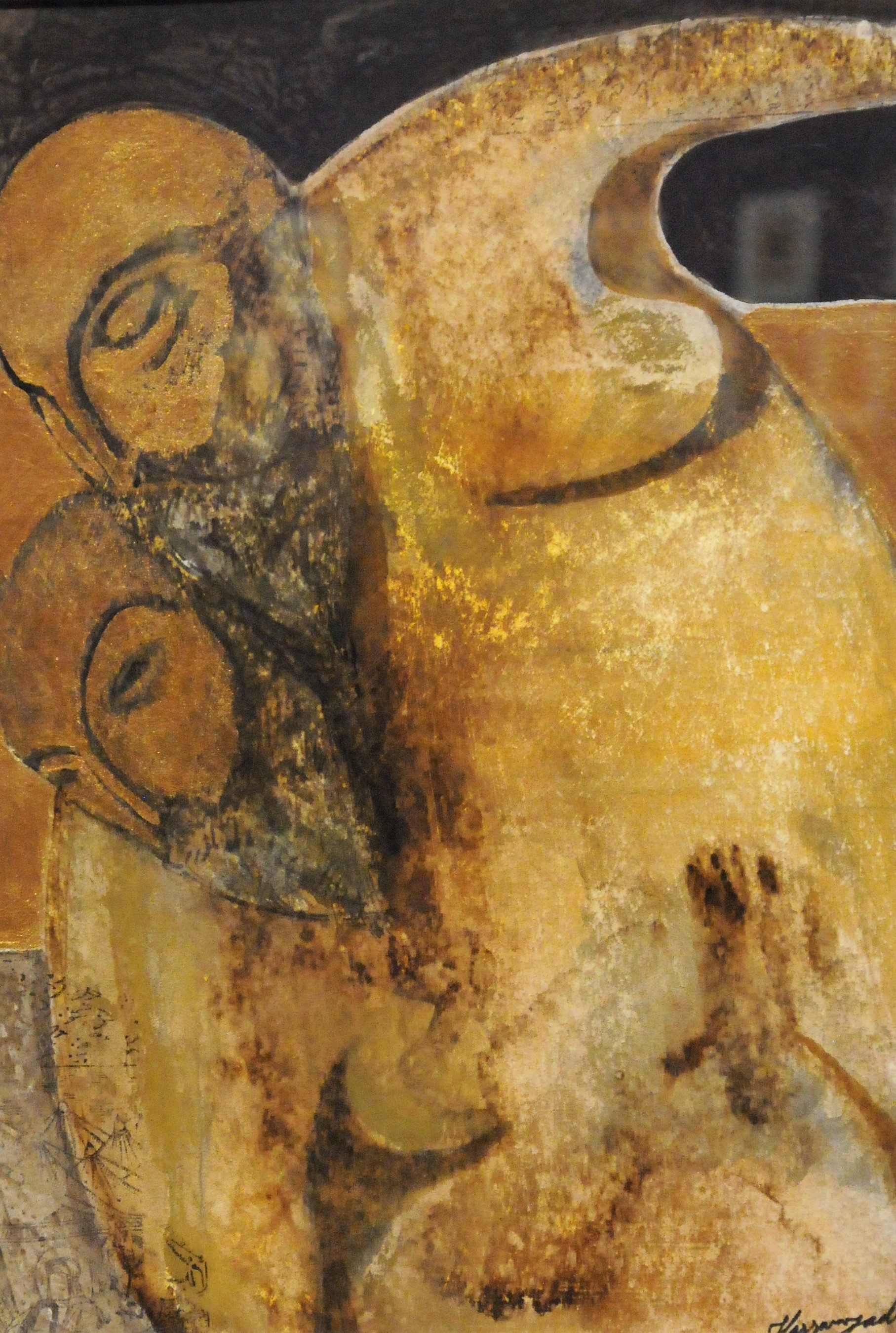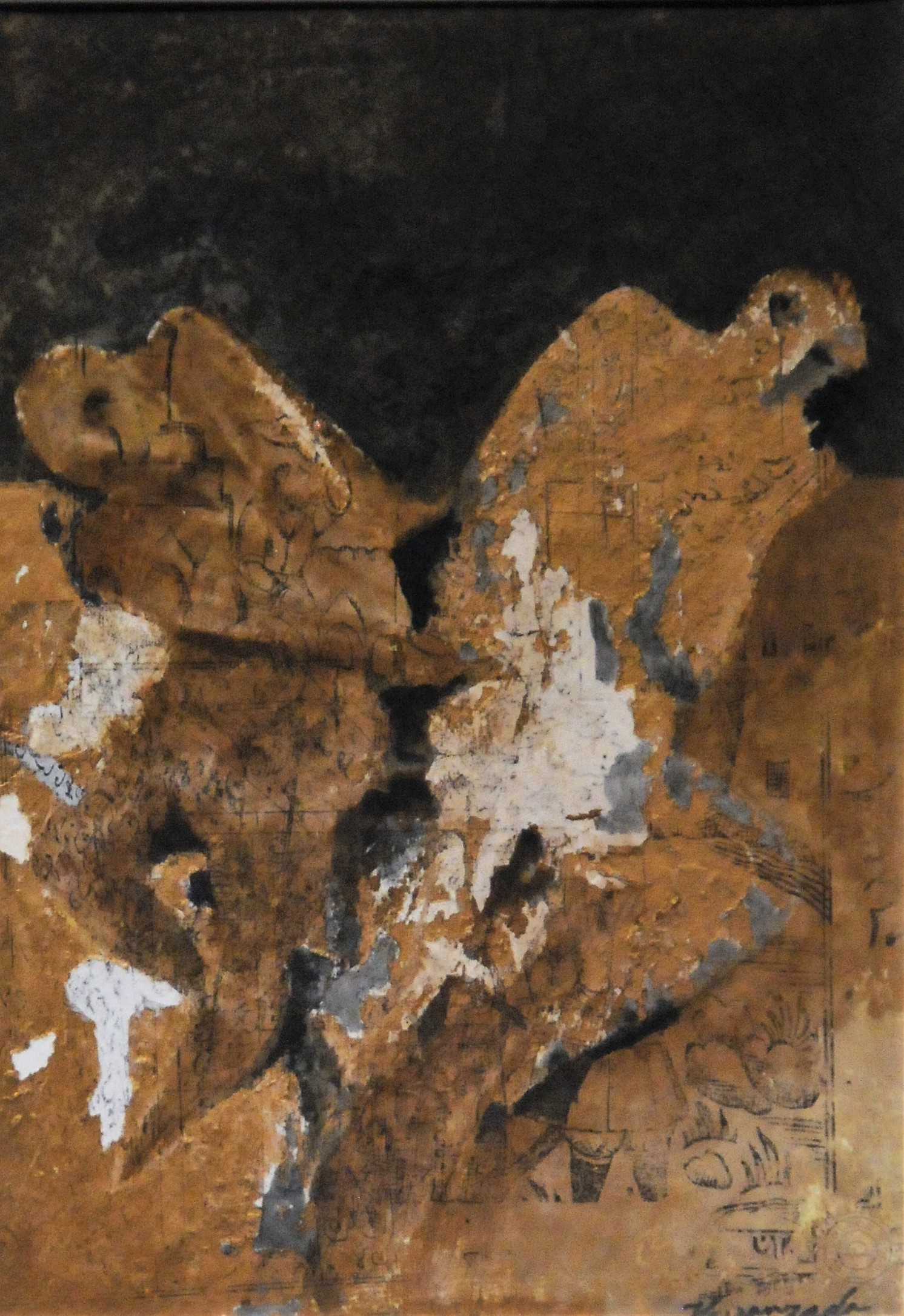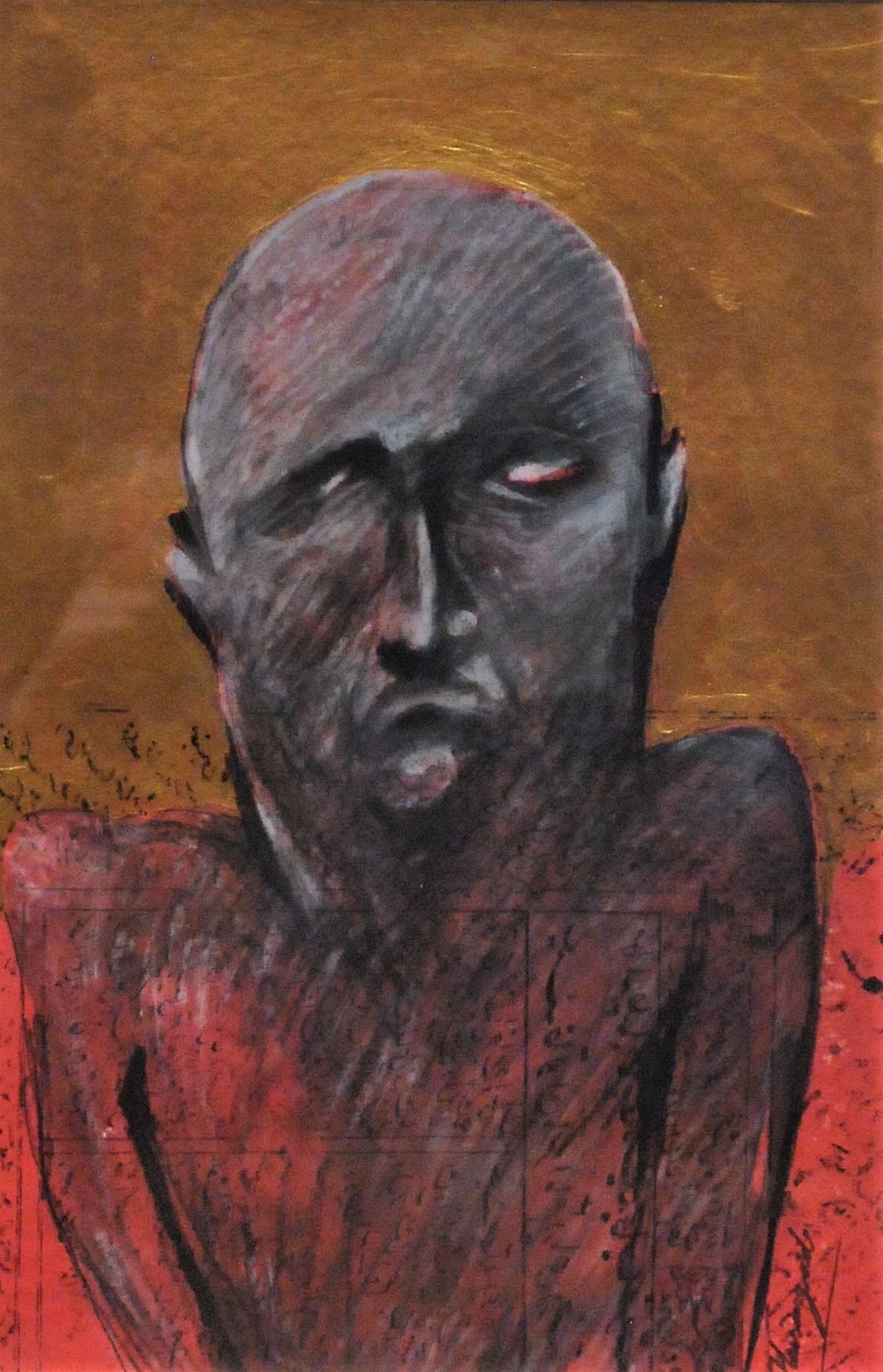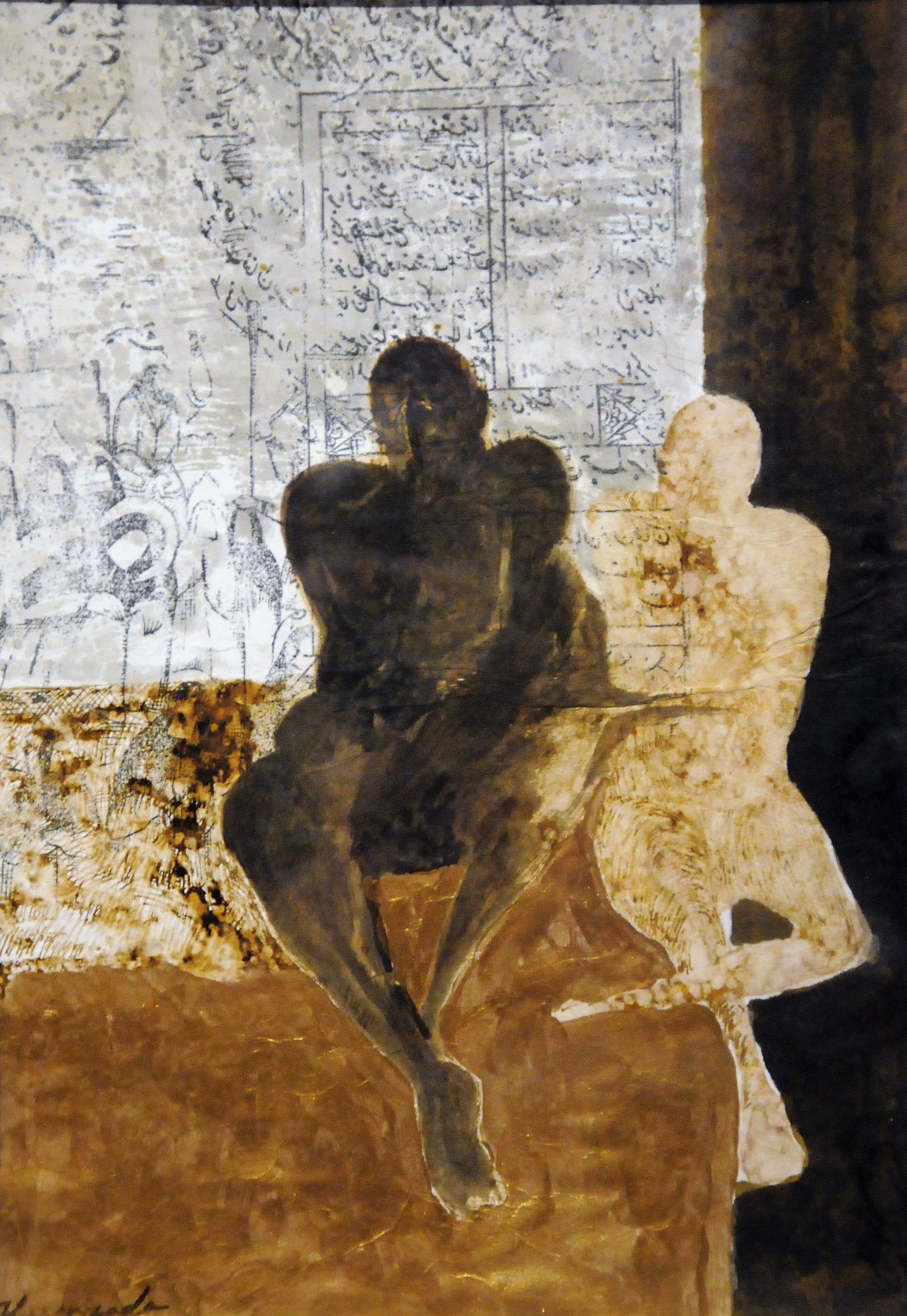 Hamed H.
Requiem for Lonliness, 2018
Mixed media on card
"Dear Paul,
I don't know how to start talking about all my career and how to talk about the story behind my artworks because I draw or paint myself and I talk about my life on my artworks , that was the only way for me to make a connection with existence , it may not interesting for anyone but I would like to make a summary.
before I start saying anything I should tell you that I still didn't talk this openly with my friends except a few of them. I mean there are still a lot of people that they know me but they don't know exactly who I am and I still worry and scare if they know all about me and what is going to happen if they find out all about me. then I just wanted to tell you we should be careful about it because I'm still on the way to survive myself from all those haters.
any way. I was born in Kabul/Afghanistan in 1978 in an almost educated and Muslim/Shiea family. my father educated from Kabul university in law branch and he became a judge and he worked as a judge for at least 30 years in Afghanistan. my sisters and my only brother also are educated in variety of branches. I remember that we had a family traditional gathering to do mourning about Imam Housain the grand son of prophet Muhammad in Muharram month in our house and we had a mourning poetry book which I still keep it with me and we read those poetries with rhythm and we cried and beat ourself for those sacred people and that event would repeat in our house and among the all Shiea Muslims every year in Muharram month.
from the beginning of my child hood I've found out that I'm different from other boys because I was more emotional and sensitive and I wanted to play with my sisters and other relative girls.
being a man a real man, was always a dream and a main struggle for me because my family and the society that I was growing up their have alway mentioned to me to be a strong and powerful man. at the same time my family was religious and they always told me about God , a creature who is powerful and perfect but in my mind God always was a man who has big billy a long beard and strong legs and arms and he always watched me not to commit a sin.
you know, instead of scaring from him sometimes I loved him because he was my type and I had mysterious imaginations about him. as I was growing up, I found out that I like men and I wanted to touch them and kiss them and … but I was confused.
my father was a strong man as well. he had a big billy and stocky legs and arms, hairy body, his face was full of beard. sometimes I wanted to …
my uncle, when we were in Kabul and I was a child, I remember that I had strange feelings about him. when he was playing with me as an uncle I wanted to touch his … I was scared and confused more and more. we left Afghanistan in a winter in 1987 to Iran because of civil war.
Tehran/Iran. I was growing up in Tehran. I started to realize my body and my passions and my sexual orientation but still I scared from God, Father and from people in Iranian muslim society. I remember that my classmates always made fun of the boys who liked men and who were abused by older men, they always humiliated them. later on I was learning to deny and hide myself as a man lover but of course I wasn't succeed. that passion was always with me. in my daily life in my dreams and every time and every where, I wanted to be with a man, I didn't know anything about homosexuality and I always thought that something was wrong with me and I should have change that part of my life.
horrible things started. I was in high school in Tehran, I was a polite and middle IQ student but at the same time I was a refugee. I was learning to hide two things in my life, first, I liked man and second, I was from Afghanistan as a refugee in Iran, because both of those issues were shameful. but finally the bad thing happened, I felt in love with my head teacher in high school.
he was a man with big billy, strong legs and arms, with a beard and mustache on his face and I wanted to live with him under any circumstances.
any way. I wrote him letters and I asked him to let me love him and live with him, even I was ready to do surgery and be a woman cause I didn't know anything about homosexuality and I wasn't allow to talk about it with anyone. nobody knows about it but a classmate. it took almost two month that they fired me from school. I couldn't even touch him or kiss him. the staff of my school asked my father to bring me to a mental hospital because they have thought that I wad a mentally problem and I should have cured.
that part of my life was so important for me. you know why? because I finally found out my sexual orientation and after one year that I was at home and struggling with deep depression and even I tried to kill myself, I was like a plant without any motivation to continue my life, I figured it out that I can be a man and I can like a man. how come? I tell you. I discovered a park in Tehran. and I met some people over there like me. they were in the same situation as me. they also had a lot of concerns about their sexual orientation, they made me aware that I should be more careful because it is a big crime or sin in Iran to be a gay and I maybe arrested and condemned to death.
I was 18 years old. I tried to finish high school because I stoped studying sense I fired from the high school that I already mentioned. and I started to be more brave, to be against all people who always told me be a man, be strong and be religious.
I had a variety of dangerous and weird experiences later on. I was close to being killed and raped by the wrong men in the Tehran weird gay society but I survived. as I was growing up, internet appeared in my life. oh my goodness. I have got very excited cause I found thousands of people from all around the world that they were thinking like me, yes. they were homosexuals. even I saw my ideal men, the men with beard, big bellies and strong legs and arms and even they were homosexual but they were so far far away.
as time went by I was getting more brave to accept myself.
beside that I tried to finish high school I was practicing art. I loved drawing and painting. I wanted to go to art courses and study more about art but unfortunately my family couldn't make it because of economic issues. I didn't stop. I found some drawing clubs. I started to be a live model and at the same time I practiced and learned a lot about art. as I learned more about drawing I started to study about art theory and philosophy and I felt more lighten in my life. I found out that the most worst thoughts came from of our ideology of life and I tried to correct those part of my mind. that was so dangerous in a closed society like Tehran cause I have got that I am a homosexual , afghan refugee and maybe an atheist .
I found a man in the gay park in Tehran, first I've thought that I can be with him forever but bad things happened again. he told me first that he is gay and single and he loved me so much but he was a married guy, he had a kid and wife. I couldn't stop seeing him because he was gay but his family forced him to marry with a girl but he couldn't stop his passions about men and he asked me to be with him and help him to get divorce. he introduced me to her wife as a friend, we were hanging out and finally his wife saw us in a bad situation. we were naked and … the only kindness that she did was this, she did let me go but after awhile my friend asked me to leave Tehran because their family noticed about us and they wanted seriously to kill me and he was 100 percent sure that they will do that, they had my home address and my phone number and I had to leave Iran and return to Afghanistan.
Afghanistan/Kabul. the place that I was born their, I was their after almost 20 years, the place full of man, with big bellies strong bodies and beard faces but they were so strict about their religion and they didn't like an artist, they didn't like homosexuality and they would kill a person who was an atheist . I tried to adjust myself with Afghanistan and afghan people, I tried to improve my art skills, I wasn't the same person as before, I had some knowledge about art, I taught young afghan students, I started to show my artworks and have international exhibitions but again I faced on my sexual orientation and Afghanistan was more dangerous place than Tehran for a person like me.
totally it took almost seven years of my life to be in Kabul. I had to leave their because I couldn't hide myself and finally I made my mind and I asked a guy who told me that he liked me and wanted to be with me and he said that he was interested in men, to my place but he took a video during we had sex and next day he came to my place again and he wanted to take me with him and kill me because he pretended that he already mentioned that he didn't want to have sex with me and he was thinking that I seduced him, and he thought that I'm a sinner, seducer, infidel. I gave him money, and I promised him to give him more but he didn't get silent and he told everything to my family with coincidence and I fled by chance and left Afghanistan maybe for ever.
Istanbul/Turkey. now I'm here in Turkey as an asylum seeker and United nation suppose to resettle me in a third country like united state, and I'm still searching for a man with a big belly, strong legs and arms, beard and mustache on his face. maybe he is the God or my father, or maybe he is my partner, or maybe he is me, myself, you know I love him, I hate him, I worship him, I don't believe him, I want to embrace him very tight. he is the angel and devil and human being and I scare from him as deep as death and I'm sure I will finally find him, and I will find out if he has really deserved all those struggles.
regards
Hamed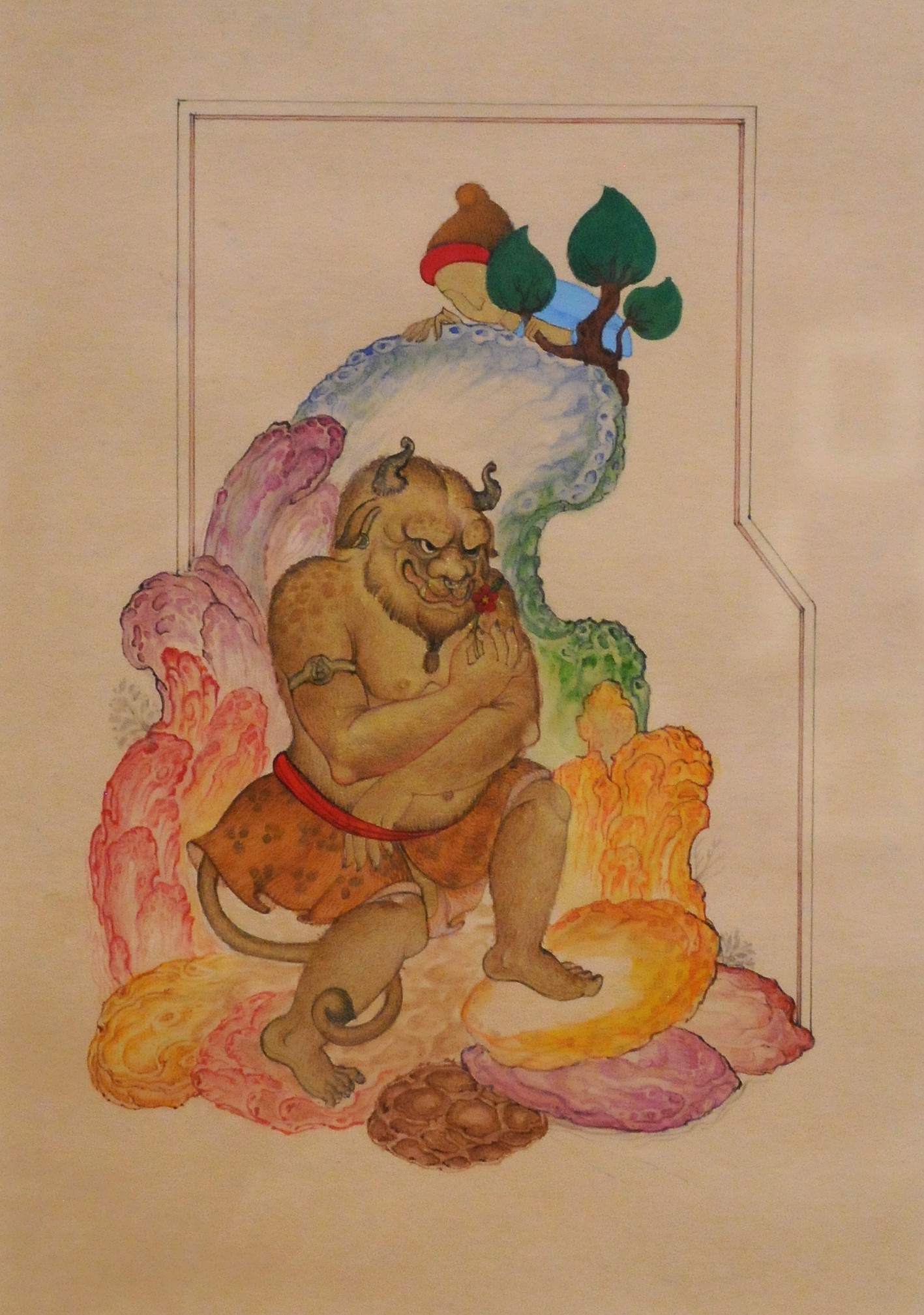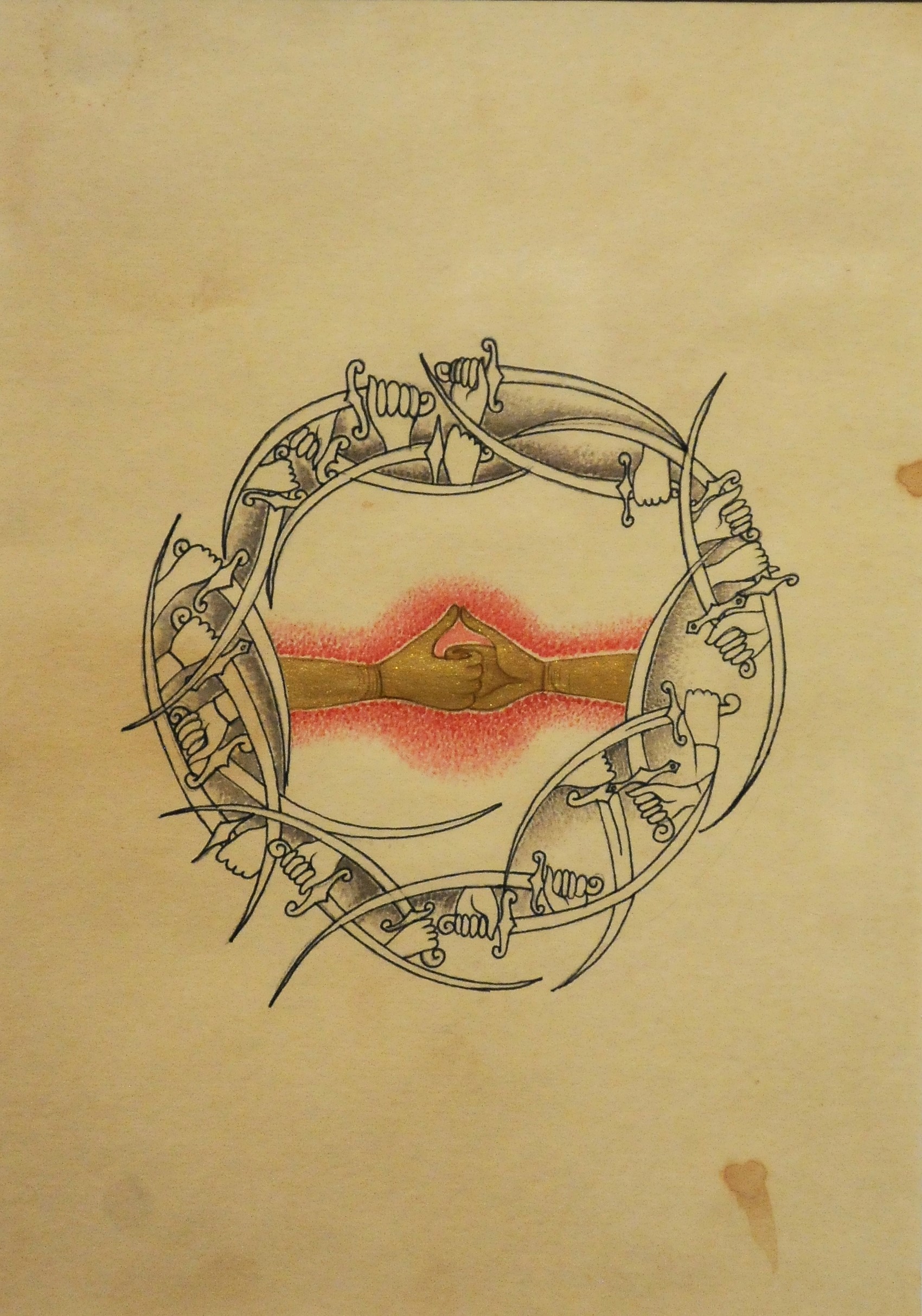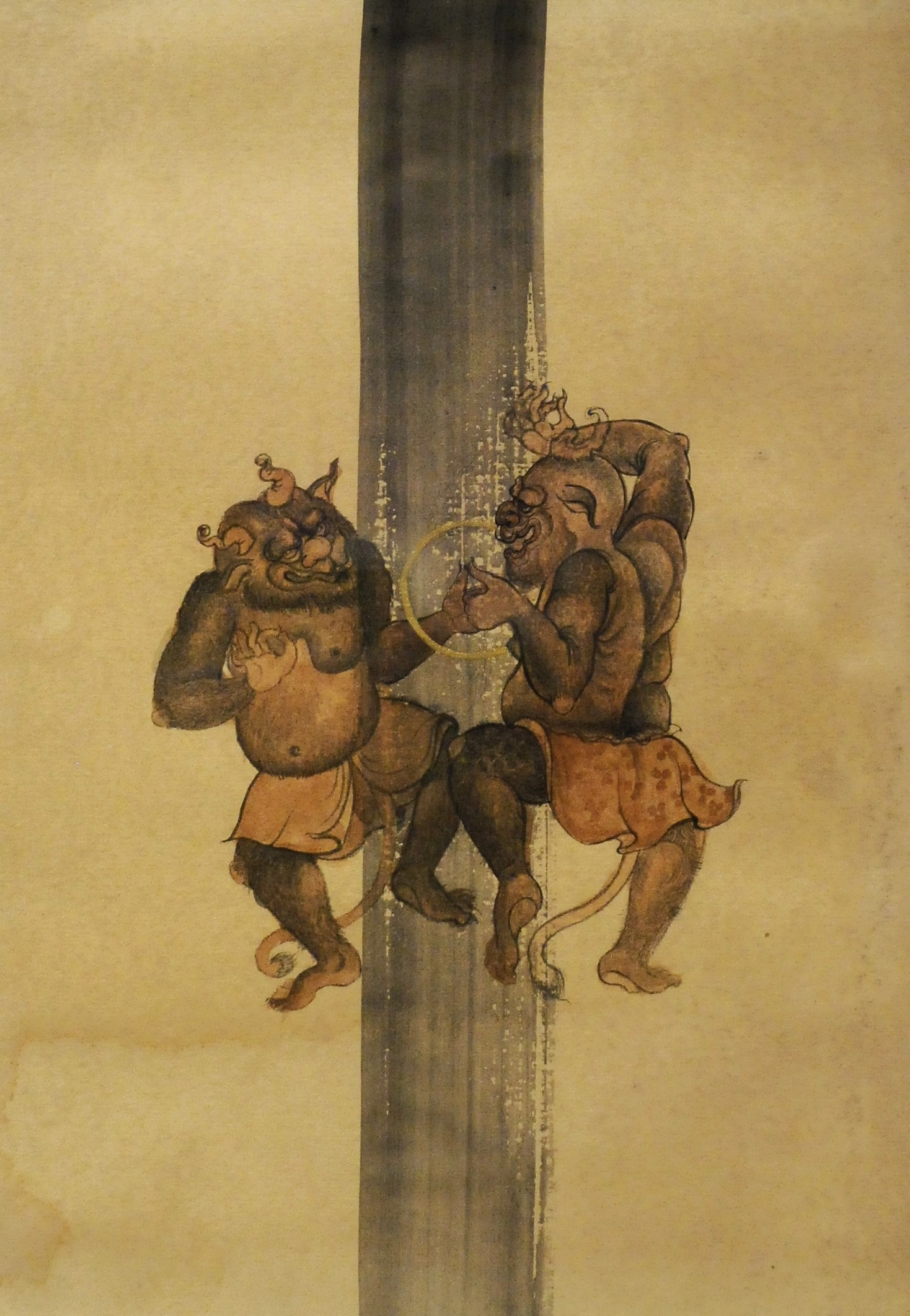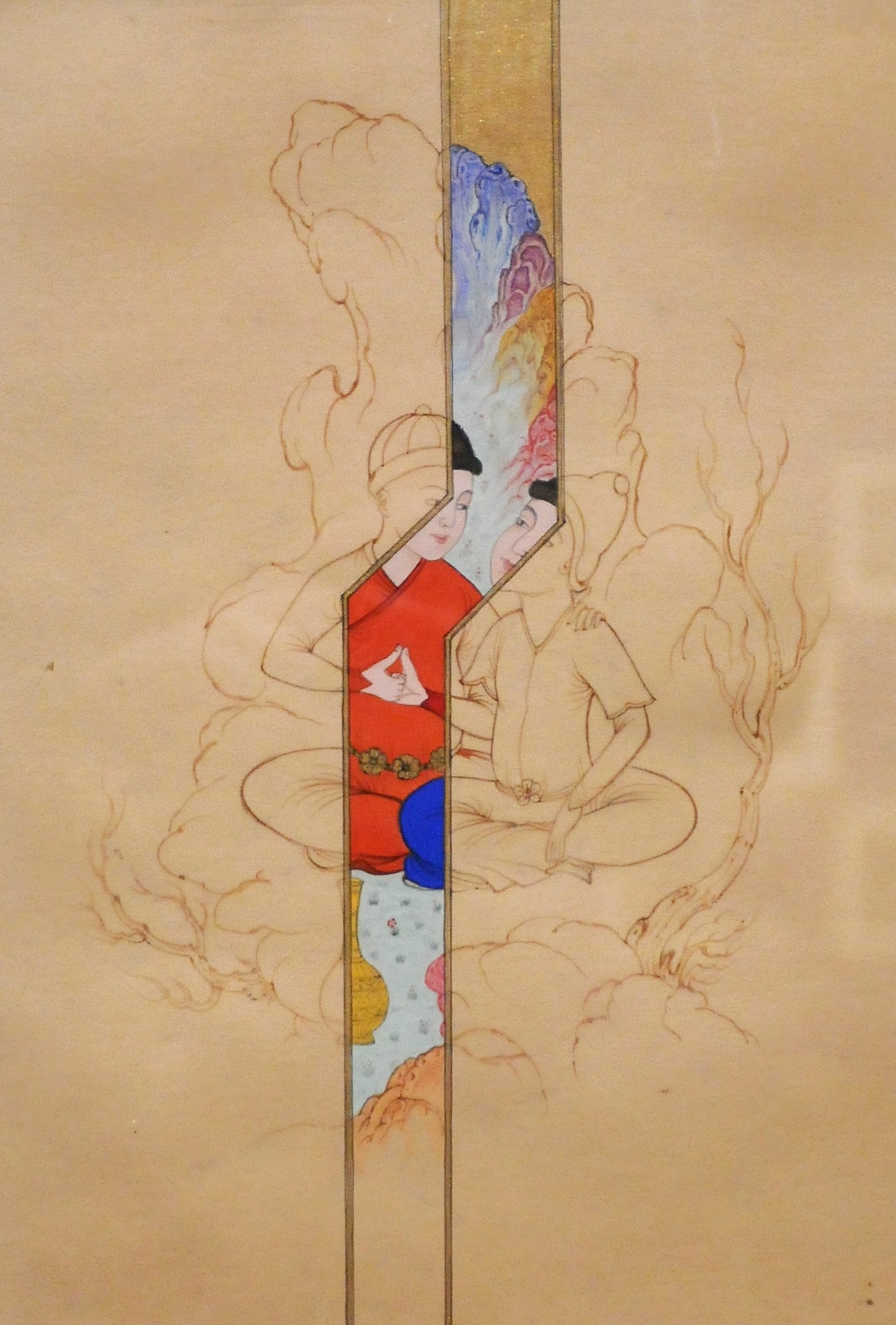 Ali Momeni
Various titles, 2018
Mixed media on paper
Patrick Kearns
How Do We Look? (The Male Gays), 2017
mixed media
dimensions variable

In 2016, I signed up for the Self-Expression and Leadership Program, a four-month long program designed to give participants the opportunity to create a community-based project.

We could choose any community and create any project.

I chose the gay community because of all the communities that I'm part of, it's the one I'm least connected to.

When I examined why that was so, the answer I came up with was "Because I don't have the experience that who I am matters there, only how I look."

Though that isn't "the truth" about the community, I got curious about how other gay men's lives had been impacted by their relationship with their own bodies.

A call was put out and the first 20 people to respond were interviewed and photographed.

All of the participants were asked the same question: how has your relationship with your body impacted your quality of life?

What you see is a tiny snapshot of people's experience of living in the culture that we currently have.

The possibility that inspired me to create this project is the possibility of shifting our culture from one that relates to its members as human bodies to one that relates to its members as human beings.

This project would not have been possible without the generosity, courage, and vulnerability of the participants.

Special thanks to Yanna Baiman, Susan Roth, and Rachel Lando for their unwavering stand for what is possible in this world.

Patrick Kearns is best known for being a comedian, a singer-songwriter, and a mediocre flop. He does clowning, is in a comedy troupe, and works in the Downtown Eastside of Vancouver. You can see his work at www.whoisthisguy.c
Will Martin
How Do We Look? (The Male Gays), 2017
digital photographs

With "How Do We Look? (The Male Gays)," I had the opportunity to realize a long-held desire - to examine in detail the changes that occur in our bodies as we talk about ourselves. I believe we each carry our lives with us: our perceptions, of self – body and mind - and community, of family and friend, and the carry becomes "part of us." Revisiting the bases for our perceptions informed the conversations with the models, and these images. I love capturing the moment when expression changes; when the realization comes anew of the impact of an experience or memory, and the body responds.
I'm ever grateful to Patrick Kearns for the invitation to participate in this project.
Will Martin is a lifestyle and nature photographer born and based in the Vancouver area, with a passion for capturing that moment of pause – a purple sky at the last gasp of sun, the lap of waves, the eruption of a giggle, the beginning of awareness.
TET
Love Always Wins
Acrylic and lego
This painting was my reaction to the mass shooting that happened 2 years ago in Orlando, in a gay club. 49 people died that day because of their sexual orientation.
I usually don't bring my homosexuality in my paintings, but I couldn't stay passive in front of this horror.
The rainbow colors represent the love coming out from the darkness.
The Lego frame represents the inner child that doesn't want to grow in the gay man I am.
Tet ~ Artist Bio
My Name is Stephane Cantavenera, aka "TET". I was born and raised in Paris, France.
I moved first in Montreal 10 years ago and then in the Similkameen Valley 4 years ago, with my husband. We owned an organic farm in Keremeos, surrounded by the beautiful mountains of the Similkameen Valley.
I started to paint for my pleasure 25 years ago and never stopped since that. My paintings (mostly acrylic), are the reflection of my love for colors, for nature and wildlife. My paintings are all about texture and contrast.
You can find more about my artwork on my Facebook page : www.facebook.com/tetart
Reasha Wolfe
Murkey Waters, 2018
House paint, acrylic paint on canvas

Reasha Wolfe
Not Sure That Gentleman is the Right Word, 2018
Watercolour and Pencil Crayon on Reclaimed Wood

Reasha Wolfe ~ Artist Statement
 
This exhibit is an important event for me, because although I am a cis-woman, and have never struggled with my gender identity, I have been uncomfortable with the gender roles and stereotypes my whole life. I have always enjoyed pushing the boundaries of gender roles, and rebelled against gender stereotypes in many ways including clothing, sports, hobbies, and work. This has had unexpected repercussions in my personal life and a past relationship.
Currently I have the honour of sharing the Executive Director position of the Nelson and District Women's Centre with Kori Doty, who may be the first non-binary E.D. of a women's centre in Canada, and this hiring decision has sparked some controversy, although it garners a lot of support.
As I explore my role as an Ally to LGBTQ+ communities and individuals, I'm learning a lot, and doing a lot of emotional labour. I find myself saying "I don't care what gender someone is; if they share my values I want to work with them!"
Why is this a thing? Why is it so important what gender someone is? Why do we all have to fit into boxes?
I'm pleased to offer two paintings to this exhibit.
● "Not Sure That Gentleman is the Right Word" 2018
Self portrait of the artist as a construction worker, circa 2015
● "Murkey Waters" 2018, Inspired by a tattoo
Kori has the courage to fkn BARE IT ALL,
"Here I am, rockin my moustache and TITS OUT, bitchez"
And for that matter I'd like to say that I too am tired of being confined to the box of Male or Female.
Because we are all so much more and sometimes
so much less
and sometimes neither.
And maybe if our character, relationships, personality, roles in life, tasks, responsibilities, opportunities, vocations, callings, jobs, hobbies, goals, passions, clothes and freakin favourite colour was not dictated by what box.
Why does it matter? Because I am more.
Reasha Wolfe ~ Artist's Bio
 
Reasha Wolfe came out of the artist's closet to participate in the first Re-Imagine Penticton Street Art Festival in 2009. Aside from buildings and infrastructure, Reasha works on canvas, tree free paper, and salvaged materials. She uses watercolours, acrylics, spray paint, stencils, fabric, recycled materials, and collage. With anarchist and
D.I.Y. values, Reasha is mostly untrained, winging it, and learning a lot from all of you. Her eclectic influences include comics, cartoons, impressionist art, street art, and every artist she meets or stalks online. Reasha uses art for journaling, meditation on nature and pop culture, to honour and celebrate artists, musicians and activists, and to indulge guilty pleasures. She lived in Penticton until 2013, and currently lives and loves in Nelson, BC. She is nearing completion of her first graphic novel.
lgh
Gender Box, 2018
Mixed media
"I may be unfamiliar to you
but I ask that you not pack me, even innocuously, in a gender box
It may seem like a neat and orderly place to you —
but I assure you, it is not congruent with how I feel
I am woman
I am man
but above all —
I am human
It has been hard to recognize, without shame, that I am not conventional —
and even harder to earnestly embody, reveal, and externalize my innermost self
I thank you for standing with me as I unpack myself out of my extraordinary box."
Nora Curiston
I'm Not a Shape, 2018
Mixed media
"The issue of sexuality is a secondary one to the issue of spirit."
I love this quote by Tilda Swinton. Its sentiment echoes my own views on the nature of spirit and the various objects and bodies that it animates. I recently found a great word – 'quiddity'. It means the basic essence of something – its fundamental nature. As a piece of conceptual art the 'idea' of this work is of greater importance than the physical work itself. Likewise, the 'quiddity' of 'me' is more important than the body I currently inhabit.
Nora Curiston ~ Biography
Nora Curiston is a visual artist living and working in Grand Forks, British Columbia.
A self-proclaimed 'late bloomer', she graduated from Vancouver's Emily Carr Institute of Art and Design in 2007 at the age of 55.
Curiston began her schooling at Emily Carr as a largely self-taught painter desiring some hardnosed technical training as well as input from other artists. Once at school she gravitated towards sculpture and installation work and credits artist and instructor Liz Magor as having a major influence on her artistic development.
The little town of Wells, B.C. has also played an important role in Curiston's career. She won a scholarship to attend the Toni Onley Artist Project in the summer of 2008. At the Project a group of artists worked under the mentorship of David T. Alexander and Peter von Thiesenhausen. Von Thiesenhausen was particularly supportive of her sometimes difficult and quirky sculptures and she has since returned to Wells to create several permanent outdoor installations.
Curiston has participated in group and solo shows throughout the interior of British Columbia and has work in private and public collections in Canada and the United States.
Heather Yip & Son
Untitled collaboration, 2018
Mixed media
Deb Runge
Courage, 2018
Mixed media on canvas
My art piece is entitled "Courage" and is a mixed medium piece. This piece represents the courage it takes for LGBTQ+ people to live our authentic lives in a world in which we are often misunderstood.
Deb Runge is a queer artist who has lived in Penticton with her wife for the past three years. Deb has been an artist for the past 20 years with an interest in mixed media and sculpture.
Nichola Cornell
Rainbow Spectrum of Connection, 2018
Textile and mixed media
Nichola Cornell ~ Artist Statement
Through a process of calculated placement of thread, color and pattern a rainbow of material has come into form. A web of material is formed by unique and varied individual threads. What is revelealed when we pull a thread from this rainbow material spectrum of connection? What is possible when community comes together and participaties in an authentic process of revealing ourselves to each other?
A regular personal growth and artistic practice has help to reveal to Nichola more fully who they are. Living and working from an off grid mountain studio location has allowed for Nichola to gain an awareness of the rthyms of the natural world. They are actively engaged in a process of establishing home based artistic practice and integrating an awareness of traditional methods of micro farming and small scale textiles production.
In their role as Drop-in Program coordinator at two Nelson BC based social services agencies Nichola is working with other community partners to build support, resources and awareness around trans and non-binary inclusion.
 
Nichola Cornell ~ Biography
Nichola Cornell is engaged in a lifelong exploration of clothing and the role that textiles play in gender roles and expression of self. As a textiles contractor and mixed media artist they have had the opportunity to work with a spectrum of natural and synthetic materials and have brought a unique approach to creative textile solutions in private industry and in arts based practice. Hand weaving the fabric they later create garments and textile products from, Nichola has pulled back the curtains of their own identity through an artistic process that includes personal reflection on showing up authentically in the world.
Neva Carson
Neither and Both, 2018
Acrylic on canvas
Neva Carson ~ Artist Statement

The suppression of shame and self-hatred is more harmful than those feelings on their own. This piece is a self-portrait. I don't know where self-denial comes from but I create this piece from a place of willingness in finding what is wanting to emerge, and to hopefully find what is beyond self-restriction.
Neva Carson ~ Biography

Neva Carson is a self-taught artist who usually works with abstract, vivid imagery, often painting the energy she sees beyond the material world that is very much an influence in her experience of reality.
More of her works can be discovered here: http://soulspeakarts.weebly.com
Sabrina & Josh
Mirror, 2018
Mixed media
Heidi Smith
Duality, 2018
Collage
Heidi Smith ~ Artist Statement
In this piece, I aimed to explore the duality I have always felt within my personality and preferences. Though my public persona is soft, feminine, and hetero, there are other parts of me that I show to a select few. In this collage, I portray myself in a way that is a more accurate representation of who I am. I have placed myself at the centre of male and female attention and contrasted the soft and rough sides of myself by using contrasting colour and imagery.
Heidi Smith ~ Biography
After years of playing around with collage for her own enjoyment, Heidi decided to take her art to the next level in 2016. Since then, Heidi has progressed immensely in her technique and creativity through experimentation and by gleaning advice from the very helpful and welcoming artists in Kelowna's local art community. In the past year, Heidi had collages in several local exhibitions and a collection of her work is currently on display in the downtown Kelowna library as part of ARTSCO's Artscape program.
Rogue
Untitled, 2018
Mixed media
Charlie Parcher
Caged, 2018
Acrylic on canvas
Lynn Greene
Man Turning into Peacock, n.d.
Acrylic on canvas
Elliot Easy
Surgery Growth, 2018
Mixed media
Janette Damsma
IPSEITY (self portraits), 2018
Photo collage
Artist Statement
Throughout my life issues around gender and identity have been prolific, especially after experiencing a spiritual and psychological awakening in my late 20's. Before that time I subconsciously relied on ignorant bliss to numb out the restrictions imposed on me by religious dogma, ever increasing media brain washing, and social/economical objectification and\ exploitation.
Threatened by disease, upon realizing the possibility of a Multidimensional Universal Consciousness, I decided to challenge Western Medicine, and find a natural cure for Epilepsy by facing my own True Self.
Upon making this decision, the Universe responded co-operatively, delivering some of my most challenging life lessons, forcing me to face and deal with the reality of sexual violence against women, enveloped by an ever present air of how a North American white woman is supposed to look and behave. Though the seizures stopped, the doors that were opened through this undertaking would leave me forever changed.
On my path of Self-healing through Self-discovery, I was guided to teachings and practices facilitated through the Light Worker Realms. There I have embarked on the journey of Self-Observation; through meditation and ritual which I have documented as self portrait photography.
Touching on fine lines between what is appropriate and inappropriate, I struggle with dynamics of Cultural Misappropriation, when in truth, part of that misappropriation is that I don't know that I have a culture.
First Nations have taught me that as far back as I can see into my history, is as far ahead as I am able to affect the future, and so I researched to learn where I come from. My ancestry is from The Netherlands, but even further back than that, my father ancestry is Friesian, the Friese having branched off from the Norse Vikings with documentation suggesting that the Friesian language dates back to at least 500 years BC. Norse Viking Mythology is based in Elvism, in a time of painted faces of war, white magic and earth medicine.
Is it any wonder that through meditation and imagination I have been drawn to practise going into the earth, to purify my body and my soul, blending back into the substance from which we have all come?
Tribal and Shamanic practices around the globe have gone into the earth for purification ritual
for centuries; perhaps my own observation of Self in the photos, every ritual opening me to joy and mystery, reminds me to never be ashamed of who I am or where I come from or what I want for myself; that ultimately we are all parts of the landscape; destined to grow and decay.
Perhaps I am reminded that this body, cursed with stereo-typical proportions and form that trigger women into harbouring resentment, that trigger men into imposing domination and ownership, is also worthy of love.
Janette Damsma ~ Artist Biography
Janette Damsma, residing in Oliver British Columbia, is a self healing light bearer, artist, practitioner of Metaphysical Sciences, and well established Cosmic Girl, bringing to Light the Universal vibrations here to assist us on our Earthly journey. Janette has healed herself from symptoms of epilepsy, depression, abuse, addiction, and chronic fatigue, through meditation, art, spirit guide communications, and other various Holistic and Metaphysical healing modalities. Janette applies her experience of healing in everything that she does, including oil painting, self-portrait and portrait photography, writing, dancing singing, song writing, Reiki and massage, teaching, counselling, and training and rehabilitating horses.
Artist Philosophy
I see art as an inward entity expressed outwardly, therefore, I base my own artwork on a spiritual foundation which I find within myself. Each of my works are based around incidents or experience of spiritual growth in my life and are generally Metaphysical or Shamanic themed. The depth of the artwork then becomes a reflection of the depth of the inward spiritual journey of the artist, which I find speaks to people in phenomenal and healing ways.
Artist History Overview
Born in Ontario in 1975 on a large farm south of Toronto, Janette discovered her gift as an artist at age 17. Upon moving to Vancouver at age 19, she began to display her work, exhibiting her talent first through the brilliant colours of acrylic paints, and later embracing the depth of oils and the depth of the stories she is able to convey through this medium. Janette currently resides in Oliver, British Columbia, where she is working to further her metaphysical studies and practices, one of those avenues being her continued work as a painter and photographer.
Shoy Boi & Charlie Rae Walker
Come in the Closet : Overcoming Your Fear of Attraction Through Self Hypnosis
Mixed media sound installation
2018
Sound recording installation by Shoy Boi. Closet concept by Charlie Rae Walker.
https://madamebrittany.bandcamp.com/
http://shoyboi.wixsite.com/shoy
What people are saying about the show:
Wonderful and poignant. As a Transgender woman this really spoke to me! - Claire M.
What a wonderful opportunity to see queer art - we are so grateful! Thank you for giving this art a platform . . . - Skylar & Kimberly G.
The generosity of expression in this exhibition is remarkable - and so appreciated. Thank you! - Linda W.
Very interesting - Thank you. - Jill & Alex (NND)
Very pertinent - Brian M. (Oliver)
Thank you. Impressive & touching. Exceptional. - Shaun L.
Finally more open minds. - Erica S. (Oliver)
Excellent show - Thanks - Josephine P.
Beautiful Drawings - Bonnie S.