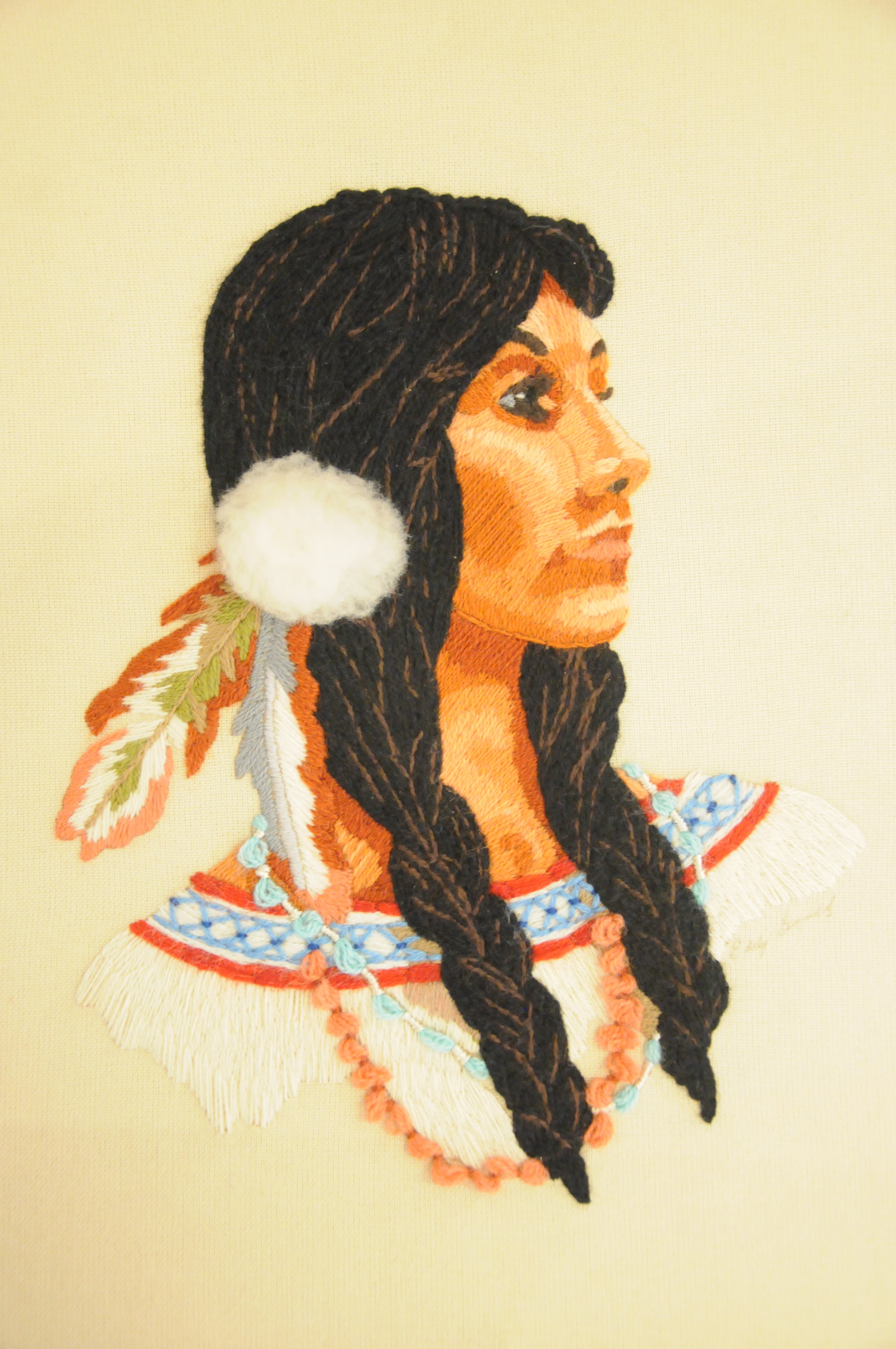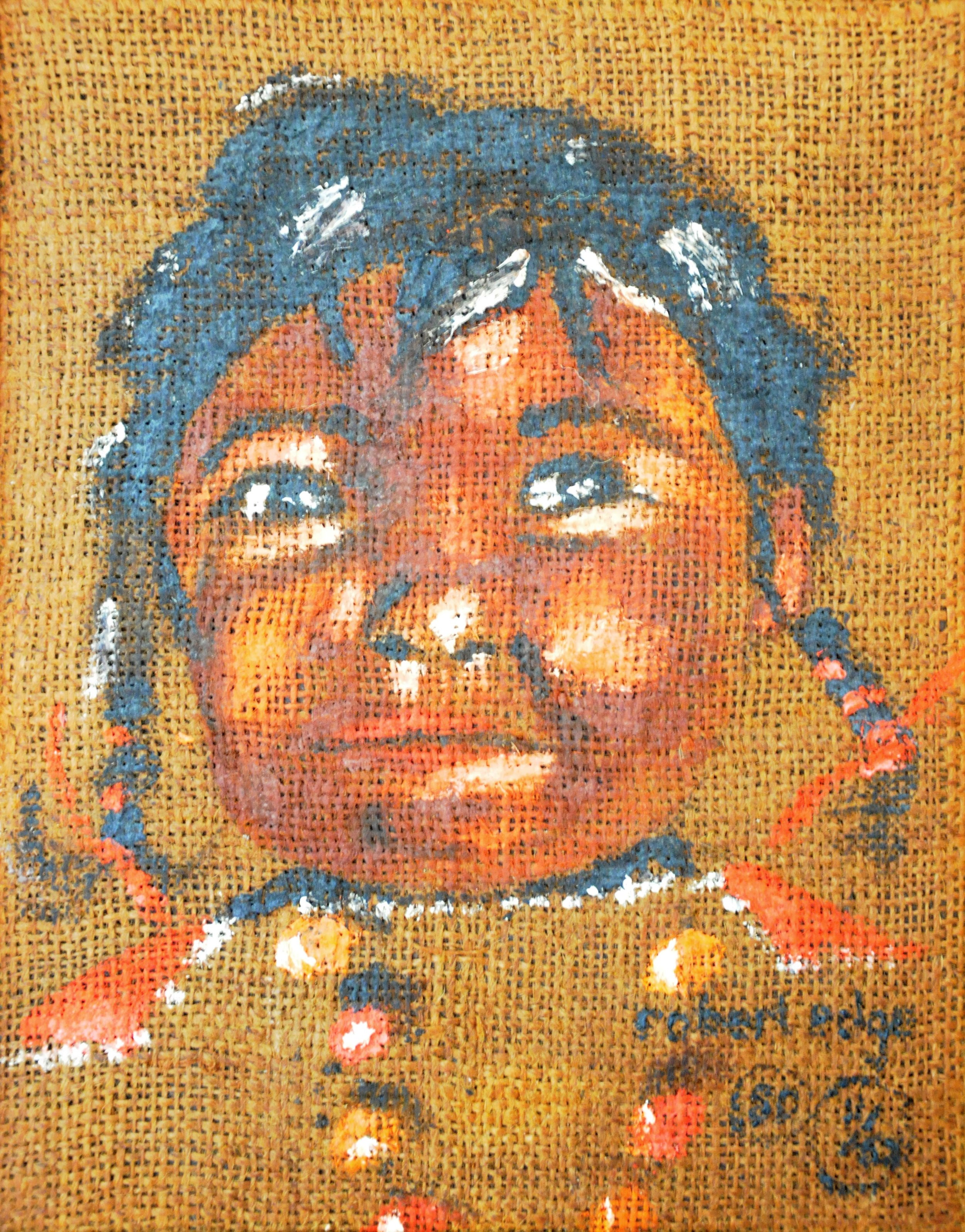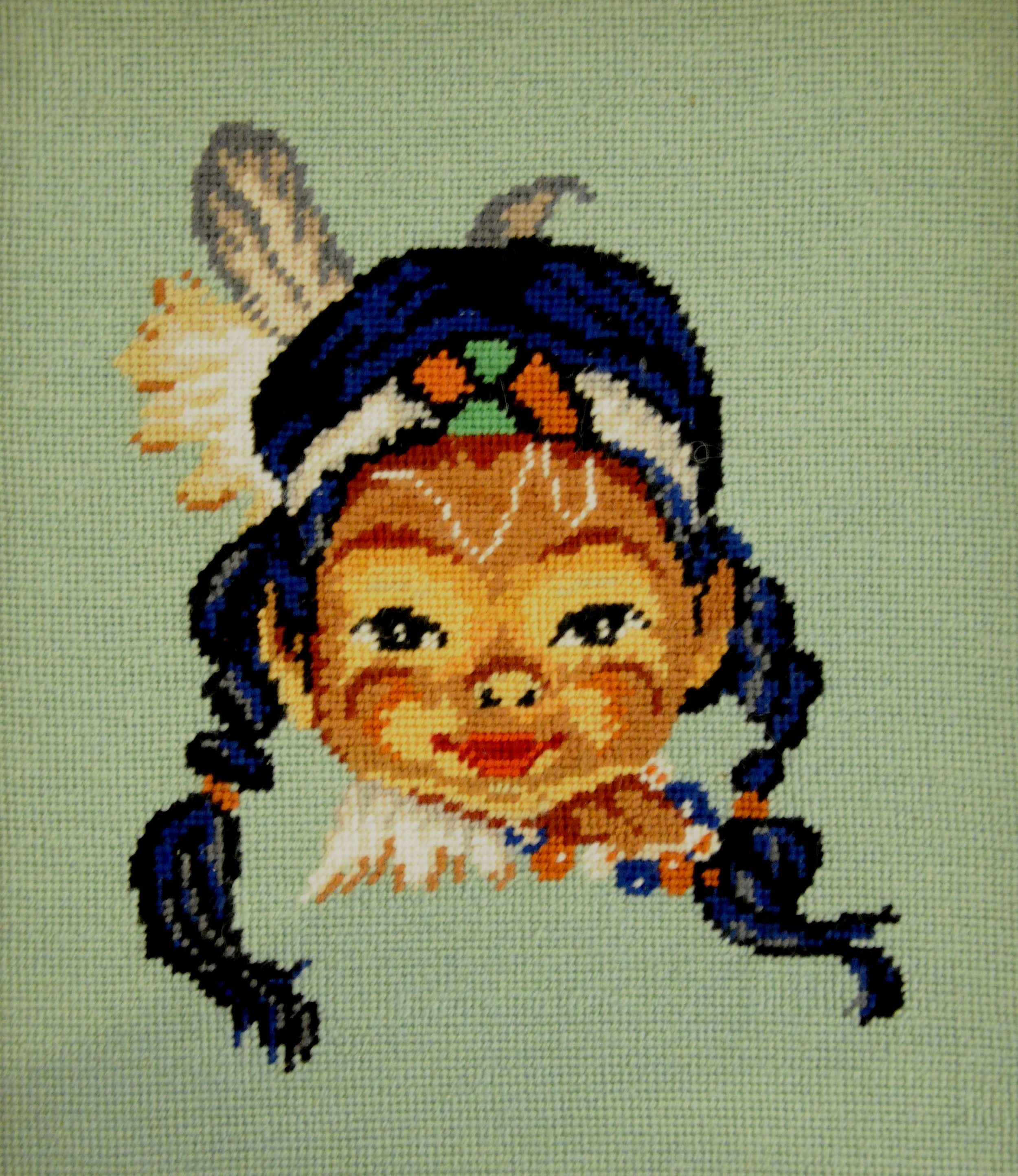 It's interesting the images that stick with you throughout your life, some due to their power to convey a message, record a moment, capture a sentiment, define beauty while others are ubiquitous, constantly cropping up amongst the flotsam that increasingly engulfs and permeates our lives. These images lurk in our subconscious and only when one becomes aware of them do we begin to realize just how prevalent they are and how they have influenced the visual landscape that has come to define our existence.

One of these images that keeps popping up in my life are the portraits of natives done in pastel on velvet paper, raw burlap, petty point or cross stich. Remarkably these all follow the same format featuring one of the following: a single boy or girl dressed in regalia, a mother and a single child, or a single woman or male dressed in some sort of stylized regalia. I am struck by the ubiquitous nature of the works and how each artist used the same format, formula and materials in their work, rarely adding any sense of their own personality to the composition.

I don't recall exactly what it was that led me to start collecting these images but there was something in them that I felt needed to be explored and over the past five years I have been slowly gathering these paintings waiting the right opportunity to display them as a collection and to examine their place in art history and our understanding or view of our Indigenous community. Over this time I have also sought out the thoughts and opinions of our Indigenous community and invited them to add their voices and perspective on these images. I was interested in knowing how they felt looking at them and how these images represented their community.

In researching the history of these images I have come to find that they define a concise moment in time, first appearing on mass in the late 1950's continuing through the late 1970's. In many ways they owe their inspiration to the work of Wilfred Langdon Kihn (1898 –1957) whose illustrations graced the publications of Marius Barbeau and National Geographic Magazine, the photographs of Edward Sheriff Curtis (1868 –1952) and the work of the Calgary based artist Nicholas de Grandmaison (1892 – 1978).

Of all the artists creating these works during this time period Gerda Christopherson (1917-2012), Dorothy Oxborough (1922-2014), Fran Jenkins, Minn Sjolseth (1919-1995) and Harley Brown (1939- ) are amongst the best known and widely reproduced. Over this twenty year period their work was sold and reproduced as art prints, calendars, sugar packets, matchbooks, notecards, tea towels, posters, and pretty much anything else you could print an image on.

Looking at these images today they present a homogeneous view of what it means to be Indigenous, blending regalia to create a unified stereotype of the North American "Indian". For many non-Indigenous folks who collected these works and hung them in their houses, offices, businesses and those who licensed the images, I would imagine these works represented the only interface they had between themselves and our Indigenous communities. Looking at these cute children, noble braves, beautiful and loving mothers, how could one acknowledge or even consider the dark clouds that hung over the residential schools, and the families torn apart through the sixties scoop?
For many years I have had conflicted thoughts on these images and what and whom they represent. Over the course of my research I discovered that many of these artists had an intimate connection to their respective Indigenous communities and had a deep respect and understanding of the people, their traditions and the culture they represented. In their eyes these works were a tribute to a culture and a way of life they saw was being lost to us all and through their efforts they hoped to capture, preserve and document this history.
The deeper I began to dig into the lives of these artists the more surprises I found including the following by Judy Half of Edmonton, Alberta who posted the following on Gerda Christopherson's memorial page; "Hello I am a Cree woman from Treaty Six Alberta. I love your work as it inspires me and has inspired even more to conduct research about native american portrait(or)." Up until that point I hadn't thought that these images could have been seen as being inspirational by those they were purported to also represent, and soon after I read the above I was talking with another artist who told me that they had some of these pictures hanging in their room as a child and she had wished that she was the girl in the portrait. More importantly these pictures were amongst her most prized possessions, so much so they were stored lovingly to this day in her hope chest.

With every turn the complexity of these images and what they represent grows and over the past few years I have shared these images with numerous Indigenous authors, artists and friends seeking their opinion of these works and in a number of cases I have given away examples of the works for their consideration and contemplation. In almost every regard, with the exception to the two examples above, many have declined or just not responded to my request to add their thoughts to the conversation.

Please take a moment to read the biographies on the major artists represented and consider if this influences how you come to view their work. I also ask you to consider how we should regard these works as part of the art historical record as they have been widely collected by many important public, corporate and personal collections across North America and beyond over the past 60 years.