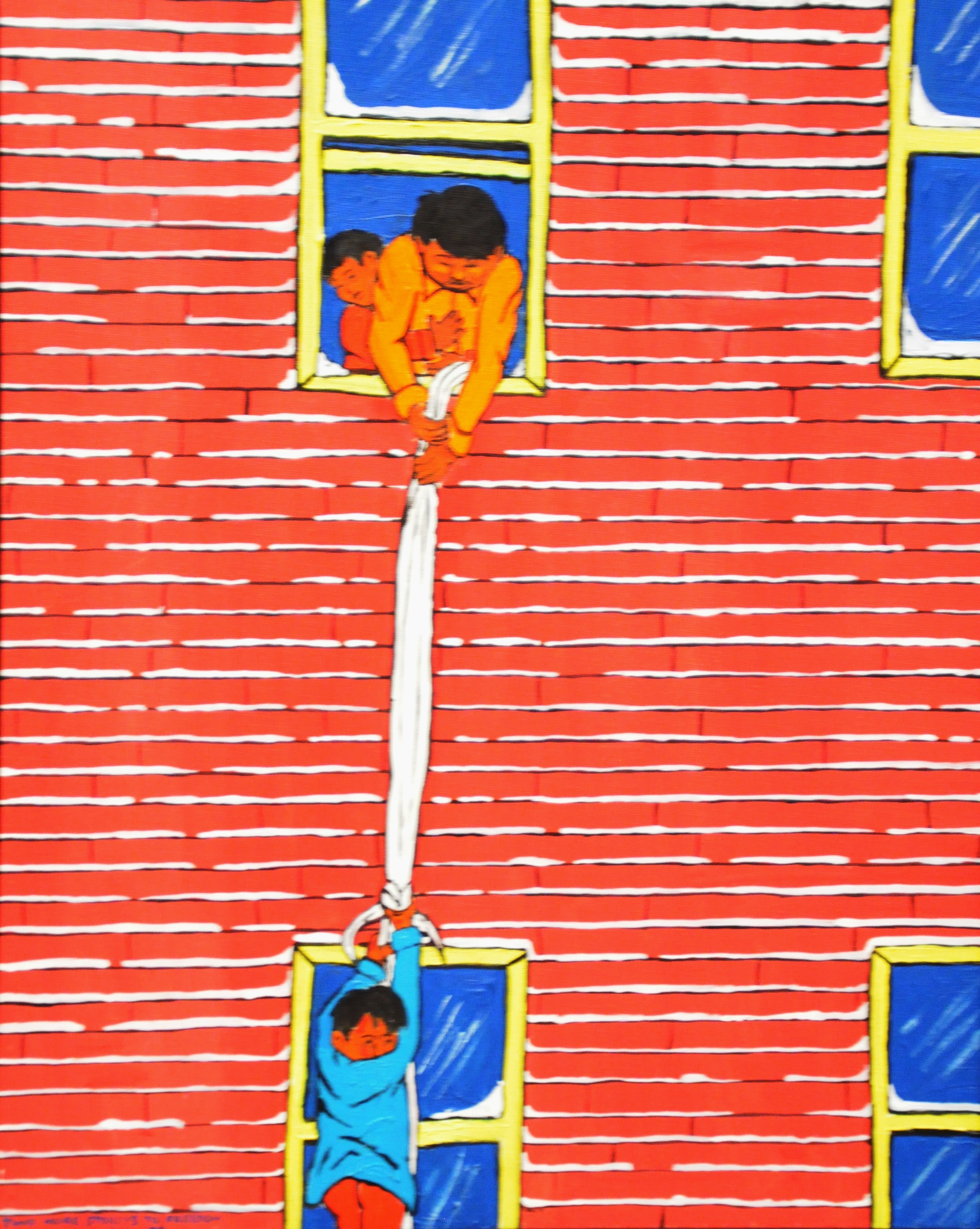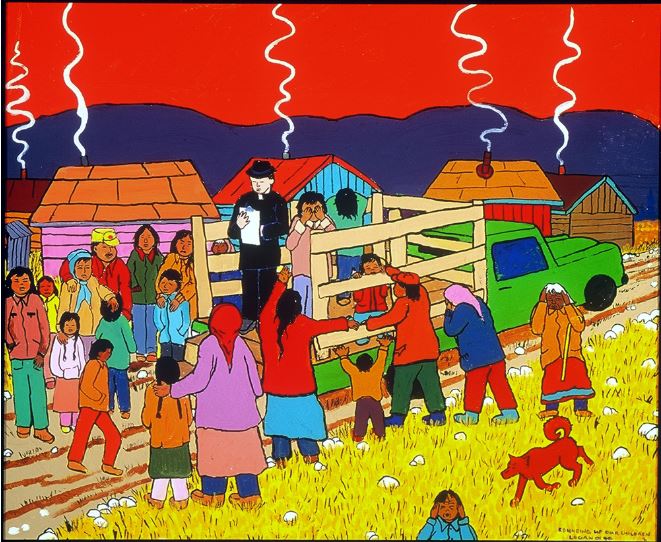 In the fall of 2016 I was invited up to the Yukon Arts Center to do a talk on our exhibition Behind the Lines: Contemporary Syrian Art and while there I was reintroduced to the work of the artist Jim Logan. He was an artist whose work is distinctive and one that I immediately recognized but he was not one whom I had spent a great deal of time getting to know. I was immediately stuck by the image I saw advertising the remounting of his exhibition, "Requiem for Our Children" which had just concluded. I started to inquire about the work and was told that it had been donated by the artist to the Yukon Government in 1991 and was part of their permanent collection. I had long been thinking of how the gallery would mark the celebration of Canada's 150 and after hearing a panel discussion led by members of the Aboriginal Curatorial Collective where they called upon Canadian Public Galleries to provide a greater platform for Aboriginal voices, viewpoints and history leading up the150 celebration.

Seeing this body of work for the first time I immediately felt the impact and heaviness of this dark part of our history and I felt that this would be poignant counterpoint to the Canada 150 celebrations, providing the missing piece to my summers exhibition schedule. I reached out to Jim Logan to let him know of the exhibition and wondered if he might be willing to write a few words regarding this body of work in context with the Truth and Reconciliation Commission of Canada and Canada's 150 celebrations. Responding to my email Jim wrote back; "Thinking about that series of work brings back a lot of emotions and feelings, some which are uncomfortable for me to revisit even after 25 years or so." His words like his work lingered with me proving that even the knowledge of these tragic events has the power to profoundly effect us all and only through the acknowledgement and the sharing of this shame will we be able to move forward in any meaningful way.

In looking for some historical context to add to this exhibition I came across an article written by Richard William Hill published on October 26, 2016 published on the Canadian at Magazine website entitled, "Solo Exhibitions of Contemporary Indigenous Art That Delved Deeply". In his introduction the author states: "I am using this regular column to think out loud in public about questions and controversies arising from my current research for a book about contemporary Indigenous art from 1980 to 1995." In the article Richard William Hill reviews three ground breaking exhibitions, the first of which is Jim Logan's, "Requiem for Our Children," first shown at the Art Gallery of the Whitehorse Public Library in 1990.
During the short period that Jim Logan lived in Whitehorse - from 1983 until 1988 - his art was transformed by encounters with survivors of the state-funded, church-run residential school system. Up until then the dominant influence on his painting had been wildlife artist Glen Loates. The moral imperative to make visible the stories he heard in the Yukon, as he put it to me recently, "gave his art purpose" and demanded a new approach.
Not long after arriving in Whitehorse, Logan, a member of the Pentecostal Assemblies of Canada, began work as a lay preacher in what was then often referred to as the Kwanlin Dün Indian Village (or "the Village" for short), just outside the city. He remembers being stunned by the conditions at Kwanlin Dün, which lacked the indoor plumbing and running water, that could be found just across the highway in Whitehorse.
As Logan visited families in the community he also began to hear stories about abuse suffered by children during their time in residential schools. Although he had not attended residential school himself, he felt an obligation to do what he could to make the information he was learning public. At this time residential school abuse was just beginning to be addressed in the public sphere and the frank discussion of the sexual abuse of children was especially new and difficult.
The representation of culture-wide traumas like residential school abuse is fraught with moral difficulties. The artist faces a dilemma: attempt to represent an experience that is essentially un-representable or lapse into impotent silence. The challenge is compounded when the artist who has a platform to speak is representing the experience on behalf of others, which is sometimes the case in the immediate aftermath of traumatic events.
Logan hoped that the exhibition would give residential school survivors an opportunity to begin talking about and dealing with their own trauma. According to curator Ruth McCullough, who supported what she saw as Logan's desire "to honour the stories he heard," the exhibition of the works in Whitehorse nevertheless "caused a bit of an uproar."
In a recent phone conversation Logan recalled that at the openings he was able to attend, people tended to avoid the difficult subject matter and simply compliment his technique. He also remembers that white audiences often expressed surprise and ignorance about the existence of residential schools and occasionally questioned the veracity of the stories of abuse.
His artist's statement for the show seemed designed to break through this resistance, telling non-Indigenous viewers that he wanted them "to live and experience what those children experienced, be it for only a moment. I hope you remember that those children lived it day in and day out."
It was only when Logan read written comments left by visitors that he found notes from residential school survivors saying they had found the exhibition helpful in exploring their own experiences and coming to understand that they were not alone in what happened to them.
The exhibition itself involved a series of narrative paintings based on first-hand accounts of a range of residential school experiences.
The style he chose, with a few exceptions, might best be described as a folksy post-impressionism bordering on fauvism; bright colours applied in flat areas, with subjects given shape by simple black outlines. The simplicity and sweetness of a style that might be used to illustrate a children's story makes the eruption of traumatic subject matter all the more jarring; a violation of innocence at the level of form.
In Rounding Up Our Children, distraught families gather around a pick-up truck parked on a gravel road running through a northern Indigenous community. It is there to take their children away. In the back of the truck, which has wooden-fenced sides, a black-garbed priest stands calmly checking children's names off a list. This moment of separation—a mere administrative chore for the priest—is an explicit trauma for both parents and children.
One of the things Logan learned in his conversations at Kwanlin Dün was that parents were wounded terribly by their inability to protect their children. Discussing the situation in 1990, Logan said, "the stories that I've heard have been ones of extreme guilt. They wish they could have done something, but it was against the law for them to withhold their children from school."
Other works in the show depict everything from escape attempts and disturbingly choreographed Christmas celebrations, to, in one case, an explicit scene of sexual abuse. In Night Visit a priest assaults a child in his dorm bed, one hand on his genitals, the other clamped over his mouth to muffle a scream. Hard to look at, but perhaps worse to ignore.
Logan was concerned, however, not to present the children as one-dimensional victims. In Sneaking Lipstick, the dissident agency of several students provides a moment of relief and humanity, as we see a group of four girls gathered in the woods, laughing as they try on forbidden lipstick.
After 27 years, "Requiem for Our Children" still disturbs and still demands our attention.

In talking about his own journey as an artist Jim Logan writes: " I started my art career painting social statement pieces from my experiences as a lay minister in Kwanlun Dunn Village on the outskirts of Whitehorse, Yukon Territory. The most important work from this period was the series I titled, "A Requiem for Our Children" which described existence within the Residential School system in Canada. Other noted pieces were the 'National Pastimes' series in the exhibition, INDIGENA which commented on Canadian apathy toward the hardship and poverty of the Native community in Canada. Currently I have been revisiting many of the themes I have explored in the past and have added computer art to the many mediums I practice. Most recently I have been interested in art history and comparing it to Aboriginal art history. I am often testing the European ego concerning art, particular prized pieces of art that are termed masterpieces or trend setting pieces as I did with The Classical Aboriginal Series. I am working further with this theme as I have found the juxtapositioning, superimposing, or the re-painting of such works offer the audience an interesting perspective on art causing many to rethink and perhaps revalue art in general."

Thank you to Garnet Muething, Geneviève Gagnon, and Scott Price of the Arts Section, Cultural Services Branch, Department of Tourism and Culture for the Yukon Government for all your time, help and support in making this exhibition possible. Thank you also to all those who have shared their stories so we can account for this shameful part of our history and that others may not suffer the same indignities in the future.
"A very powerful exhibition. Jim Logan's paintings in particular show the hurt and pain caused by government policy, the churches and residential schools. Hopefully the exhibition opens many eyes and contributes to a better understanding" - D. & C. McLean, Calgary
"Quite the confronting and educational experience - especially as our two countries have disappointing similar histories. This said, the works are beautiful and teach us important lessons. A delightful visit. Cheers!" B. Clark, Melbourne, Australia
"Very moving!" M. Shirley, Hertfordshire, England
"A wonderful and disturbing exhibition which asks why did we destroy a culture we did not understand." B. Kerr
"Nicely done, although tragic." B. & P. Cooper, Sequim, WA, USA
"Gripping." J.D. Philippo
"Art is a way forward" S. Anderson
"Amazing exhibit. I was so thrilled to find this topic explored in my favourite place - Penticton" J. Arnett
"Angry, sad, disturbing, TRUTH! Thank you" L. Erinine
"Every high school student needs to visit Requiem for Our Children." L. Simmons