Over the past couple of years the Penticton Art Gallery has been the recipient of three significant donations, each one comprising of an individual body of work by three of British Columbia's most important contemporary artists. These donations include:

1) Lincoln Clarkes (1957 - ), Quiet Detroit, 2008 - 2014 (box set of 20 photographs). Donated by: Clodagh O'Connell, Nanaimo, B.C.

2) Brad McMurray (1954 - ), 13 photographs printed on Kodak Endura metallic paper 2012 – 2017. Donated by: Terry Munro, Calgary, Alberta

3) Alan Wood (1935 – 2017), The Ranch Project, 1983, A portfolio of 25 prints consisting of 20 serigraphs and 5 etchings. Donated by: Stephen Lampman, North Vancouver, BC

On their own each donation is a stand-alone exhibition, but as a group they also form a powerful exhibition and serve as a cautionary warning and stark reminder to the ephemeral and temporal nature of our society today. Each of these three artists has set out to record and document the incredible power and sublime beauty the passage of time and Mother Nature has to transform, alter, and redefine the built environment. It's also interesting to note that each of these donations came to us from donors living outside of Penticton and each one sought us out independently as the repository of these three significant bodies of contemporary art.

I do believe it's important for museums and galleries to collect our cultural heritage, but far too often the objects and works of art remain out of sight and forgotten to the general public. Thankfully more and more resources are being put towards the digitizing or these collections and are now being made available online and accessible to those looking to explore the lives and work of so many artists who might have otherwise been lost to history in the fog of time. Donations such as these are important as they provide enough context to stand on their own as singular body of work; one that documents a period of their career and is one that we can then offer to other institutions as a touring exhibition which will further help enhance and animate our permanent collection, making these artists' works accessible to a far wider audience.

Lincoln Clarkes (1957 - )

Born in Toronto in 1957, Lincoln Clarkes moved to Vancouver, BC, in 1979. He was originally a painter who encountered difficulties with his spray bomb graffiti paintings on walls and construction boards throughout downtown Vancouver. He enrolled at Emily Carr University of Art and Design to study painting but dropped out to pursue photography. Clarkes taught himself photography and began a career in fashion and portraiture, working in both Paris and London, as well as working on magazine and newspaper assignments across North America. In 1996 he began working on a series of photographs that highlight the plight of women drug addicts living in Vancouver's Downtown Eastside. The resultant series, Heroines, was first exhibited in 1998 at the Helen Pitt Gallery in Vancouver, and was subsequently turned into a book and an award-winning documentary film. Clarkes followed the success of Heroines with another series of photographs, Views, which also spawned a book and a music CD.

His most recent series is called Cyclists, where Clarkes photographed 150 men and women riding bicycles in Toronto, which addressed the increase in cyclists in the city. Lincoln Clarkes is still an active member of the artistic community. What attracts people to Clarkes' work is the focus on the things we would overlook every day. Clarkes takes the time to listen hard and closely watch his environment and that shows in his photographs. Clarkes' work has received mixed reactions but that is what makes his work exciting. He enjoys bringing to light controversial issues and some of the public can relate to his work, morally and ethically, on every level. His aesthetic is warm, not harsh, and finds the comfort in alternative worlds. He has shown his work in solo exhibitions in Vancouver, Seattle, and Toronto.

Previously published photography books include: Heroines, 2002 (Anvil Press) Views, 2006 (Universal/Northern Electric). Feature documentaries on Clarkes include Heroines (Bravo 2001) and Snapshots (Knowledge Network 2011). He currently divides his time between British Columbia, Ontario, and England.
Brad McMurray (1951 - )
The focus of my work presently is to document photographically how human activity has impacted the topography of various regions.
I do not look at or study people within this environment; rather observe and consider how human activity has collided with and changed the distinct landscape of the area. In many of my images, there is an atmosphere of abandonment – the human that has left the photograph. I attempt to capture ephemeral things representing human presence while at the same time present an image that is eerily familiar.
My photographic work follows in the historical footsteps of art that reconstitutes our perception of everyday life (Duchamp's Fountain and Emin's Bed) simply by asking the viewer to look at it. That which might otherwise be ignored is given a new existence as the everyday subject matter of my photographs.
My images frame the mundane and ask the viewer to re-examine somewhat bleak and forgotten spaces that are endlessly recognizable, yet continuously overlooked. I attempt to look beneath the surfaces to uncover a harmonious composition of lines, shapes, colours and textures in common and banal subject matter. The things that often tell us the most about ourselves.

Alan Wood (1935 – 2017)
Alan Wood was born in 1935 in the town of Widnes, in Lancashire, England. His early interest in art was due to the support and encouragement he received from both his father and his high school art teacher. Following graduation from high school, he studied art at the Liverpool College of Art and credits his success as an artist to his good fortune to be in the right places at the right times. His involvement with the lively art and music scene in Liverpool during the late fifties led him to the innovative St. Ives Artists Colony in Cornwall, which in turn opened the door to a successful 6-year teaching career at the prestigious Cardiff College of Art in Wales.
Alan Wood moved to Canada in 1971 and settled in British Columbia in 1974. Since that time he has produced his most personal and mature work as an artist. His interest in the dynamics of light and colour from the ocean, beach, forest, and sky has dominated his landscape work throughout his career. In 1983 Alan Wood gained international recognition for taking his painting directly into the landscape with his "Ranch" creation. This 320-acre painted construction built in the foothills of the Alberta Rockies was a monumental exploration of colour and form. Since then, he has continued to work with constructions of wood, canvas, and paint. Alan Wood is a prolific artist and since 1962 has participated in many group and solo exhibitions in Great Britain, Europe, Canada, the United States, and Australia.

In March 1981, Alan Wood built the indoor Ranch installation at the Charles H. Scott Gallery in Vancouver, Canada. The success of this piece led Wood to plan a large outdoor environmental work continuing to use the theme of Western Ranch architecture (fences, corrals, barns, gates etc.). The site chosen was the Rocky Mountain Ranch in Alberta, Canada.

The Ranch Project cost $500 000 and was sponsored by corporate patrons, C.P. Air and Delta Hotels. The project occupied 320 acres of Alberta ranch land and consisted of 150 000 board feet of lumber wrapped in 54 864 metres of canvas and painted with 5455 litres of acrylic paint. Twelve scenes accompanied the running fence. They included a corral, a windmill, a sixty-foot bridge, barns, chutes, and gates. The project was completed in late summer of 1983 and remained on site for four seasons, until it was dismantled in July 1984.
Wood described the Ranch as a three-dimensional painting. It was built of wood, wrapped in canvas, and painted. He stated he planned the piece to be a colour statement in the natural environment using the Ranch theme in twelve parts or tableaux. The piece did not attempt to suggest weathering or imitate a "natural" look, but wore non naturalistic, strong, intense colours, forming a static but dynamic element in the constantly changing atmosphere, light, and colors of nature in different time, weather, and seasonal conditions.
In addition to the prints, the exhibition will also feature the photographic documentation undertaken by renowned photographer, Robert Keziere, who undertook photographing each of the elements or tableaux to create a visual record of the Ranch installation in situ. In addition we will feature the 1985 the film "The Alan Wood Ranch Project", produced and directed by Steven Denure and Chris Lowry, which includes time-lapse, aerial, and seasonal shots of the Ranch Project.
Wood produced five portfolios of Ranch prints in an edition of 200. Each portfolio had a specific theme and contained five images.
The Ranch Project received critical attention, notably in John Beardsley's anthology, "Earthworks and Beyond", published in late 1984 by Abbeville, New York City, as one in their series entitled "Contemporary Art Movements". An eight-page photo article appeared in Smithsonian magazine, December 1983, published in Washington, D.C. Extensive articles and reviews were written about the Ranch, along with it receiving a great deal of press. The Alan Wood Ranch Project was the largest art installation ever undertaken in Canadian History.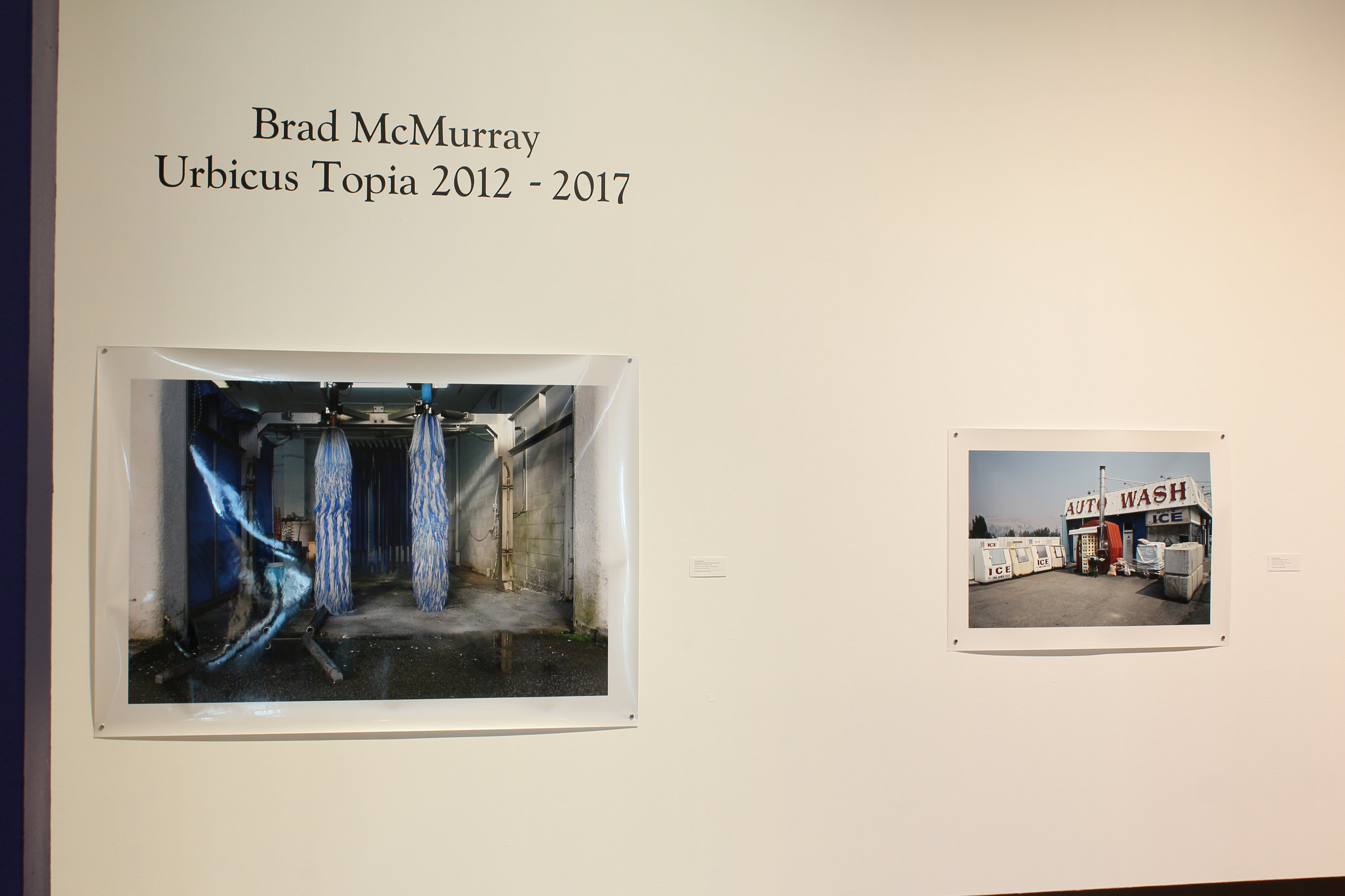 "Fabulous exhibition. So nice to see the work in person!" Terry E.
"Wonderful Exhibit!" Mike C.