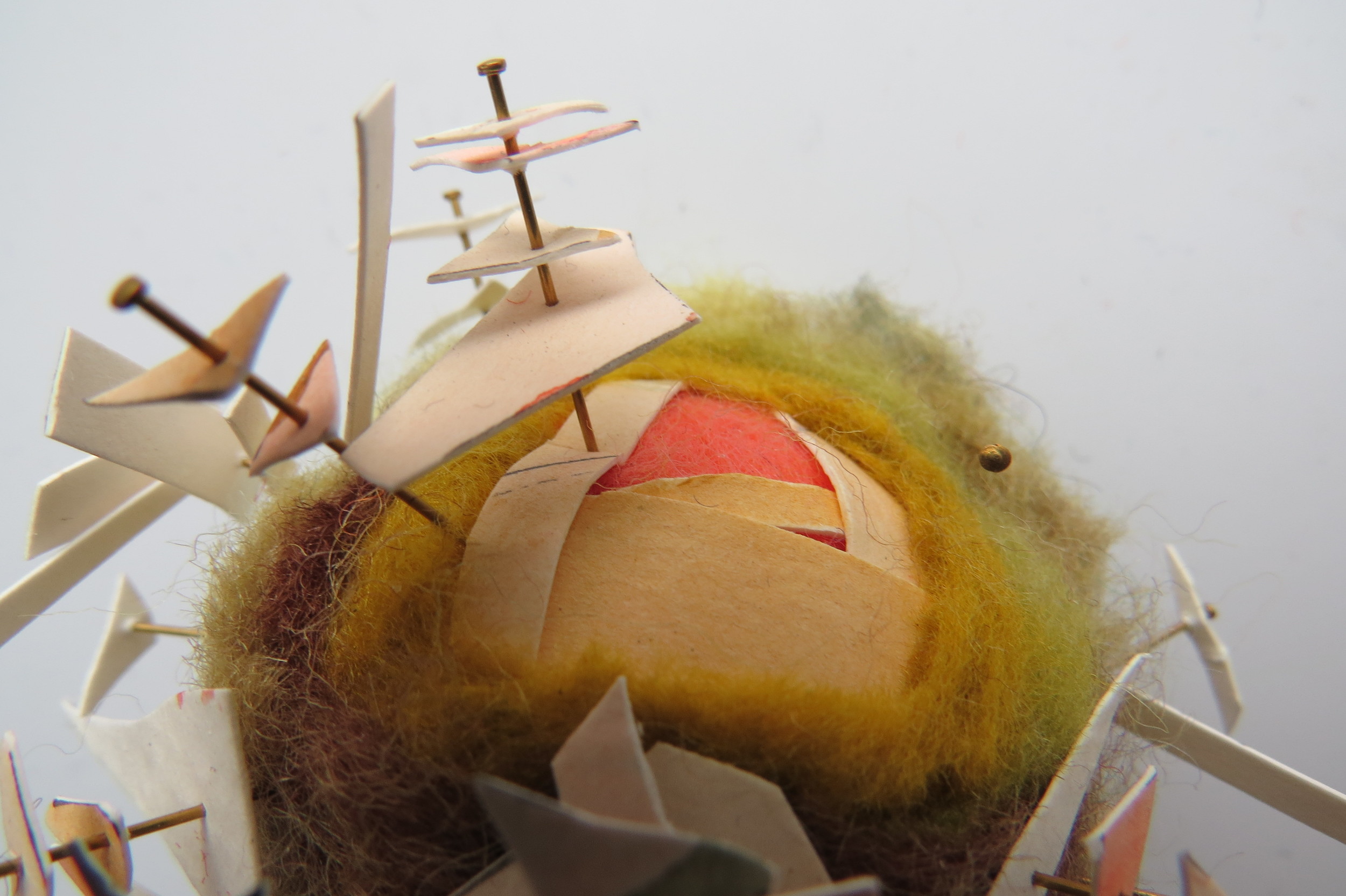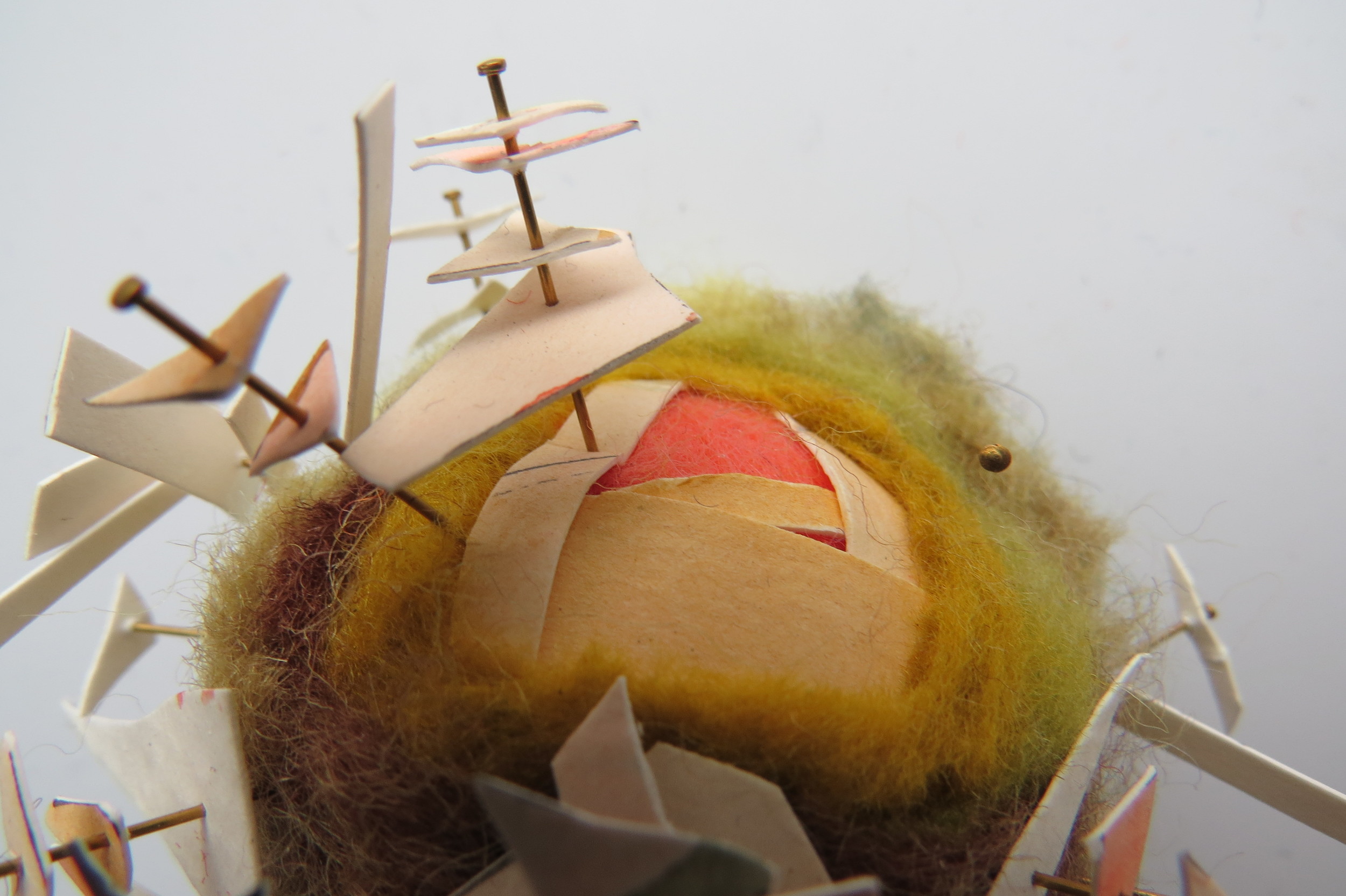 This body of work grew out of my desire to experiment with phenomenology and the artistic process. As such, the works are products of meditations, carried out in quite a structured way. I wanted to give myself a container to note what certain artistic functions felt like on the level of the physical senses. For instance, what do certain colours feel like when they touch the eye, and what is my experience of aesthetic or conceptual decisions on a body level? I'm interested in the feelings and sensations that characterize the decision making process in art-making. What is the sensation of an aesthetic decision, or of balance in composition? What is the bodily experience of art-making? I made copious notes on some days during the making of these pieces, and on some days none at all. The structure was to record the date, and then the time I began and ended work on the piece for that sitting. I also recorded any thoughts, emotions, physical sensations and other phenomena that arose. This process was very influenced by my interest in the body-centred and psychoemotional therapies and different mindfulness and meditation approaches (emotional awareness approaches, Yoga, Feldenkrais method, Hakomi, Intermodal Expressive Arts, relational psychotherapies, Vipassana, Advaita/non-duality teachings, Buddhist approaches). All of these in many ways explore the nature of body/mind dualism.
I asked myself: How can I shape my own artistic process so that it serves me in terms of expanding my perception of our world and my place within it? Can the process of artmaking be as potent as any spiritual practice, and if so, what would that look like for me?

Although the works weren't intended to be representational, I have taken delight in seeing them form into objects that resemble microscopic images of pollen, or cellular structures... there is something inherently biological about them. I looked forward to seeing how they continue to be shaped by their encounter with the gallery in the curatorial process – I look forward to seeing their evolution in their being witnessed by those outside of my studio.

Alexandra Goodall is an artist living in Penticton, who's multidisciplinary approach centres around paint and fibre. Her work explores the intersection between art and the senses – seeking to reground the intangible imaginative process in corporeal human/animal experience. She holds a diploma in Costume Studies from Dalhousie University, and is currently completing her Masters in Intermodal Expressive Arts through the European Graduate School in Switzerland, where she is exploring many things, including the use of the arts in service to individual and collective change.
"My work is very influenced by my prior training in Costume making. Although I loved certain aspects of this, I often felt the process of drafting and draping lacked a spontaneity that I craved. When I discovered wet felting in a workshop with hand-felt milliners Jean Hicks and Kim Brooke, I was captivated by the sculptural possibilities of felt – it added a flexibility and organic quality to my creative process that hadn't been present before. I did further internships with Kim Brooke, learning hand felting and millinery techniques, and about wool and sheep growing. Felt is playful and sensual, at times surreal-looking, while having a grounded quality. I started making my own hats, and this has evolved into sculptural works.
In 2013, I enrolled in training for Intermodal Expressive Arts Therapy. This intuitive, sense-based approach has greatly deepened my artistic practice. It has become less an exploration of "therapy", per se, than a container to explore the creative process experientially, relationally and philosophically, through the widening of perception, the increasing of flexibility and spontaneity, and through developing a playful attitude towards change and chaos. Although I am still unclear as to where I stand on the continuum of artist/therapist, I am slowly learning my place in this by doing.
I enjoy seeing how the course of my artistic development traces my relationship with embodiment. When I reflect on this, I see the beginnings of this present in my interest in historical costume and society, exploring adornment and cultural ideas of beauty. Then I notice that this has evolved to an exploration of contemporary experiential approaches in the therapies and spiritualities – For me, these are different ways of integrating all aspects of ourselves with our physicality as human beings. In my current artistic works, I feel a lot of these prior threads coming together. "