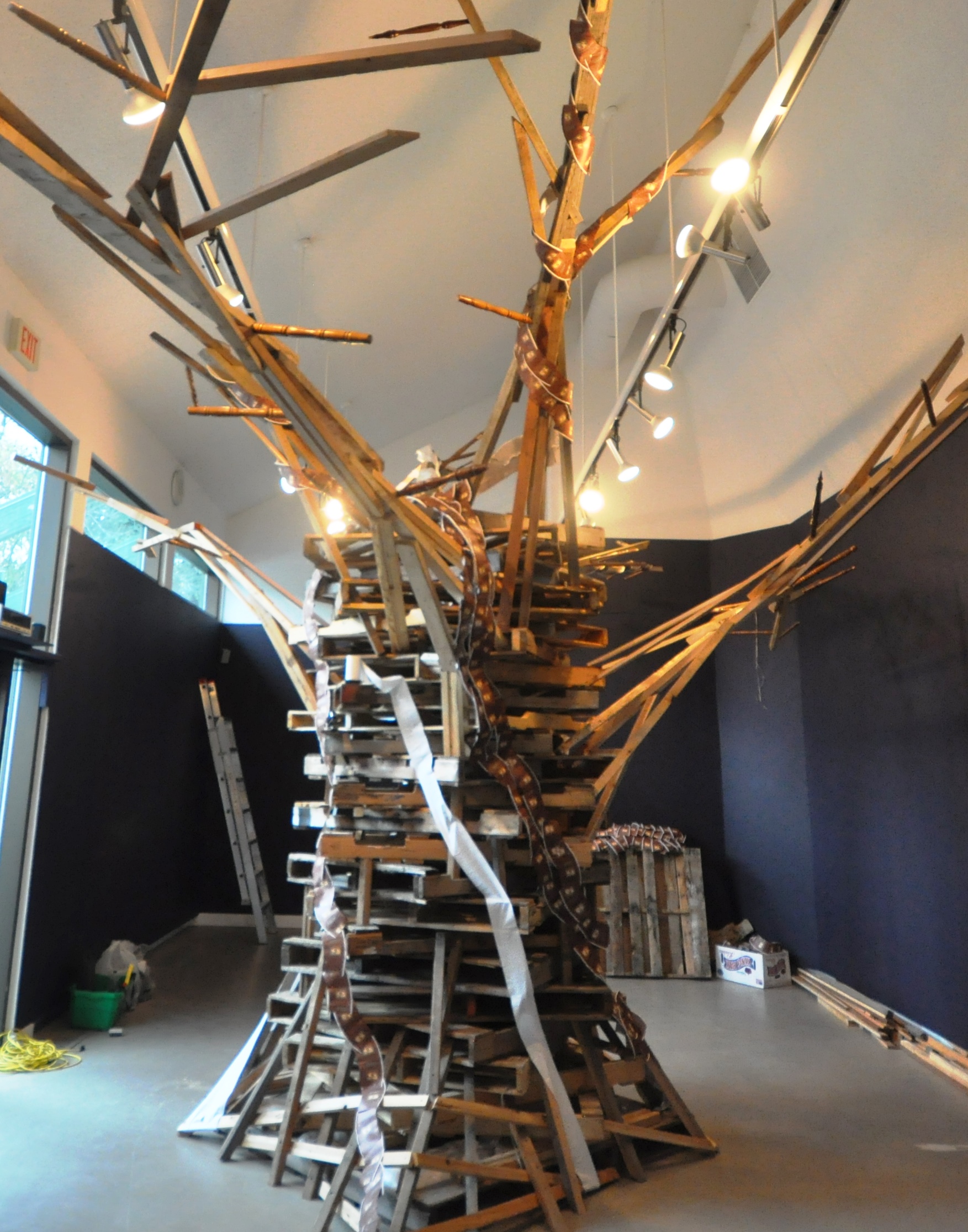 Levi "Snk'lip" George created the installation Our Nature to challenge the perception of what is considered "natural" and "normal," and to take a closer look at the environment in which we all currently live. The installation takes us on a scenic walk through a "natural environment" made of waste materials and household items which we are accustomed to seeing and using daily, and reminds us that though all things come from nature, not all can go back. Since we cannot drink from a river of water bottles, and we cannot grow fruit on a tree made of coffee cups, Our Nature begs the question: "What next?" To get there we have to start with taking a closer look at what we have gotten used to, what we are living in, and what we must now become uncomfortable with in order to change.

In the Syilx stories, Snk'lip the Coyote is known for his clever and creative qualities, and for his ability to be highly flexible and adaptive. Levi was given the name, Snk'lip, as a young boy, and evidence of his namesake is everywhere in his artwork.

Levi practices a diversity of visual art forms, and creates anything from paintings and sculptures, to graphic design and contemporary street wear. With a passion for mixing the traditional with the modern, he uses natural materials and Syilx teachings to bring cultural concepts and images into our current era.

Levi hopes his artwork will raise an awareness of our connection to, or disconnection from, our Mother Earth, bringing to light our responsibilities to look after her and to look after one another. Levi also hopes his artwork will help people to be proud of the beauty, adaptability and modernisms they see in Indigenous cultures as we walk towards our collective future.

Levi George is a member of the Syilx Nation in Penticton, British Columbia. He is a young father, uncle, and an invaluable role model within his community and he sees his artwork as a way to inspire his community to be proud of their culture and their commitment and connection to the land. As a professional visual artist his work is rooted in Syilx culture and language, using emotion and expression to connect with his audience. In speaking of his work he writes:

"I want to remind people what's really important in our lives. Our relationship with our planet and following our hearts are far more important than that next big promotion, buying our new clothes and filling our lives with material possession."
Levi is a graduate of the National Aboriginal Professional Artist Training Program in Penticton BC. He works as a Professional Multidisciplinary Visual Artist and is a member of the Ullus Collective. Using what he learns, he works to create a bridge for his viewers todeepen their connections to each other and to nature.